The Loop
Texas teen aces two holes in one round
Here's a golf story, strange but true. I know, we had one of those a few days ago. Well, there isn't any controversy at the end of this one, only a 16-year-old with a big smile and memories of two shots that'll go gray with him.
Aubrey Phillips wasn't hitting the ball worth a darn on the practice range Thursday morning as he warmed up at Cypresswood GG in Spring, Texas, prior to a qualifying round for the Greater Houston Junior Championship later this month. "I'd been playing so good," Phillips said in a phone interview, "shooting in the 60s and stuff. I hadn't shot over par in a while. But on the range, it looked like 'Tin Cup.' I was chili-dipping 'em, shanking 'em. I don't know if it was nerves or what, but I couldn't hit it straight."
When Phillips began his round at 7:57 a.m. on the club's Cypress course, things didn't better. He was four-over when he got to the tee of the 155-yard fifth hole. Then he teed up his Slazenger Raw Distance No. 1 and selected his Callaway X-Forged 9-iron. That's when his day started to get considerably better.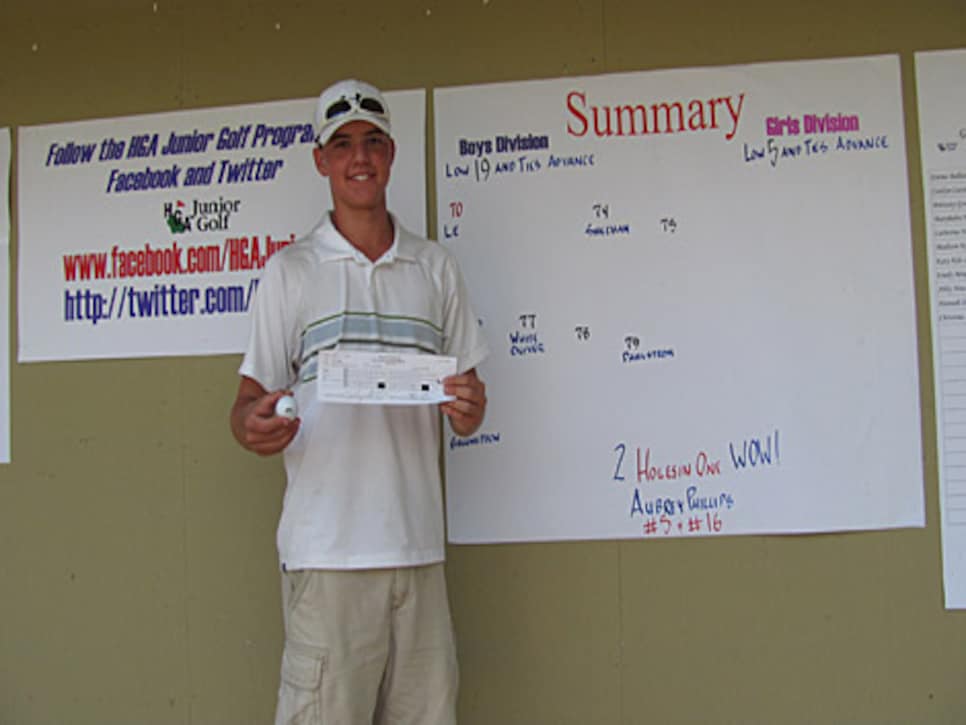 "There were trees overhanging the green casting shadows, but it looked like a perfect line, right at the pin," Phillips said. "I hit it and was thinking it's got to be really close to the hole. Then we're walking to the green and thinking it's either in the hole or in the sand trap over the green."
His ball wasn't in the bunker.
Three weeks after making a double eagle, Phillips, who just started his junior year of high school, had made his first hole-in-one.
The odds of a golfer making two aces in one round, according to Golf Digest's Dean Knuth, are one in 64 million, not that Phillips was aware of that when he pulled out his 9-iron and teed up the same Slazenger No. 1 on the 160-yard 16th hole.
"It was really windy, in my face, but I said, 'The heck with it, I'm going to go ahead and hit the 9-iron again," Phillips said. "There was no doubt about this one -- we saw it go in. It took one bounce, then sat down and rolled once to the left and went in."
The 17th and 18th holes of the Cypress course have water hazards on them, but even after his second hole-in-one Phillips didn't retire the ball. "I kept playing with it," he said. "I needed the luck because I was having to make a comeback."
Phillips shot 42-35 -- 77 and qualified with a couple of shots to spare. Prior to becoming an ace machine, the 6-foot-4, 175-pounder had been earning a reputation around Houston's municipal courses for his length, routinely driving the ball more than 300 yards. He has driven a dogleg par 5, and at a high school district tournament this year says he drove six par 4s two days in a row.
"I get 'em out there," said Phillips, who recently shot 69 to win a junior tournament in Houston. "One drive today, I hit it 390 yards. I hit 'em out there 330 a lot."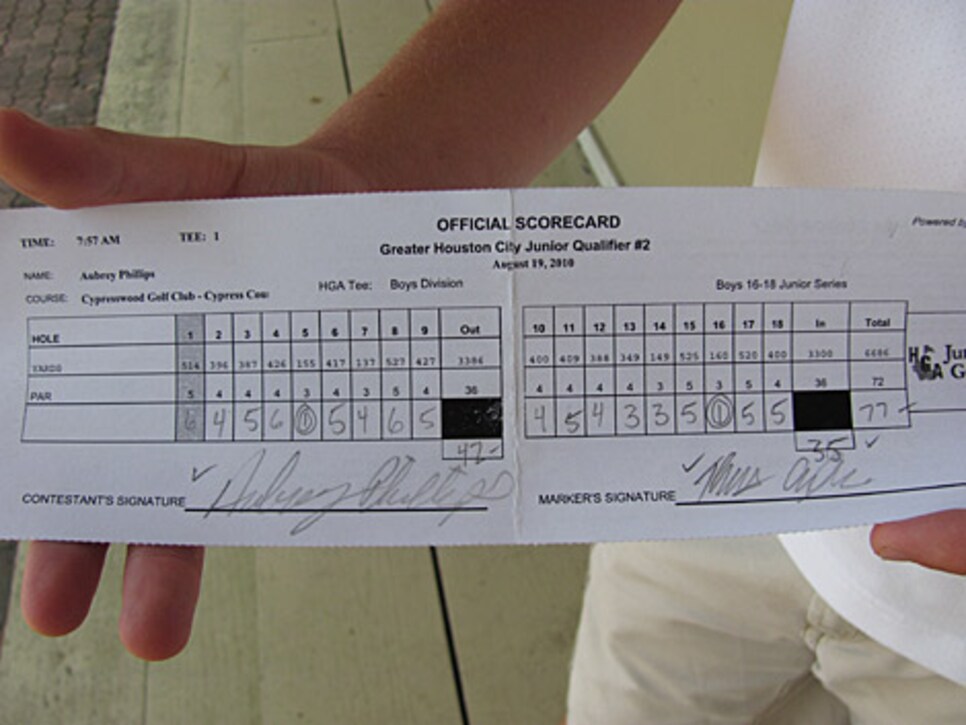 On this day, though, accuracy trumped power.
"It's so cool," he said. "I had to stay about an hour and a half after I was done. I had to fill stuff out, talk to people, do pictures. I'm getting some phone calls. It's a lot of fun."
Convinced he ought to let his hole-in-one ball live out its days on a shelf, Phillips wasn't so sure.
"I don't know," he said, "I'll probably keep playing with it. It's lucky."
(Photo courtesy Aubrey Phillips)