The Loop
Texas Open: A Sunday revival prevails
A Claret Jug on a shelf at home is a nice conversation piece that counts for nothing in the wake of a slump. At the outset of play in the Valero Texas Open on Sunday, Ben Curtis would not have been a favorite, however the word is defined -- odds-on, fan or otherwise.
The two in pursuit, frankly, evoked more interest: John Huh, a 21-year-old rookie from nowhere by way of Korea and Los Angeles and a PGA Tour winner in only his fifth start; and Matt Every, 28, once the best player in college golf, whose performance only now is catching up to his confidence, a pot bust and tour suspension heretofore the most notable features on his professional resume.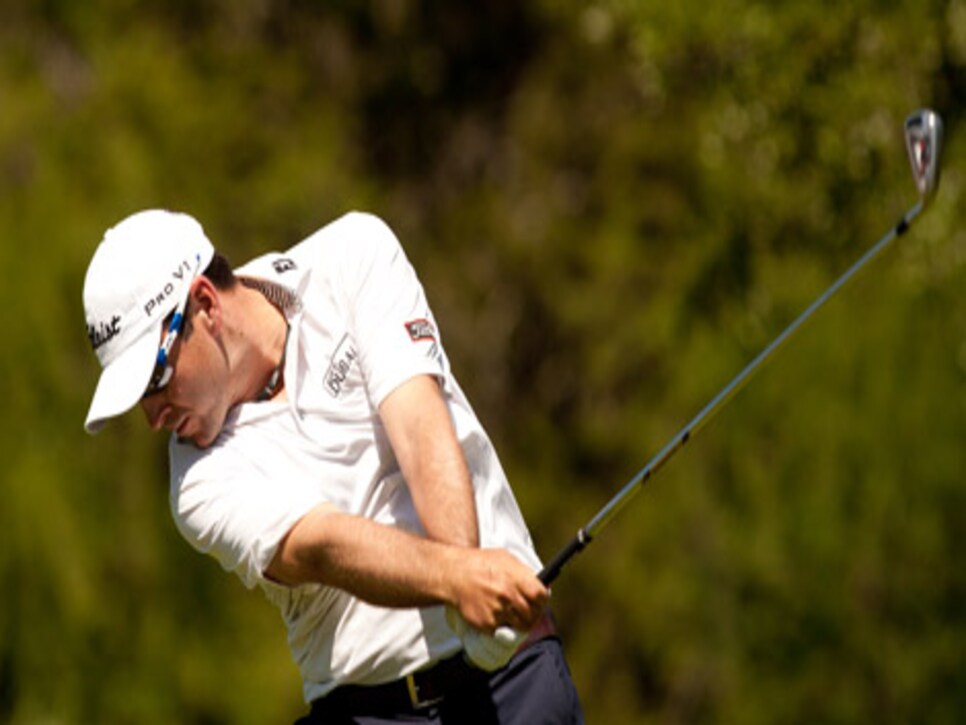 Curtis, meanwhile, has never been a bonafide star, notwithstanding his victory in the 2003 British Open and a pair of wins in lesser events in 2006. A dismal 2011 placed him on the fringes of the PGA Tour, his exemption gone, his future, at 34, as uncertain as the day he joined the tour in 2003. He had not finished in the top 10 in any of his previous 44 starts, a span covering nearly two years.
A career resurrection is more than a consolation prize, invariably acquiring its own level of interest, and this is how it played out for Curtis on Sunday. He birdied the 18th hole at TPC San Antonio to win by two, a victory that scattered the demons and unleashed the emotions.
"I don't know how I do it," he said in the immediate aftermath, attempting to squeeze out a coherent sentence between the tears that were rendering it problematic. "Somehow, the last tough couple of years, I've tried to play through it and stay positive."
He then had this going for him on Sunday, a blueprint for playing through a trying situation and remaining positive. In the end, Curtis resisted every opportunity to embrace the status quo, by holing a 22-foot par-saving putt on 17, then playing the 18th flawlessly.
He was 285th in the World Ranking prior to Sunday and will receive a Masters invitation and a two-plus year PGA Tour exemption after Sunday. All in a productive day's work.
Huh, meanwhile, continues to generate interest in his story. He did not play college golf and had never played a PGA Tour or Nationwide Tour event before this year. He went through three stages of the PGA Tour Qualifying Tournament last fall and made his PGA Tour debut at the Sony Open in Hawaii in January.
Eleven starts into his career, he has a first, a tie for second, three top 10s and five top 20s, while smiling every step of the way. He's earned $1.735 million and a marketable nickname, Question Mark, that plays off the query his last name invokes.
Then there's Every, a Florida grad, who deserves public support if for no other reason than his pace of play. He doesn't dither. He's cocky, too: When he failed by two shots to earn his PGA Tour card at the 2008 Qualifying tournament, he brazenly said, "You know, 25 guys are getting through and I'm not. It's 25 I'm better than, too."
Some might find that off-putting, but, as they say, if he can back it up...
He's working on it. His tie for second at the Valero was his fourth top 10 in 11 starts this year in his return to the PGA Tour.
The three of them -- Curtis, Huh and Every -- playing together on Sunday in what otherwise would be considered another mundane tournament bridging the gap between the last major and the next one, gave a tournament that began in 1922, a nice jump start as it begins its countdown to its centennial.