Courses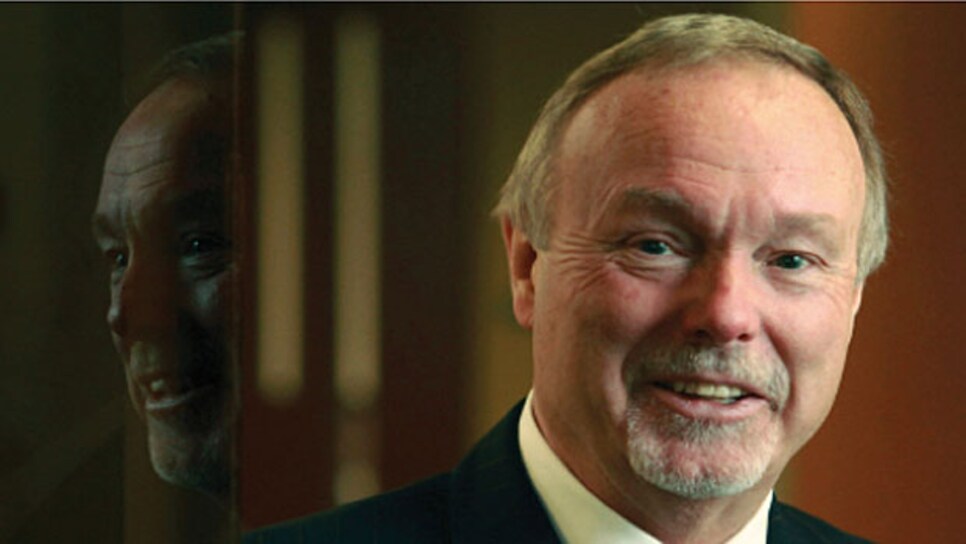 "I'd love a nail-biter," Matthews said. "It would seem to me that if it can come down to the 18th hole, that would help a lot."
Who is Sir Terry Matthews and how did he get a Ryder Cup
to Wales? Anyone who can start an electronics company and eventually sell it for $7 billion -- as Matthews did -- can work miracles. Matthews' only regret is that the man who helped him achieve that miracle, Robert Trent Jones Sr., the famous course architect, won't be around to enjoy it.
I've been to Wales recently. I thought I would ask you some questions and get your take on a variety of things that we, the American golfer, might be wondering. Well, first of all, let me ask you a couple of things: How much time do we have today to discuss this stuff?
That's really up to you, Sir.
Oh, well that's very nice of you. But you don't have to call me Sir. Although the queen did do a good job with the sword.
If someone were to come over to the Southern part of Wales, besides the Ryder Cup, what are the top three things they should see?
Well, from the North is a place called the Brecon Beacons, and it is world-renowned for beautiful walks, scenery and waterfalls. A visit to Bath would also be one of them. It is about 40 minutes away, maybe a little less; it is the Roman city of Bath with hot-water springs that have come up for probably 1000 years. The Romans built baths around it. It is really quite spectacular and is one of the most visited sites in the U.K. The next thing is what you talked about, the Cardiff Castle, and there is a very old castle in the middle and then a more modern castle built around it, so I think Cardiff Castle is pretty good.
OK. So how did you meet Robert Trent Jones Sr.?
I'd have to take you back to 1980, and around the corner from my home in Fort Lauderdale is Coral Ridge Country Club, which was the only property owned by Robert Trent Jones Sr. I went there one day for lunch and somebody walked by and said, "That hole No. 2, Mr. Jones, is one hell of a tough hole." And he said, "Well, it sure is." And I said, "Well, Jones would be a Welsh name, isn't it?" And he said, "It sure is." And that started up a long-term relationship until he died about 10 years ago. And it turns out he was probably the best golf course designer ever. He and I became the best of friends.
You didn't necessarily have the game of golf in common, correct?
Well that's right, but this guy could cast a story beyond belief. He had so much history in golf, and his first course was in the Ottawa area, which is were I normally live. He built a nine-hole course in 1936 at a place called Norway Bay, and he and I would get together four or five times a year. He was one of the earliest investors in the technology companies I built. On one occasion, I can't tell you if it is true, but he said he made more money with me investing in technology than he did with building golf courses. It is Robert Trent Jones who introduced me not just to the game of golf but to the senior people of golf, to the European tour people, a guy, as an example, who I got very friendly with, was Ken Schofield. He and I are very good friends.
Eventually you asked Jones to build you a course in Wales?
That's right. We went to Wales, and one day we were driving around some property I owned in a Land Rover. It was raining so hard the Land Rover got stuck; the middle of the car was off the ground and the wheels were spinning. I got out and sank to my shoulders. So I said, "You stay here and I'll go get a tractor to pull us out." So here I am, just starting to move off, squish, squish, and there was a huge splash. He had jumped out. Holy Jesus, it was all soft mud underneath and he could have drowned. I pulled him out of the mud and then he and I, squish, squish, tramped over the field to get the tractor. He wasn't talking, and I thought, OK, so I've screwed this relationship up. He went up to take a shower and when he came back down to the bar, he said, "Terry, I haven't had a day like that in years. What a terrific adventure."
But here is the important part of that trip, and it leads to today. The following day, we were back in the Land Rover -- it wasn't raining -- and we got to this spot overlooking a valley below us, and he said, "This is where you could build an incredible course, right here in the valley." And I said, "Well, I don't own the land." And he said, "You aren't listening to me. To have a really first-class golf course, this is what you want to buy." He was very persuasive. And eventually I bought it. And that became the Twenty Ten, and that was what won me the Ryder Cup venue, this course in the valley.
Before he died, did you ever have a conversation with him about hosting an event such as the Ryder Cup?
Oh, definitely. That was a continuous discussion. It never stopped with him: "You need to do this, and you need to do that." To this day I look back at that time, he was a great friend, he introduced me to a lot of people, and he made excellent returns on his investment by the way. This was a two-way street, you understand?
Is it true you don't actually play much golf yourself?
That is true. But it takes four hours to play and that's a hell of a long time.
So why such an interest in golf courses, resorts and an event such as the Ryder Cup?
Let me explain why I would continue to put golf courses in and why I would have two hotels. First of all, the people I do business with in electronics, the senior people, they play golf, so there is a kind of convergence there, right? The second thing is that I have homes within five minutes of these two resorts. I own one in Canada and I own one in the U.K., the Celtic Manor. Now these are good resorts, five-star type quality. No one could have a home with a golf course like that attached. No one could have a party at home with 750 staff to look after you. So think about it as an extension of a home. If I want to run a get-together with business executives who are my colleagues, my suppliers, my clients or whatever, my real home is sort of five minutes away, but the resort is just an extension of it. If I want to run a party, I can run a hell of a party.
Well, I guess you're about to.
You're right. A lot of people that I do business with will be coming to this Ryder Cup, and it took a hell of a long time planning this, with Robert Trent Jones, to finally make it happen, and the sad bit is that he has passed away.
Do you care who wins the Ryder Cup?
I don't want to show favorites because I live in North America, and I have business interests there. I will say I think it's going to be pretty tough on the U.S. The European team is the best they've had in decades, as far as I can tell. But I'd love a nail-biter. It would seem to me that if it can come down to the 18th hole, that would help a lot.
And in the top-10 accomplishments that you have achieved as a businessman, where does the Ryder Cup coming to Wales rank?
Well, it would be in the top 10, but I started up a company called Mitel in 1972 with $4,000. That certainly is the most important thing I've ever done, and the learning that went along with it.
You're showing off your birthplace to the world. Do you ever shake your head in awe of what you've accomplished here?
No, not really. My real business is electronics. But I don't want to call this a sideline either. Because that is not what it is. Creating a resort chain like a Marriott or a Hyatt, that's not what it is; this is an extension of my home. I don't get my jollies from showing off my birthplace, no. For me, when I start a business, including this one, it is a never-ending thing. It is a work in progress.
What's the final cost on getting the Ryder Cup to Wales?
Well, I don't think about it much because you should have fun in life. And it should be within what you can afford and not overextend yourself. If I built a building, you'd say that was a good investment. You put money in and you've got a building to show for it. If I put up a 30-story building in New York or a 30-story building in Chicago, people would say, "Who cares? There are hundreds of them, thousands of them." But when I go around the world and I talk about the Ryder Cup at Celtic Manor, everybody knows it. Whether it is Beijing, Shanghai, Dubai, Mumbai, Sydney, Singapore, it doesn't matter where I go, everybody knows the Ryder Cup is going to the Celtic Manor.
So, in terms of cost, is there a printable number?
Well there are a lot of things you could add to it, but there are also a lot of things you could leave out of it. For instance, there is a resort hotel that I wouldn't count in to the cost, but there is the facility called the Twenty Ten, with the clubhouse, the golf course, the roads, the bus parking and the bridge and all that stuff, and that would add up to over $50 million. I would argue that is what you have to spend now to run a Ryder Cup. If the Ryder Cup continues to grow as it has been for the last 10 years, even for the last 15 years, you can see the kind of issues that come up. Look at Brookline in Boston, a great event, but you couldn't move on the course. I think it was actually an embarrassment. You couldn't move; it simply wasn't built to handle that many people. If you went to Valhalla, all of the hospitality was pretty much on the 17th fairway, and as the spectators walked around following the players, the people in the hospitality tent couldn't see the field of play. The slope of the land was the wrong slope. Now that sounds like a little piece, but it is not so small. You've got hospitality people who've paid a good price to be in there, you ought to be able to see the field of play. In our case, you have the advantage of a fresh piece of paper from the get-go. So you will find the slope of the land leading from the hospitality steep enough so you can see over the heads of spectators because it is designed that way. The next thing you see is hospitality all along the 16th, 17th and 18th and when you get to the 18th, it is a big bowl, where lots of people can be around the 18th. If they get to the 18th you can handle a huge number of people around there, but remember, I had the advantage of starting with a fresh piece of paper.
Newport seems like a town that didn't embrace the Ryder Cup and might not get the benefits of the tourism. Cardiff, on the other hand, looks like it will enjoy the fruits of your labor. Are you frustrated with Newport?
Well, it is very tough on a city like Newport. Cardiff is well known and Newport is not, so people will automatically shift their minds to the capital and all the things that come with it: the Opera House, the monster Millennium Stadium for 75,000 people, the Cardiff Castle, on and on and on, and it leaves a small city in the backdrop. So it is not their fault, it is just the way it is. When you go to see the Olympics you say you are going to London, you don't say Wembley, even though it is in Wembley.
In the end, you have successfully achieved this monumental task of getting the Ryder Cup to Wales. Did patriotism play a role for you?
Well, somewhat; I wouldn't overstate the emotional side. Business is business. If something is emotionally attractive but a business loss, I don't consider it. What profits you make out of it being a successful business, and it has been to me, that's what's important. Now, if Newport gets something out of it, well, that's terrific. And if Cardiff gets something out of it, and they will probably more than Newport, well that's terrific. And it will put Wales on the map, but that's the geography. Wales probably wouldn't have been able to pull in the Ryder Cup without my efforts and my investment in this particular facility, but it does set a new standard for future Ryder Cups. Assuming this is a successful Ryder Cup, and certainly I don't know what more I could have done to make it a success, so let's assume it is a successful venture for Wales, and the game, and the European tour, and the PGA Tour, well, what about the next Ryder Cup? The next one over here is in Scotland, and there is no doubt in my mind that this Cup will set the standard, whether it is numbers of people coming, or for facilities for media, etc., it will set the standard. As you go forward every four years -- well every two years if you include the ones in the U.S. -- the numbers are going to go up. This will be 50,000-plus a day, and you can't go back to when it was 15,000 or 20,000 per day. You can't. It won't go backward.
So that's a big part of your motivation, when you get into something, like this endeavor, you're doing your best to set a standard?
That's right. I don't like doing half–hearted things, so if you go to the Celtic Manor you will see that the standards are pretty high. In fact the AA, the Automobile Association, is pretty much recognized as the standard-setting body for hotels and resorts and so on, and for last year, we got on their rating scale: We had 89 points and the Dorchester had 87. Well, the Dorchester has been recognized for many years as being up there with the gods in five-star resorts.
In doing what you are doing, and being a visionary and a businessman like you are, obviously you come across people who resist change. How have you dealt with the criticisms from locals?
Well, I find that if you explain the background and the benefits, they come around. They don't come around quickly, but they listen and they come quietly and change their minds. We've been working on this now for 30 years. One of the local leaders, and I better not mention his name, but he actively tried to stop this; and now, when I see him, he always begins with, "Look, I'm sorry I was against this in the past." People sometimes take a little time to accept change and realize it is good, not always bad.
As a proven leader and visionary, what would you consider your strengths and weaknesses?
Well, you can never be perfect every time, but in starting up 90 technology companies and losing only six, the batting average is pretty high. And the most important thing is to have fun in what you are doing, and so far, I continue to have fun in what I'm doing. I'm in this Ryder Cup; it's a huge amount of fun to be part of this event and to meet people, whether it is Colin Montgomerie or Graeme McDowell, who won the Wales Open before he won the U.S. Open. In the game of golf you meet some great people, and I enjoy meeting them very much. So it is having fun in the events for me as well as just having something that is just profitable. If you can make a profit and have fun and people enjoy themselves, then that's a turn-on for me.