rules fiasco
Tensions run high during Hong Kong Open rules dispute that included 15-minute delay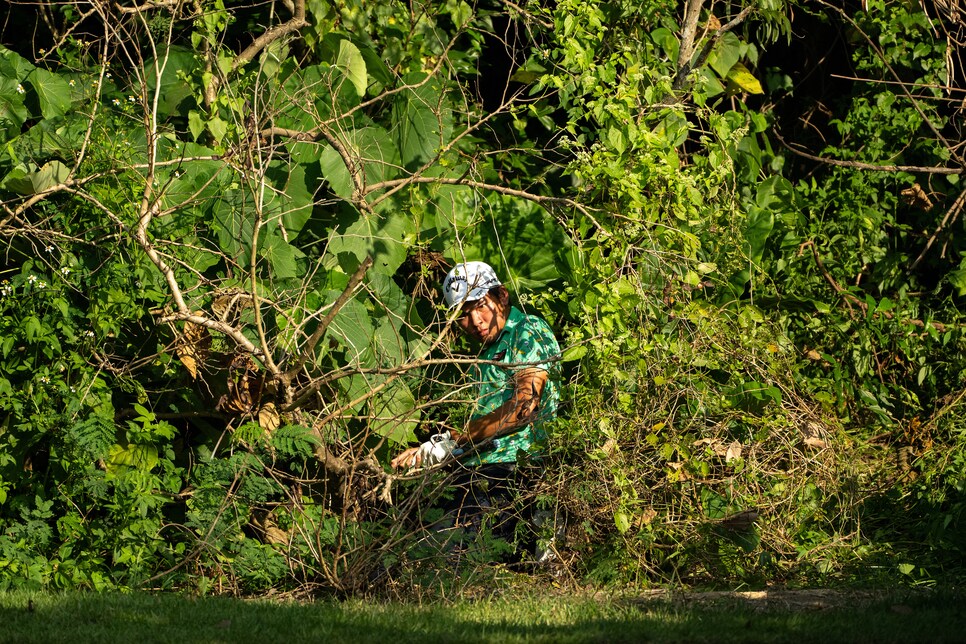 Thailand's Phachara Khongwatmai weighs his options after hitting his tee shot here on the 16th hole Sunday during the final round of the Hong Kong Open at Hong Kong Golf Club.
Jason Butler
The Hong Kong Open may be a 64-year-old tournament but the 2023 edition of the popular Asian Tour event was one of the most dramatic in its history.
New Zealand's Ben Campbell birdied the last two holes Sunday to defeat former Open champion Cameron Smith by a shot, but in the meantime, both players were dragged into a bizarre rules controversy with the third player in their group that took more than 15 minutes to resolve itself.
Smith, ranked 19th in the world, was trailing Thailand's Phachara Khongwatmai by one shot standing on the 16th tee at Hong Kong Golf Club when Khongwatmai blocked his tee shot right into thick trees and took several minutes to assess his swing path for the second shot.
Khongwatmai, No. 261 in the Official World Golf Ranking, wasn't giving up on playing his second shot from the brush, spending up to 15 minutes discussing with a rules official his options and trying to move a dead tree branch—while Smith and Campbell frustratingly looked on.
Beside the amount of time things were taking, Campbell appeared to question whether Khongwatmai, 24, was following properly adhering to the Rules of Golf regarding what he could remove from his intended line of play.
"He's moving stuff all around it," Campbell said. "How is this green? This is obviously living."
Campbell called for another rules official and could be heard on the broadcast saying, "He's broken these branches here … Wow."
During the incident, Khongwatmai looked at Campbell and Smith and said, "You guys happy? If you're not happy I'm not going to do it."
The frustration for Campbell and Smith appeared to stem from Rule 8 in the Rules of Golf, "Course Played as it is Found." Rule 8.1, which specifically mentions actions that are not allowed, reads, "A player must not take any of these actions if they improve the conditions affecting the stroke: (1) Move, bend or break any: Growing or attached natural object, immovable obstruction, integral object or boundary object or tee-marker for the teeing area when playing a ball from that teeing area."
Campbell sounded like he was questioning if Kongwatmai was moving what would be considered growing or attached natural objects.
Cameras showed Smith giving up on the situation and walking back to his own shot. TV commentators said, "I've never seen this before. You get the impression his playing partners are not happy."
Khongwatmai eventually took a swing at the ball but only managed to advance it a few feet. Kongwatmai took far less time to play his third shot, albeit still a reported three minutes, punching the ball out while playing the shot from off his knees into the rough. He was not penalized but made double-bogey 6 while Smith made par to create a two-shot swing and take the lead heading into the 17th hole.
More drama followed when Campbell and Khongwatmai birdied the 17th to set up a three-way tie for the lead going into the 72nd hole. On 18, Smith pushed his drive into the trees and after a chip out, almost holed his third shot from 110 yards. He tapped in for par and an 18-under-par total, while Campbell played his approach to 15 feet and made the birdie putt for the win (19 under). Khongwatmai three putted for bogey to drop into a share of third at 17 under.
"Today my putting was not so good like the last three days, but I played well since the beginning until the 16th hole," said Khongwatmai, who was trying to win his second career Asian Tour title. "I was in a very difficult situation at that moment that I couldn't do anything. Also, there were broken trees which was an obstacle so I couldn't step backwards to drop the ball. I had to keep trying to hit it. However, I'm satisfied with my overall performance that I can make under par for today.
Smith was disappointed not to secure his first victory in Asia.
"Pretty poor over the weekend I guess but I hung in there so lots of positives," he said. "Definitely wasn't the nicest golf to be played over last couple of days, still lots to work on."
Smith will have a week to tighten up his game before his title defense at the Australian PGA Championship at Royal Queensland in Brisbane before the Australian Open in Sydney a week later.