Takeaways
Ted Potter Jr., Sung Kang among the leaders on a salvage mission, Adam Scott eyes better days ahead and K.J. Choi reemerges on a PGA Tour leader board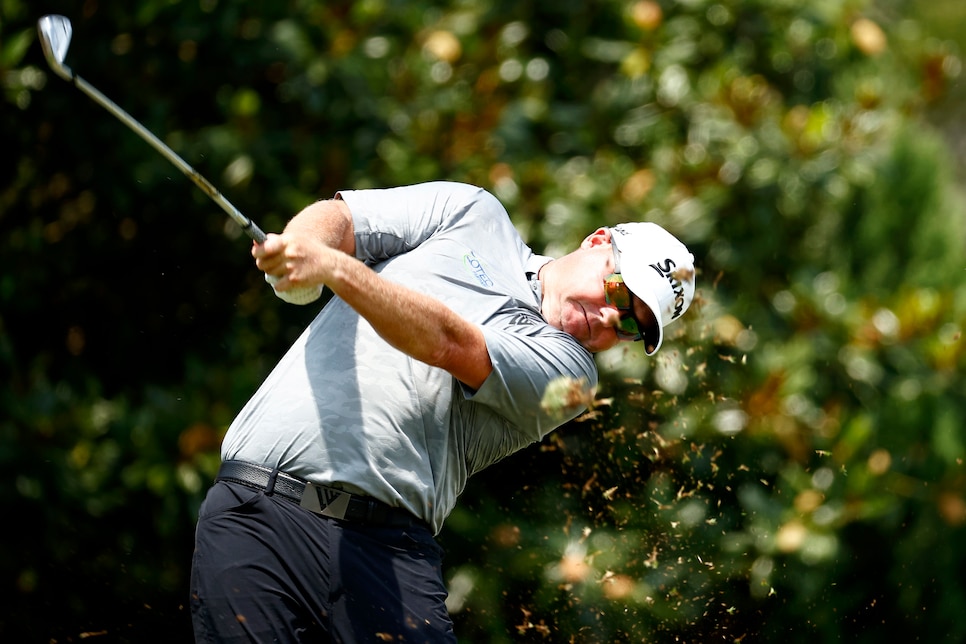 Urgency. The Wyndham Championship in Greensboro, N.C., is the annual big squeeze on the PGA Tour, the last chance, the last gasp, the last glimmer of hope for a certain collection of players to salvage their season and keep their exempt status, and some players respond to the urgency of the situation quite decently.
Urgency. It just does wonders sometimes.
Case in point on Thursday were the efforts of Ted Potter Jr. and Sung Kang, each who opened with six-under 64 at Sedgefield Country Club. The two are looking at a scenario where they need to win or get ready for the Korn Ferry Tour Finals because they currently rank 181st and 188th, respectively, in the FedEx Cup standings. So, shooting their respective lowest round of the season couldn't have come at a better time.
Only the top 125 advance to the FedEx Cup Playoffs.
Trailing leader Russell Henley by two strokes, Potter and Kang have just three top-25 finishes between them this season and one top 10, all by Potter, whose 64 was bogey free. Potter's season scoring average is 72.155 and Kang's is 72.830, which happen to rank even higher than their FedEx Cup positions. In other words, they've struggled.
But not on Thursday. Urgency?
"I don't know the last time I had a bogey-free round out here, so it's a good start for the week," said Potter, 37, who is 446th in the world. "I've got to play really well this week to have a chance to get into the Playoffs."
Not that he's thinking about it.
"It is and it isn't," he said when asked if it's weighing on his mind. "I know I've got to play really well to have a chance. I just have this hope that at the end of the week I do have a chance. If I play well, we'll see what happens."
Kang, who is 244th in the world, wasn't inclined to look ahead too far either. "Yeah, I'm aware of that [needing to win], but I'm just going to try to do one shot at a time – the best I can do, one shot at a time, and then it will take care of it."
Here are three other takeaways from Round One: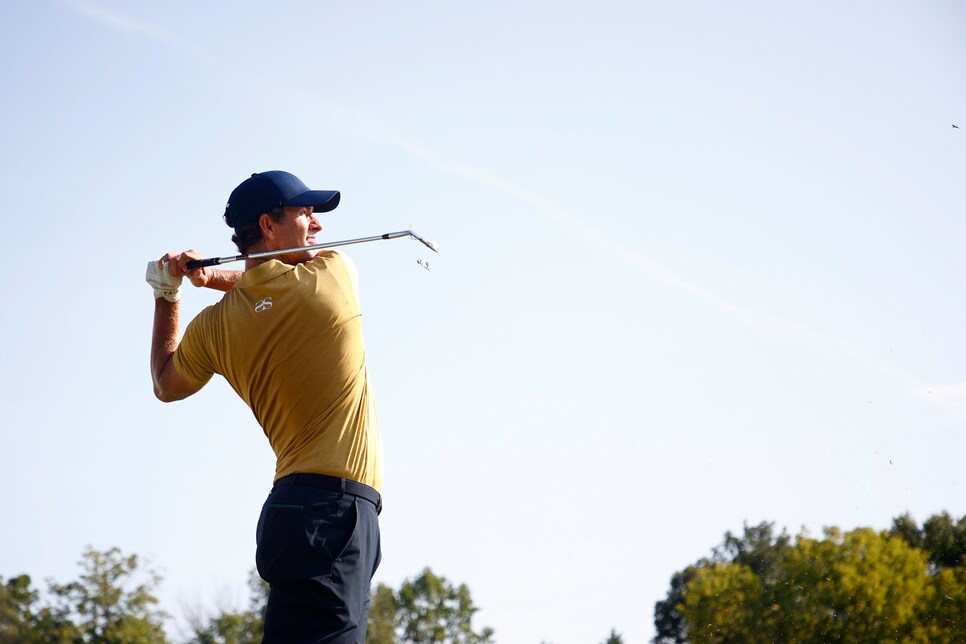 Adam Scott didn't exactly light it up in the opening round, but a four-under 66 left him plenty satisfied. He said on Wednesday that he liked the way he was playing, but not the way he was scoring, "but I'm looking to change that this week."
With just one top-10 finish this year, Scott is 121st in the FedEx Cup standings and 43rd in the world, having appeared in just 17 tournaments this season.
Most of his struggles have been at the start. Scott, 41, ranks 119th in first-round scoring average at 71.00, and prior to this week the former Masters champion from Australia had opened with 73 or higher in five of his previous seven events. Only once did he shoot in the 60s, that coming in the Travelers Championship two months ago when he carded a 69.
"Yeah, it was important to get off to a good start today because that's kind of been the theme of the year is go backwards on Thursday and then fight my way back," he said. "So to kind of move in the right direction felt good."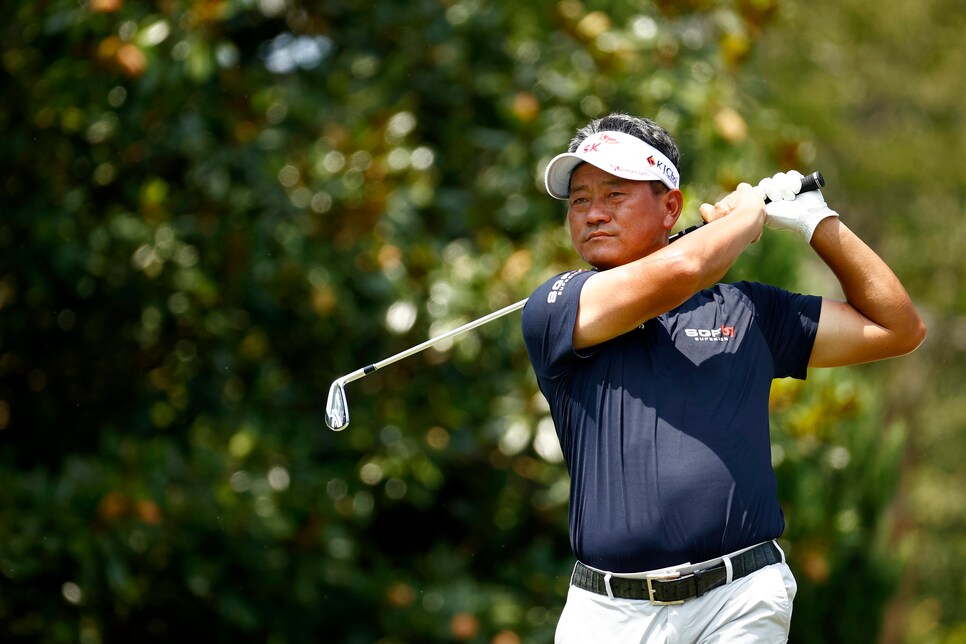 K.J. Choi is straddling professional golf's biggest fence, dabbling in PGA Tour Champions tournaments while using his one-time top-50 career earnings exemption to play the PGA Tour. He hasn't done particularly well on either tour, but he's been busy, with 30 combined starts.
That's a lot of golf for the 51-year-old from South Korea.
When you've made just six of 20 cuts on the big tour and sit 213th in the FedEx Cup standings, it might seem like a fool's errand to play in the regular season finale, but among Choi's eight victories is a win in Greensboro in 2005.
But Choi proved on Thursday that he still has a little something left in the tank when he submitted a four-under 66 that included birdies on two of his last four holes. Interestingly, Choi is playing in the tournament for the first time since 2017. So he's getting all he can out of that exemption. And why not?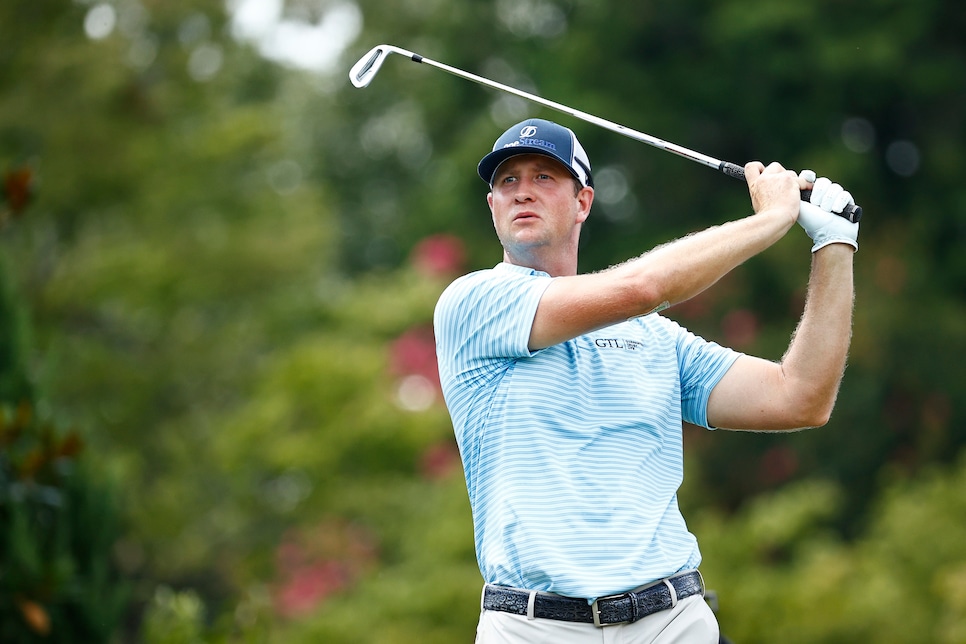 EARLY BIRDS GOT THE … LOW SCORES, WELL, MOST OF THEM
The late afternoon weather delay was just one of the issues that the late starters encountered in the first round at Sedgefield CC. There was the lovely cauldron of heat and the warm breeze drying out the course, making players sweat, and keeping scores a bit higher.
Among the top 18 on the leaderboard, most occupants came from the morning starters. That's not to say there weren't some good rounds later on. Denny McCarthy posted five-under 65 before the weather delay. Tommy Fleetwood and Si Woo Kim also were five under but had a few holes left to play when the horn sounded. When golf finally resumed after a delay of more than 90 minutes, each made a bogey to fall back.
No one caught the leader, Henley, but a couple of players got close, including Hudson Swafford and Chris Kirk with afternoon 64s, perhaps helped by the softened conditions after a storm blew through. Adam Hadwin was six under when play was suspended by darkness.
A soft Friday morning might make most of them feel better.