The Loop
Ted Bishop on his upcoming book, potential legal action by the PGA of America, and future Ryder Cup captains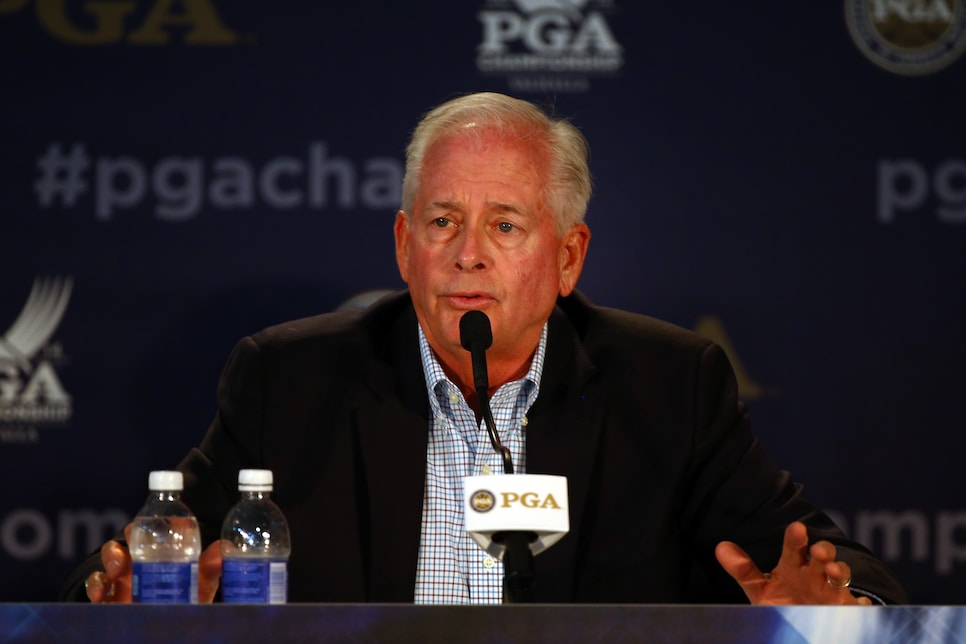 When Ted Bishop hit the send button on those ill-fated social-media messages directed at Ian Poulter in October 2014, he had little time to defend himself before the PGA of America dismissed him as president. Seventeen months later, Bishop has finished a book that he says will tell his story.
Bishop said his absence from the PGA of America's annual meeting in his hometown of Indianapolis about a month after his firing was "a bitter pill to swallow" and one of the sparks that started him writing. In particular, he was upset at not being able to hand out the inaugural Deacon Palmer Award, an honor he helped create, to Arnold Palmer. That, coupled with the urging of many within the golf community, convinced him to go for it. The result is Unfriended: The Power Brokers, Political Correctness and Hypocrisy in Golf, which is scheduled to come out in early June.
Bishop is self-publishing the book through Persona Publishing, with the hope that it will sell enough copies to be picked up by a bigger publisher. He recently shared the completion of his manuscript on Twitter:
"The neat thing is I got a lot of encouragement, and I was influenced by some of the best writers in America," said Bishop, who noted, among others, ESPN's Mike Greenberg as someone who provided him with feedback on various chapters of the book. "I have valued relationships with the media, and that's been good for me in my post presidency."
In fact, Bishop told GolfDigest.com he's received more support since his firing than ever before. There was a phone call from Donald Trump and there's a six-inch-high stack of letters and emails he keeps as affirmation that a man shouldn't be judged solely for a social-media mistake.
"That motivated me to do this project," Bishop said of wanting to be remembered for more than his "lil girl" taunt. "I wanted to share some of those other things with people. When people get done with the book, they'll have a better understanding of who I am and what I stood for.
"In some ways, it's self-validation for me. It's a way for me to tell my side of the story. Unfiltered."
Not surprisingly, the PGA of America hasn't been as excited about the project. Bishop says the organization's legal team sent him a couple "hostile" letters when it caught wind he was writing a book. Bishop refused to grant the PGA a review of the book before it's published, prompting the PGA to threaten judicial intervention if he didn't cooperate. But Bishop isn't giving in. He says he didn't violate any fiduciary or confidentiality agreements, so he's not afraid of any legal action once the book comes out.
"I've got a First Amendment right, and I'm going to exercise that," Bishop said.
When contacted by GolfDigest.com, a spokesperson for the PGA of America said the association had no comment on the book.
Bishop is quick to point out that the book isn't just about his sudden termination. ("I had a full life in golf before becoming president of the PGA.") Although he's glad to tell his side of the story in that matter, he says only a couple of chapters deal with his firing. He's especially proud of the parts of the book that deal with the history of the PGA of America, which is celebrating its centennial in 2016, and he's happy to share his Ryder Cup experiences that go well beyond America's loss in 2014 under the guidance of his hand-picked captain, Tom Watson.
"I had the tremendous privilege to do something three times that very few people have," Bishop said of his involvement in three Ryder Cups. "And I appreciate that."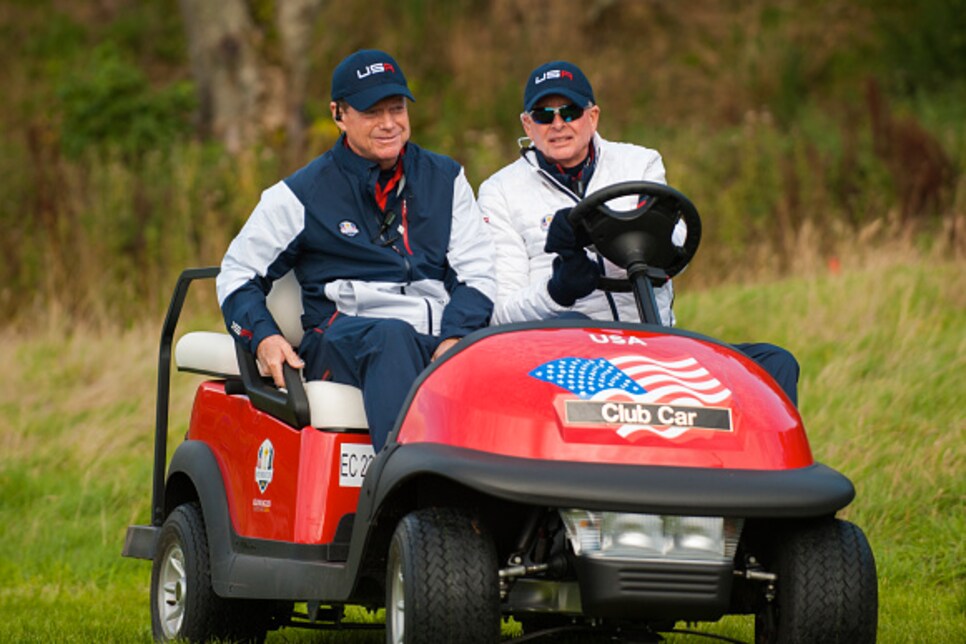 Of course, with this being a Ryder Cup year, the timing of Bishop's book is important. It also makes hearing all the talk about the biennial matches even harder.
"I wouldn't be honest if I said it didn't," said Bishop, who owns and operates The Legends Golf Club outside of Indianapolis. "As the guy who made the phone calls to set up Ryder Cup Task Force, it's interesting to see how that's unfolded. You feel like you're on the outside looking in, but that's kind of the way it was before 2010.
"[Getting fired] was as close to dying without actually dying," Bishop confessed. "When I woke up that Saturday morning, I knew everything had changed. ... I was basically done from being in that circle. That's just the way it is. But I'm not bitter about it."
Bishop remains proud of helping create the Ryder Cup Task Force, which he feels will provide important continuity in selecting U.S. captains going forward. As for those captains, Bishop admits he was pleasantly surprised Davis Love III was asked to lead the team again in 2016. And he had the same reaction for Tiger Woods agreeing to be vice captain. Bishop predicts Jim Furyk and Steve Stricker will be the next two captains, something he's especially happy about since he was one of those calling to change the requirement that a captain be a major champion (and often a former winner of the PGA Championship).
As you hear Bishop talk, it's clear the good memories and the tight bonds created with certain players and captains through the years didn't disappear -- and that won't change when his book comes out. Although Bishop will be watching from afar this fall, he said, "There's not going to be any bigger fan of the U.S."