News
TaylorMade's P790 – A Better-Player Game Changer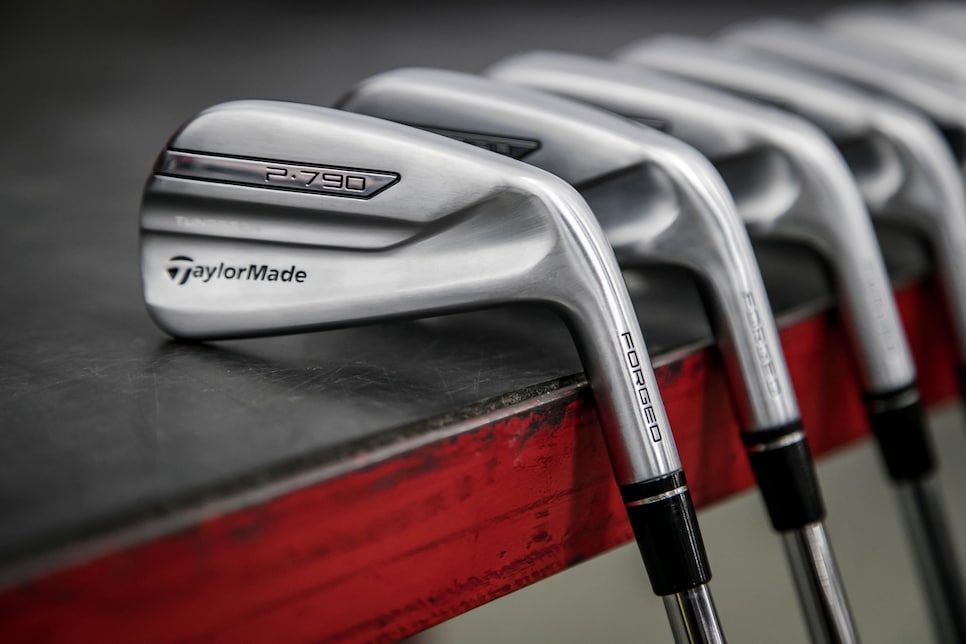 Jason Day, the former world No. 1 and a TaylorMade loyalist since turning pro in 2006, has emerged as modern golf's poster boy for long irons because of the astonishing distances he hits them, so it's no surprise he's often the go-to club tester for TaylorMade's Senior Director of Iron Creation, Tomo Bystedt.
When Bystedt showed up early during the week of the PGA Tour's Bridgestone Invitational at Firestone Country Club in Akron, Ohio, eager to unveil the TaylorMade's new P790 forged distance irons, Day wasn't particularly interested in making a change. After all, the PGA Championship would be played the very next week, and the FedEx Cup Playoffs and Presidents Cup would follow close behind.
In the end, though, Day couldn't resist the urge to be one of the first to hit the new irons.
"The first one he hits flew dead straight, with maybe a hint of a draw, and goes all the way to end of that range," says Bystedt. "I'm reading numbers for him from my TrackMan — 267 carry, 281 total, something like that. Absolutely insane how far he hit it."
Day ripped a few more, then tried a few low, more punch-like shots that zipped no more than 30 or 40 feet above the ground and rolled forever. Maybe 10 balls into the process he walked over to his bag, pulled out his existing 2-iron, handed it to Bystedt and said, "I don't need this one anymore; you can take it back."
Day's been playing the P790 long iron ever since.
That same day, PGA Tour rookie Xander Schauffele tested the P790 2-iron Bystedt had brought for Justin Rose. Never mind that it was built with Rose's favorite shaft, grip and to his upright specs, all significantly different than what's played by Schauffele. After just a few shots with it, Schauffele sent his caddie to the TaylorMade truck to have one built to his specifications. (Two weeks ago, you know what happened—the 23-year-old Schauffele won the Tour Championship with that 2-iron in his bag.)
Within a few weeks of release, P790 long irons are used by Day, Rose, Dustin Johnson, Camillo Villegas, Chez Reavie and more, which, according to Bystedt, is a rare quick switch when it comes to tour players and their irons.
"What's great is that what happens on tour is very much what happens at country clubs: Word spreads quickly among good players," says Bystedt.
Previously, the most intense grapevine buzz involving TaylorMade clubs has come from its drivers, fairway woods and putters, but now, many of the game's greats are talking about TaylorMade irons. The sleek, forged-blade looks are partly why the P790s already appear to be resonating with better players. Golfers have egos, and no product says I'm a good golfer more than a blade. Of course, blades are even better when golfers without tour-player abilities can play them with similar effectiveness.
The truth, says Bystedt, is that the P790 is actually a very forgiving iron that packs a powerful punch thanks to its hollow-cavity design and Speedfoam Technology, which perfectly masks a bundle of game-improvement features in a traditional blade package. The full set of P790 irons is actually a better fit for single-digit handicappers, who'll benefit from the added distance and forgiveness throughout the bag, than it is for the tour players.
"My golf buddies pay attention to the buzz at their club among the better players," says Bystedt, "but we wanted there to be a noticeable difference when golfers hit these P790s, something that makes them say, 'Holy Cow! These things go a mile!'" In a very short time, that's exactly what Bystedt is hearing.
TaylorMade's P700 series has had tremendous success on tour this year; among other high notes, the P750 was the most-played iron at both The Open and PGA Championships in 2017. The P790 takes that buzz and adds it to a forged distance iron that more golfers can play. What's not to love?