News
TaylorMade Driving Relief Live Updates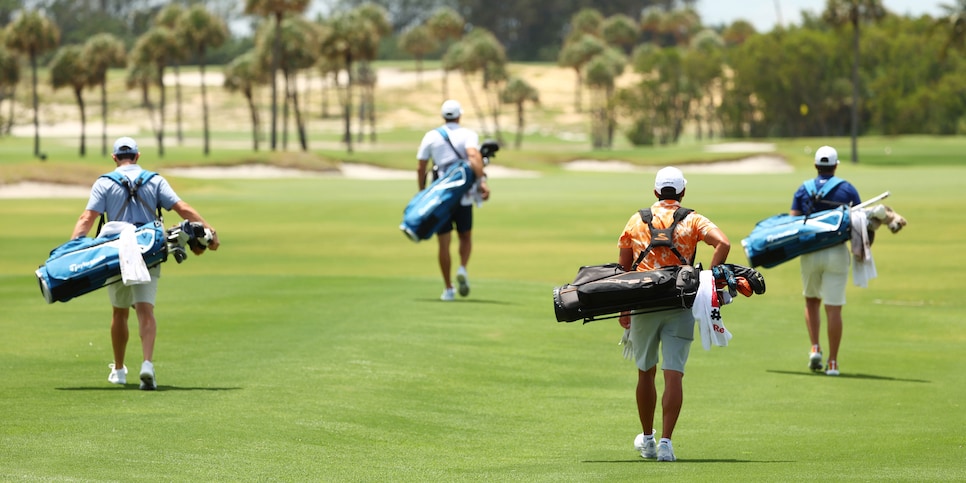 Welcome to the TaylorMade Driving Relief live blog. Scroll down for the most recent updates.
6:32 p.m.: Rickie tells Wolff to "show me something," and he does, sticking one within 20 feet. Rickie did not show him something back, completely missing the green. DJ followed by missing the green as well, leaving it all up to the No. 1 player in the world, Rory McIlroy. He delivered, getting it just inside of Wolff for all the marbles.
Between all the bonus money raised and the viewers donations, over $5.5 million was raised for charity. Awesome day for golf.
6:24 p.m.: DJ and Rory had two good looks to end it, but they both missed, Rory on the high side and DJ on the low side. On brand. Playoff will be a closest to the hole competition on the 17th hole from the up tees.
6:08 p.m.: Rory makes a clutch par save to halve the 17th and now it ALL COMES DOWN TO THIS! There's $1.1 million on the line. Simply put, whoever wins 18 wins. Water also wet.
6 p.m.: Extremely tense times at the 16th. Well, as tense as times can get in a charity match on a beautiful day at one of the most exclusive clubs in the world. Rory, DJ and Wolff all tried to drive the green, leading to a pair of birdies for Wolff and Rory and another halve. Huge for people who threw $50 on a tie on hole 16. OK, so I'm talking about myself. Like I said, TENSE times.
Now the 17th is worth 5 skins and $600,000 ... $600,000! Rickie and Wolff had this thing in the bag before, but now with how much the later holes are worth, Rory and DJ have a great chance to steal this thing.
5:46 p.m.: Rory just had a prime chance to win 3 skins and tie Fowler and Wolff's total money. He bricked the putt, literally off the left edge. On to 16, which is now worth $400,000 and 4 skins. Could be quite the swing.
5:37 p.m.: Rickie just went driver off-the-deck at the par-5 15th. Any day somebody hits driver off-the-deck is a good day. Also, I'm not sure anyone on the planet does it better than Fowler. Laced it up the fairway and will have a short pitch in. Reminder: this hole is worth $300,000. DJ is in the water, so he'll need Rory to step up or they are cooked.
Something to watch: a lot of folks on social media have pointed to Seminole's policy of all play ending at 6 p.m. sharp. These guys are not even on the 15th green and it's 5:38 p.m.
5:27 p.m.: Wolff can't convert the eagle, however, letting Rory to tie with a birdie. Wolff and Fowler remain 1 Up.
5:19 p.m.: Matthew Wolff had 163 yards into a par 5. That is all.
5:13 p.m.: The number of people who can say they beat DJ and Rory in a long-drive contest twice in one day is Matthew Wolff.
5:07 p.m.: Only Wolff finds the green on the par-3 13th. DJ's sand shot barely finds the putting surface, while Fowler gets his within five feet. From the fringe, McIlroy gets his birdie to tap-in range, and Wolff does the same with his attempt from 20 feet.
4:59 p.m.: DJ coninutes to push his putts today. In his defense, he hadn't played in two months before this week.
Wolff also misses his birdie putt, and Rory lips out his short attempt. Fowler, who has three birdies in his last five holes...makes it four in six. Fowler, so hot right now.
4:46 p.m.: Fowler buries a birdie on the 11th to tie things up. Wolff responds with an air hump. Now we're cooking, baby.
4:35 p.m.: No blood, no foul on the 10th. DJ puts his drive in the 11th in the water. What's more impressive is Rickie Fowler's drive had not stopped rolling by the time DJ was hitting his tee shot.
4:26 p.m.: After a shaky start—we remind you, again, the cat is only 21 years old—Wolff is shaking off the cobwebs, sticking his approach on the 10th. DJ scoots it up there as well, but feels like we could see some firepower on the final nine.
4:20 p.m.: Here is where things stand after the front nine:
Rory & DJ: $750K, five skins
Rickie & Wolff: $850K, four skins
But, as the saying goes, the TaylorMade Driving Relief doesn't getted started until the final nine on Sunday.
4:13 p.m.: Seminole is starting to bite back, confounding both Rory and DJ on the ninth on their respective putts. Fowler, however, converts his birdie, and Wolff birdies as well to add to the charity donation.
4:04 p.m.: Telecast loses sight of all four approaches into the par-5 ninth. In their defense, most of the focus in on President Trump, who has called into the broadcast. Sadly, no promise from Trump to Make America Great Again at the Ryder Cup.
3:56 p.m.: Groups trade pars on the eight, Rory and DJ hold their 2-Up lead.
3:45 p.m.: Watching Rory, Rick and DJ hit hybrids and woods into a par-3 was cathartic. The pros, just like us! (Save for the 237 yards from the box, that is.) Except Wolff went with a long iron. He is not human.
3:42 p.m.: Rickie and Rory trade birdies at the seventh. Does stink the soft ground is taking a bite out of Seminole. Of course I'd watch these guys compete in Putt Putt so perhaps we shouldn't complain.
3:35 p.m.: Through six holes DJ and Rory are 2 Up. If there's been one bummer thus far, these guys have had nothing but wedges in their hand off every drive. Of course, that's most weeks on Tour, too.
3:32 p.m.: My wife just asked what was wrong with Matthew Wolff's swing. I replied I just did an interview with Wolff, didn't she read it? "I don't read your stuff," she said. "I have to listen to you enough at home." Touche.
3:17 p.m.: Bill Murray! America's human photobomb drops into the broadcast and peppers Tirico about this short game. It doesn't quite make sense, but Murray does mention he sees Dustin Johnson a lot in South Carolina. My kingdom for a Murray-DJ buddy-cop movie.
3:10 p.m.: Wolff and Fowler are on the board thanks to a birdie from Rick. Really great approach shot in to a tucked pin. That's $50,000 for the Oklahoma State boys, and, as Wolff pointed out, they have raised just as much as DJ and Rory thanks to Wolff's long drive win and Rickie's birdie. They may be down $100,000 but, silver linings.
2:57 p.m.: Following a poor drive at the fourth, DJ ran off to grab a snack. Pros, they're just like us!
2:53 p.m.: Nearly an hour into the coverage, the first skin has been won. Well, three skins. Dustin Johnson hits a beautiful bunker shot to tap-in range to secure a birdie and $150,000 for he and Rory McIlroy. Fourth hole will now be worth $50,000 once again.
2:32 p.m.: If there was any doubt Matthew Wolff belonged at Seminole today, he erased it by winning the long drive competition on the second hole, blasting one 356 yards down the middle of the fairway. Big-boy golf from the kid. He didn't hit the best approach from there though, and the other three didn't do much better. Bit of a struggle-fest so far. Hopefully the rust wears off soon. Three skins on the line at No. 3 after another halve.
Interesting trash talk exchange after McIlroy saved his par - "I think you forget I've won two FedEx Cups." Think it was directed at Wolff. If there's a more golf chirp to have ever been chirped, I've yet to hear it.
2:20 p.m.: Couple of pars on the first hole. So far, so good though. The guys are all mic'd up and the banter is not forced at all. Long drive hole coming up now. Bombs away.
2 p.m.: Oh baby, we are so back. Didn't realize how much I missed the Golf Channel intro music before live coverage. LIVE GOLF! Let's do this.
Looks like an incredible day. 87 degrees. Sunny. Not too windy. Hopefully plenty of birdies and eagles to come.
1:36 p.m.: We're still 24 minutes away, but Golf Channel has already given us a glimpse of what we're going to be seeing this afternoon at Seminole: world-class players carrying their own bags:
Folks, you absolutely love to see it.
After two long months, live golf makes its return on Sunday with the TaylorMade Driving Relief Charity Event. Current and former World No. 1's Rory McIlroy and Dustin Johnson are teaming up against five-time tour winner Rickie Fowler and one of golf's young, rising stars, Matthew Wolff. The format is skins, with $3 million on the line, all of which is going to the American Nurses Foundation and CDC Foundation to assist in their efforts during the COVID-19 pandemic.