Be Your Ball
TaylorMade brings golf ball personalization to a new level with its MySymbol program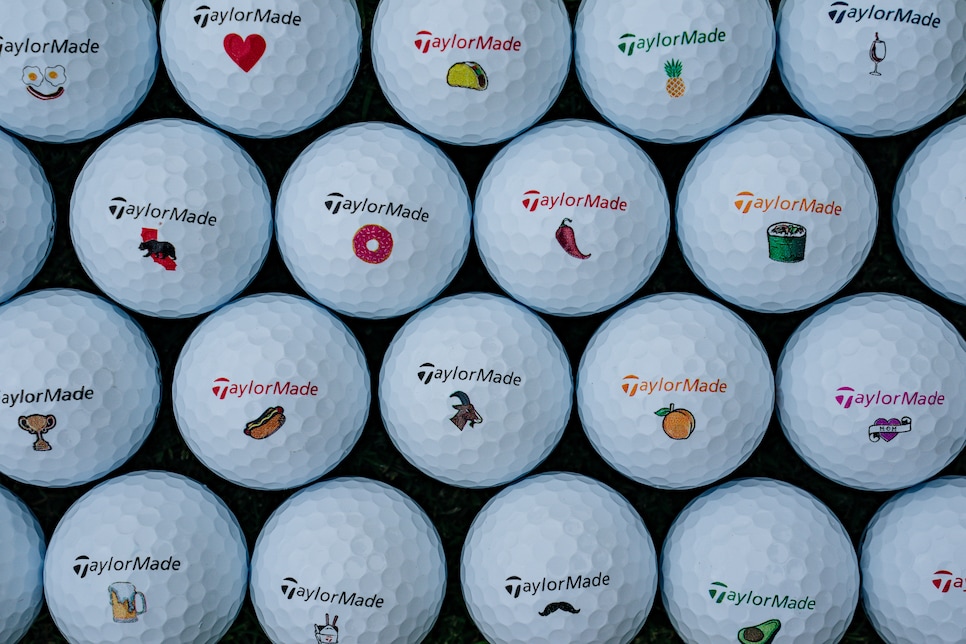 TaylorMade's investment in non-traditional golf ball optics is well-documented over the last four years. Whether it be visual alignment enhancements like TP5 Pix or Tour Response Stripe, as well as array of custom number options and other forms of personalization, the company is seeing a growing audience for golf balls that aren't just all white and nothing else.
Now, it's looking to set this movement toward mass personalization into hyperdrive with a new program called MySymbol that opens up every square inch of ink to what amounts to an infinite array of possible designs.
"We're able to logo a golf ball the way no one has ever been able to logo a golf ball before," said Mike Fox, senior category director for golf balls. Fox pointed to a newly enhanced graphic process that uses a single axis digital printer to print symbols, four-digit numbers, special logos and even mix and match glyphs with letters and numbers on each of the traditional locations on a golf ball (center and sidestamp).
The appeal of these visual enhancements have become so popular that the plain white ball may be trending toward no longer the most purchased kind of golf ball in the company's lineup, Fox said. Golf industry research firm Golf Datatech has studied non-traditional golf balls for the last decade and the numbers in its latest survey of golfer attitudes and usage reflect that more than half of all respondents in its survey of serious golfers say they are at least interested in non-white golf balls and approximately four in 10 say they are interested in golf balls that feature visual enhancements or aesthetic personalization.
Several other brands have made significant strides in this area, most notably Callaway with its Truvis and Triple Track technologies that jump-started the entire concept when first launched in 2015. Other companies have long been advocates of personalization programs, especially Titleist. TaylorMade's MySymbol, while not a performance technology, gives consumers full authorship of the appearance of their golf ball.
MySymbol offers 100 stock logos that can replace the standard number under the TaylorMade logo on either a TP5 or TP5x ball. The sidestamp also provides space for the same array of image options that cover categories ranging from animals to food to holidays. Golfers also can choose up to four alpha-numeric characters to replace the logo or eight characters on three eligible lines of text on the side of the ball. All text and TaylorMade logos come in one of five additional custom colors (navy, green, red, orange or pink).
Fox said many of TaylorMade's staff already have designed special MySymbol versions for their golf balls. That includes a TP5x that features a graphic of Collin Morikawa's goldendoodle Koa and a TP5 with Nelly Korda's lion logo. "We haven't fully studied the benefits, but I definitely think there is something to how a fully personalized ball can put you in a happier mindset," Fox said, indicating players could be transitioning to these new versions this month.
TaylorMade's MySymbol requires a minimum purchase of three dozen balls at $55 a dozen.