Still No. 1 among the heavyweights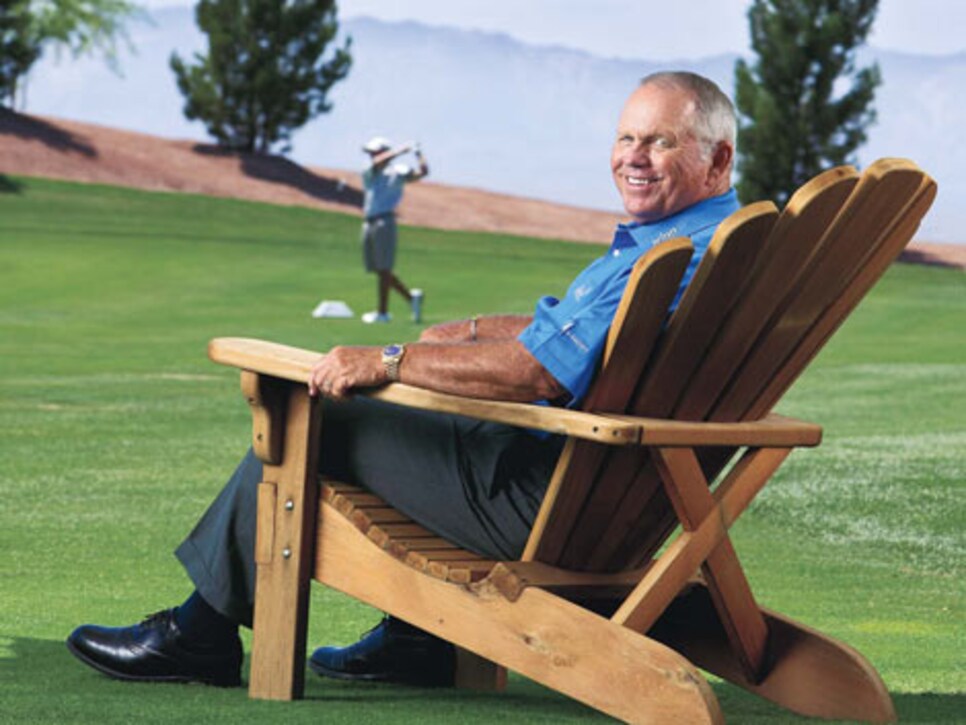 Butch Harmon was ranked the ultimate teaching guru by his peers and by players on tour, too.
Have you heard the one about Butch Harmon's birthday present to his longtime student and buddy Sam Reeves? For Sam's 70th, Butch offered to caddie for him all four days in the Dunhill pro-am at St. Andrews. Without Butch knowing it, his fellow tour caddies in the group put 20 pounds of rocks wrapped in Sam's raingear to weigh down the bag. No matter how cold and crummy the weather got, Sam never put on his rainsuit. Ol' Butchy was staggering by the end, but that laughter you hear in the background is our No. 1 teacher telling the story on himself.
A lesson with Butch is full of these stories, says his profiler Nick Seitz. You get a lot of laughs and then a spoonful of medicine. Then it's back to the storytelling. "All the really great ones never give you too much," says Hank Haney, No. 3 on our biennial ranking of America's 50 Greatest Teachers. Hank is quieter, a great listener and observer. After a round I played with him last month, he offered no swing advice. "What you need," he said, "is a 13-degree driver. Your spin rate is fine, but a higher launch will give you more distance."
I start every year with a breakfast in Orlando with David Leadbetter, No. 2 on our list but second to none in success. What impresses about David is that he's always on the cutting edge of technology and learning.
Jim McLean calls, writes, e-mails me more than anyone. No. 4 on our list has one of the game's most active minds, with a genius for taking instruction and turning it into memorable packages.
These teachers are fascinating to be around, and they are the heart of Golf Digest. Our ranking of the best of the best this month was led by Matt Rudy with important contributions by Peter Morrice and Ron Kaspriske.
Does anyone have more enthusiasm for the game than Jim Flick, No. 5? And how can you speak of Flick without remembering his old counterpuncher, No. 15, Bob Toski.
Managing Editor Roger Schiffman watched Bob give a lesson recently and found him with the energy of a man half his age. "What controls the swing?" he shouts. If you answer, "The arms," he says, "No, it's the hands." If you answer, "The hands," he says, "No, it's your mind!" Bob uses the Socratic method on steroids, says Roger.
Maybe the one who impressed me most was the youngest of them all on our new list of Top-20 Teachers Under 40. Matt Killen teaches seven tour pros and plans to finish his business-management degree from Western Kentucky this year. He says he grew up clipping Golf Digest swing sequences. At age 22, he finally made our pages.