From The Magazine
The joy of playing a new course for the first time
There's nothing like taking your friends to play a great new course that you've been to but they haven't. I got to do that in September when I brought three buddies to Chambers Bay outside Tacoma, Wash., surprise site of the 2015 U.S. Open and no-surprise pick for Golf Digest's Best New Public Course of the Year.
We drive 40 minutes from the airport through an ordinary suburban neighborhood, past churches and schools and ranch houses, and pull into the parking lot of a recreation center to ... whoa! Look at this!
Sprawling 200 feet below is Scottish linksland dropped into a sandbox on the shores of Puget Sound. It's a huge playing field viewed as a whole and then descended to, like a football stadium entered from the top row.
After paying our $149 off-season green fee ($114 for a resident) in the small golf shop, we take a shuttle bus to the first tee and meet our caddies. No carts here. It's a walking-only course.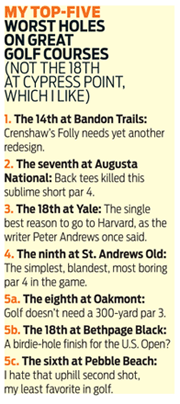 The holes are suitably quirky -- a drivable par 4, massive dunes, false fronts, pot bunkers, 100-yard-wide double fairways, one lone tree and a monster par 3 off a cliff that all four of us managed to drive in regulation. (Richard and I had 90-footers, Bob made a nice putt for a 2, but Greg somehow hit it closest despite starting his slice toward Seattle.)
Big-time sloping greens are excessively slow, and they'll be slow even for the U.S. Open -- probably running 9 on the Stimpmeter instead of the normal 12. They'll be the first fescue greens on which a U.S. Open is played maybe ever, certainly in a century.
The course has kind of a balcony that horseshoes around it with a walking trail for local residents who hang over the fence and watch us mangle our tee shots. We imagine hundreds of binoculars spying on the Open from this sidewalk, partly because we can't figure out where they're going to put the crowds on the wasteland between the holes. And what about those 100-yard fairways -- is the USGA really going to play the Open like that? It was a great day for my buddies, not only playing the course but imagining the Open on the same municipal layout we traversed.
The first time I went there with another group of friends, we walked 36 one day -- what a treat. The sight of the sea as a backdrop, the dunes rising around us, caddies at our side, there was an exhilarating sense of escape and freedom that you feel only in Ireland or Scotland. It's a day when you think of the walk first, the score second. How lucky we are to play this game.