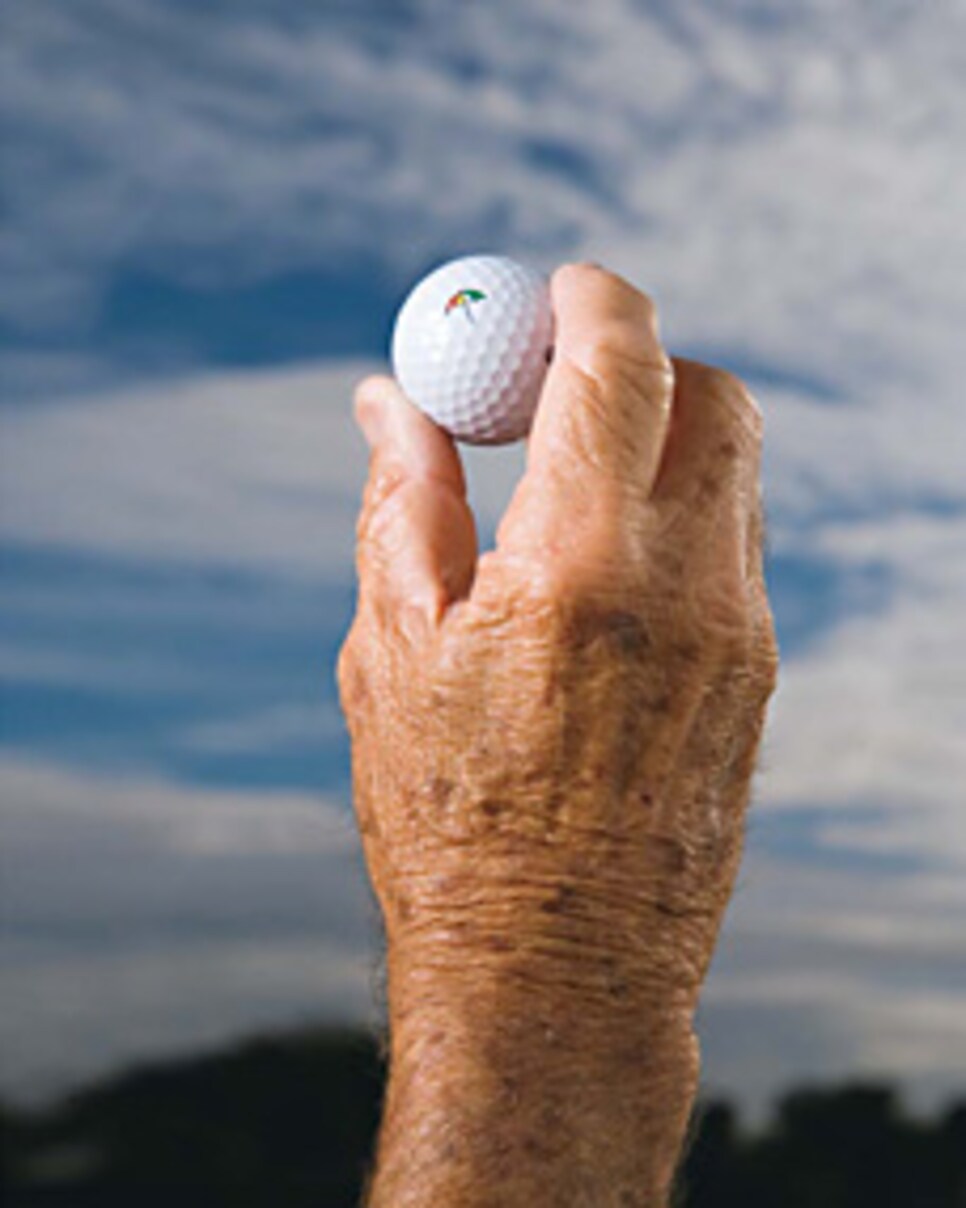 You want a lifetime of power and finesse? We give you the hand of Arnold Palmer.
I've been fascinated by the hands of golfers long before Tiger started wrapping tape around his right middle finger for a blister or a callus or maybe good luck. Sam Snead wore an extra-large golf glove, but had only a large hand, so the leather fit like a gardening glove. Nick Faldo clipped his nails just on Mondays because he didn't want his touch to be affected on the weekend. Ben Hogan drank ginger ale because he thought it gave him better feel in his fingers. Gene Sarazen washed his hands in warm water before going out to play.
"Give me a man with big hands, big feet and no brains, and I will make a golfer out of him," said Walter Hagen.
My first recollection of instruction was reading Jack Nicklaus' Golf My Way and turning to the pages where his hands were outlined at life size. Even my medium-large cadets were bigger. But I'll never forget the first time I shook hands with Arnold Palmer -- those huge mitts swaddled mine like a sandwich made with a loaf of Wonder Bread.
In this issue, Arnie collaborated with Senior Writer Guy Yocom on an essay called "The Feel of a Good Shot". The photography by Walter Iooss Jr. shows Palmer's double-reverse overlapping grip, which he invented.
Yocom is a collector of esoterica. When I asked him what he knew about hands, he reported: Billy Burke, who won the 1931 U.S. Open, was missing the little and ring fingers of his left hand; Nicklaus never contended in the 1972 PGA (after nearly winning the first three majors that year) because of a bad manicure that left him with an infection, and Billy Casper shook hands with only two fingers so no one could "squeeze out the feel."
"Lots of pros had the two-finger shake, like Chi Chi Rodriguez, Fred Couples, Lee Trevino and Raymond Floyd," says Senior Writer Jaime Diaz, "but that might be an old-school thing, because the young guys like Trevor Immelman, Brandt Snedeker and Hunter Mahan have big, firm handshakes."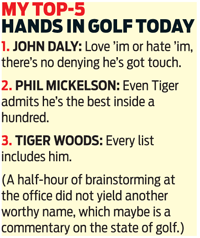 Senior Editor Ron Whitten told me, "When I shook hands with Tom Kite at a Golf Digest meeting in 1985, I was startled by how heavily callused his stubby hands were. It was as if every finger was wrapped in gauze, and the outside edges were like sandpaper. First time I shook hands with Ben Crenshaw, his hands seemed much smoother, almost dainty. It was a graphic contrast between a grinder who practiced, practiced, practiced, and a guy who hated to practice and played by feel."
One of my favorite hand stories is supplied by Contributing Editors Tom Callahan and Dave Anderson, who have played golf with a menagerie of sports heroes and ne'er-do-wells. Years ago covering a Las Vegas fight, they played a match at the Desert Inn against Don King and a press agent named Bobby Goodman. Dave billed it as "Truth and Justice Vs. Evil and Corruption." Tom had resolved to arrive early, pay for everything, and not even let King go into the golf shop. At all cost, they didn't want to be entries on his expense account.
"I need a glove," King said when he arrived, heading to the shop.
"I've got one that will fit you," Tom said.
"No, you don't," said the big man with big hooks.
Callahan recalls: "I handed him a black glove that fit ... well, like a glove. Flabbergasted, he shook his head for about five minutes. Johnny Bench -- he with a hand big enough to palm a half-dozen baseballs -- had left his glove in my bag."
[Ljava.lang.String;@24ddff6c