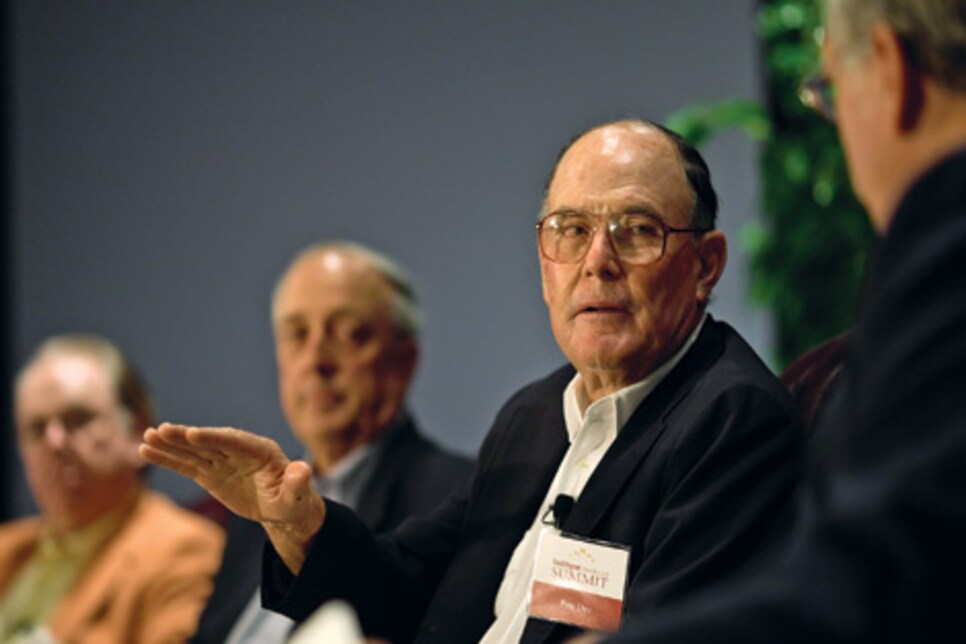 Pete Dye speaks at Golf Digest's Summit of course panelists in 2005, along with Tom Fazio and Reese Jones
When you think of the Ocean Course at Kiawah, what comes to mind has to be that torturous 1991 Ryder Cup, when Calcavecchia topped it into the water and Langer missed the hardest putt in history. Not me. I think of Pete Dye. I remember playing Kiawah with Pete before it was officially opened. The wind blew so hard off the sea that bales of hay were put down around each tee to secure the new grass, so after hitting our tee shots we'd have to climb over the hay. Playing that day was like watching "Psycho" beside the Master of Suspense himself. It was the scariest course I'd ever seen, and it still is, according to our editors' new ranking of America's 50 Toughest Courses.
I once played with Pete and Deane Beman through a lightning storm at the TPC Sawgrass. And I remember joking that the headline on a slow news day would have been, "Commissioner, Architect and One Other Killed in Lightning Strike."
I toured America's fourth-toughest course, PGA West, with Pete when he paused on a par 4, hazards everywhere, and said, "Hitting a tee shot here is like sending your only son off to war."
In Pete's company I four-putted at Oak Tree and played a blind chip into a hazard at Old Marsh, both his courses. "There's nothing more exciting than to see a golfer run to find out where his ball finished," he says. "If you play the Old Course at St. Andrews, you not only don't see the greens and fairways, you don't see the hazards. After a while, you develop a vision. There's no such thing as a blind hole once you've played it."
One of my favorite memories was at Pine Valley, not his course, but he was my partner when our opponents conceded me a 2½ foot par putt on the impossibly hard seventh hole, where the cross hazard is known as Hell's Half Acre, and I was getting a shot. "No," I demurred, "I think I should putt this one out. I might miss it." Like a streak of khaki, Pete came running across the green trying to tackle me, shouting, "Pick it up, you SOB! If you miss it, I'll kill you!"
There are many great architects today but only one true genius, Pete Dye. And in a business known for self-aggrandizement, even his competitors concede him that. Pete dominates our list of toughest courses, designing eight of them. No. 26 even carries the name of his son. This list is actually a resurrection of Golf Digest's first ranking back in 1966, America's 200 Toughest Golf Courses.
Golf's Psycho is back, and the Master of Suspense still haunts our dreams.