The Loop
Tara Lipinski and Johnny Weir announced Olympic golf -- and it was delightful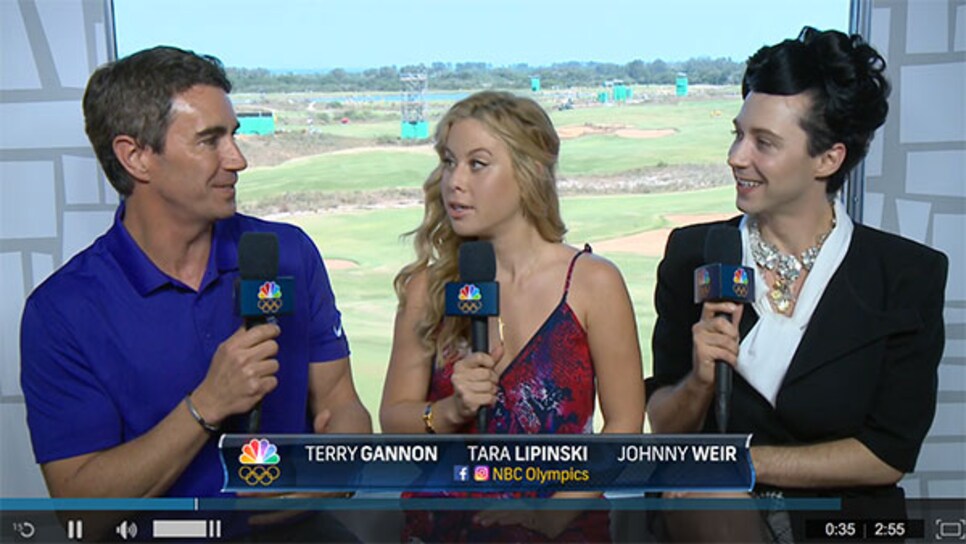 Former figure skating stars Tara Lipinski and Johnny Weir are officially in Rio as "cultural correspondents" for NBC's coverage of the Summer Games. And on Thursday, the colorful duo joined their figure skating broadcast partner Terry Gannon in the booth to break down some golf. We're thankful they did.
Weir, wearing plaid shorts and what he described as a "hole-in-one" hairdo for the occasion, and Lipinski discussed golfers' style, of course, but their commentary on the action was the best.
Weir on a Stacy Lewis birdie attempt: "She uses the green to her advantage. . . and it drops in! She reaches for the ball, not garnering any extra points for the reach, but she's done her job."
Weir on Marianne Skarpnord hitting her second shot on a par 5: "Norway a solid golf history. . . Strong drive, strong hit! And it is in a bit of a grassland, looks quite Wyoming out there."
The duo pointed out Stacy Lewis' golfer's tan and they were very impressed with Lexi Thompson, who matched her red golf glove with her red visor.
"She's here to do business," Weir said before setting up her birdie attempt by saying, "A solid bronzing of the shoulders."
Johnny Weir won't be replacing Johnny Miller in the booth anytime soon, but we'd pay good money to see them call a few holes together at some point.