The Loop
Talking Travel With Brad Faxon
Back when I was the director of photography for Golf Digest and Golf World I used to set up portraits of the players and help come up with a concept to match the subject matter of the story. It was a far cry from brain surgery. If it was a story about Tiger and his relationship with his father, a portrait of Tiger and his mother wouldn't work as an opener. The Golf Digest Interview and My Shot series have always been among my favorites. They generally involved an icon of the game, and the players were advanced enough in their career that they would be willing to cooperate without much hassle. And most of the time I could call the player directly, as opposed to going through an agent. Those human rain delays usually say "no" first and ask questions after the deadline. Brad Faxon is as nice as you think he would be. I called him directly, and he cooperated without an ounce of pretentiousness. It was always refreshing to work with guys who conducted themselves with a sense of class and understanding that we, the collective golf world, were in it together. And that I, the photo guy, was just trying to help make them look good.
In coming up with an idea for a portrait of Faxon, I thought back to a post-game interview Michael Jordan did one night after he scored a bunch of points. I don't remember the specifics now, but I do remember Jordan saying the basket looked like a big bucket. With Faxon being such a great putter, I thought the cup must look like a manhole to him when he got hot with the flatstick. I pitched the idea (putting into a manhole) to Faxon, and he liked it. Peter Gregoire was one of my favorite photographers I worked with through the years at Sports Illustarted and at Golf Digest. He always seemed to take any idea to the next level. On some empty street in Rhode Island, Gregoire shot this portrait of Brad Faxon for the Golf Digest Interview.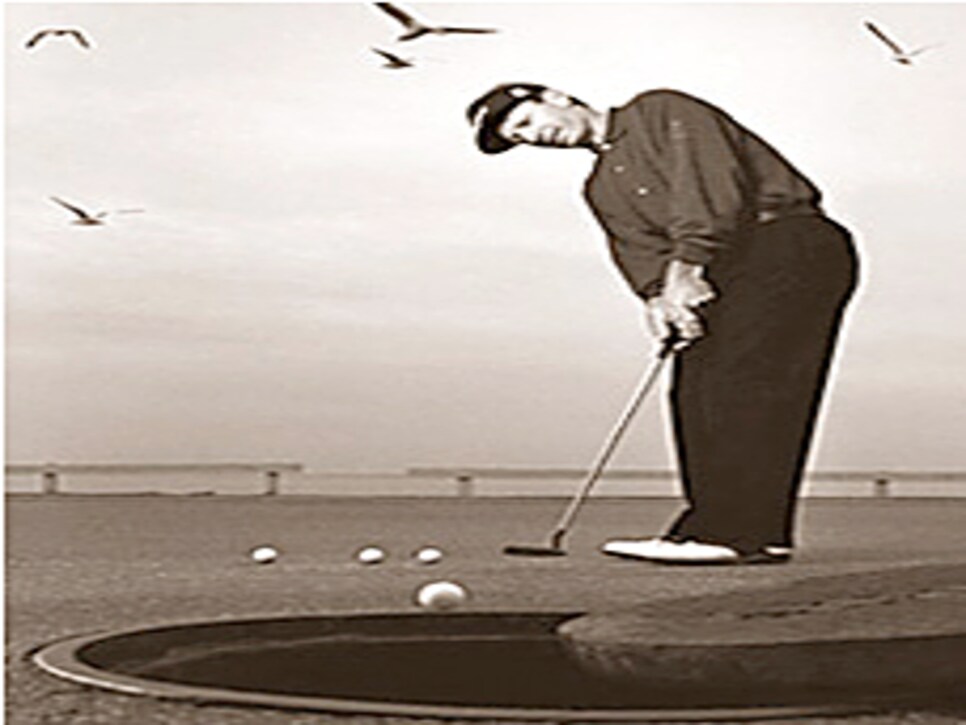 For this month's issue of Golf Digest, I caught up with Faxon again. This time I was using the recorder, and our conversation was about his travel habits, buddies golf, course architecture and a family-owned restaurant in Manhattan. Here are a few questions and answers:
Did I read you're in the restaurant business?
My family has a restaurant in New York City, right in Manhattan. It's called La Masseria. It's authentic Italian cuisine on 48th Street and Eighth Avenue. It's close to the theaters, so the place cranks. My brother-in-law got the idea going, with some guys who've been in the restaurant business who are from the island of Capri. The restaurant has been killing it. Even now. It's been four years, and it's full every night.
And I'm guessing it's not overpriced?
It's not overpriced, the wine list is good, the service is fantastic and the food, you feel like you're in Italy--it's that good.
Oh, yeah. It's great. You go sit at the bar and have a drink. You can wear a pair of jeans. In the summertime you can sit outside.
I checked Zagats for a review of La Masseria. It gets: 22 for food; 19 for decor; 22 for service; and the average cost per plate is $55. Here's the comment: "Artfully prepared" food "without pretension" is the forte of this "bustling" Theater District Southern Italian whose relatively "roomy" space has a "pleasant" "pastoral" look; it's "expensive", but at least you can count on the "unassuming" staff to "get you to your show on time."