OAKMONT, Pa. -- It has been two months, but Jordan Spieth's meltdown at the Masters continues to be fodder for conversation. Is the quadruple bogey at Augusta National's 12th hole the biggest blow-up of all-time? What will the incident do to his confidence? Will this haunt him for the rest of his career?
Discuss the matter all you want. But understand this: Spieth has moved on.
Spieth spoke to the media at Oakmont Country Club on Monday, and the writers -- nefarious group, those writers -- tried their hardest to delve into the 22-year-old Spieth's psyche following his battle with Amen Corner.
Has the Masters lingered in your mind? What did you learn from the traumatic event?
"It was just a mis-hit. I wasn't trying to hit it at the hole," the two-time major winner said about his dunks in Rae's Creek. "Two badly timed swings."
From there, how do you move on?
"I just made two poor timed swings. It happens."
"I did move on. I moved on."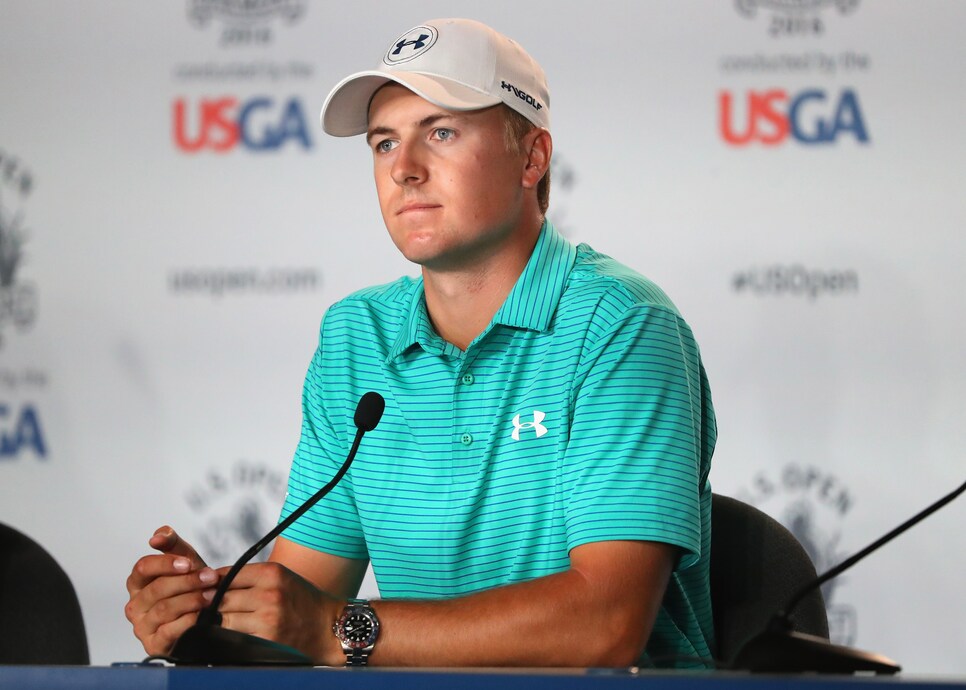 A few writers went at it from another route, trying to get Spieth to discuss Dustin Johnson's three-putt at Chambers Bay as a conduit to his Augusta woes.
Do you see any parallels between Johnson's 2015 U.S. Open and your performance at the Masters? Did your win feel muted because what he did, and do you think that's what happened at the Masters, because it was fairly clearly yours...
"There's nothing taken away from my win last year off of that, and there's nothing taken away from Danny Willett's win at the Masters this year," Spieth said. "The more you look at it, there's no pictures on scorecards. You just count them up at the end of 72."
It's natural for the golf world to hang onto Spieth's collapse. One of the best golfers in the world, a two-time major winner in 2015, suffering an epic fail on one of sport's biggest stages. It's the stuff of Greek tragedy. And our culture doesn't like the narrative about a soaring, unwavering eagle. We tend to amplify the errors and tribulations, building up heroes and tearing them down at the first misstep. Spieth, coming off one of the greatest seasons in the game's history, is human after all.
What do you think about that, Jordan?
"You can dissect everything in between because that's kind of how we dissect it because we want to learn from the good and the bad," Spieth said. "You guys dissect it because that's the news on the round and how the tournament played out."
Yes, traumatic moments can have long-term ramifications. But what happened in April doesn't have a definite bearing on the proceedings this week at Oakmont. Many are wondering how Spieth will respond after his Masters free-fall, conveniently forgetting he won at Colonial just three weeks ago.
The final round of the 2016 Masters will endure as a topic of conversation. Just don't expect Jordan Spieth to partake in the discussion.