News
Is it possible to shoot a disappointing 60? Plus four other takeaways from Day 2 of the Northern Trust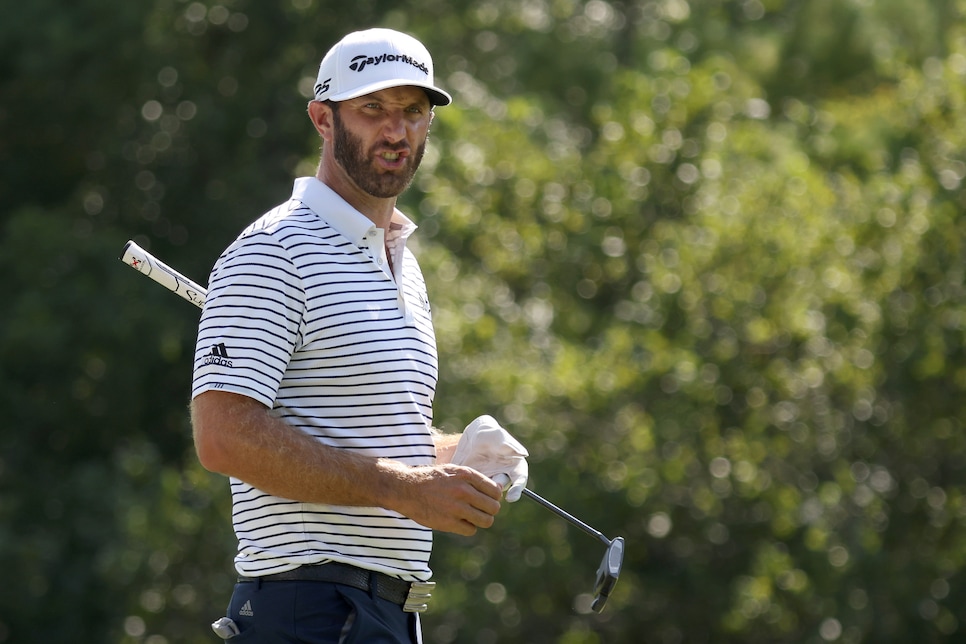 The true golf purist may not have enjoyed it, but it was hard not to be captivated by what was happening on Friday at The Northern Trust. There were nearly two 59s, and 58 or 57 was not out of the question for Dustin Johnson at one point. It was a ridiculous day for scoring at TPC Boston, and many in the field took advantage.
Unfortunately, that didn't include Tiger Woods, who shot even par and now finds himself 12 shots off the lead. If you didn't go low, you basically shot yourself out of the tournament.
Here are our five takeaways from Day 2 of the Northern Trust.
Is it possible to shoot a disappointing 60?
[In whispers] Yes. It absolutely is.
Unless, of course, you're the man who shot the 60, and you also happen to be a guy who doesn't really get disappointed with anything. Not back-to-back 80s. Not a 60 that could have been a 58 and not losing multiple majors in crushing fashion. Take it away, Dustin Johnson.
"Any time you shoot a number like that, you're never going to be disappointed," said the 21-time PGA Tour winner, who sits at 15 under and leads by two through 36 holes of The Northern Trust. "Definitely not. I feel like the game is in good form. Need to come out tomorrow and do the same thing."
Vintage DJ. Why would he be disappointed? He just shot his career-low round on tour, and it vaulted him into the lead heading into the weekend of a FedEx Cup Playoffs event. Not sure if you've noticed, but he enjoys these events. He's won four of them. Johnson may not seem like he cares about much, but his performance in these playoff tournaments would indicate he really cares about being really rich.
But, for the viewers, my goodness was that disappointing. To be 11 under through 11 and NOT shoot a sub-60 round is downright stunning. Yes, it's difficult to stay in video-game mode, but all he needed was two birdies on his final seven holes [I write as I sit here eating potato chips and prepare to shoot my standard 87 tomorrow]. He had the par-5 18th left, playing as the easiest hole on the course and a guaranteed birdie with his length, plus the 149-yard par-3 17th, a flip wedge for Deej. But the closest he came to a birdie was on 17, when his 10-footer burned the edge. At 18, his drive found the rough and he laid up, eventually settling for par. Disappointing for DJ? Hell no. Disappointing for everybody rooting for all kinds of history? Yup.
Scottie Scheffler holds up his golf ball in celebration after scoring a 59 during the second round of The Northern Trust at TPC Boston.
Rob Carr
Scottie Scheffler has too much talent
Perhaps it's just me, but up until the PGA and Scheffler's 59 on Friday, it feels like he gets, at best, a fraction of the respect that fellow young stars like Collin Morikawa, Matthew Wolff and Viktor Hovland do. I think I have a theory—he doesn't look as young as them.
And yet, Scheffler just turned 24 in June. Incredibly, that makes him the elder statesman of that quartet. Morikawa is 23, Hovland 22 and Wolff 21. Not only is he the oldest in age, but he looks the oldest, almost like a Dustin Johnson clone. Is that why he doesn't get the same love? He's too OLD? Has Scottie Scheffler jumped the shark?
Kidding, obviously. But as Scheffler has shown over these last few weeks [and even before that] he's just as if not more talented than all of those other dudes. He has, as some of us at Golf Digest like to say, "too much talent." He's going to win soon, perhaps this week. His tee-to-green game is simply too good for him to not start piling up victories.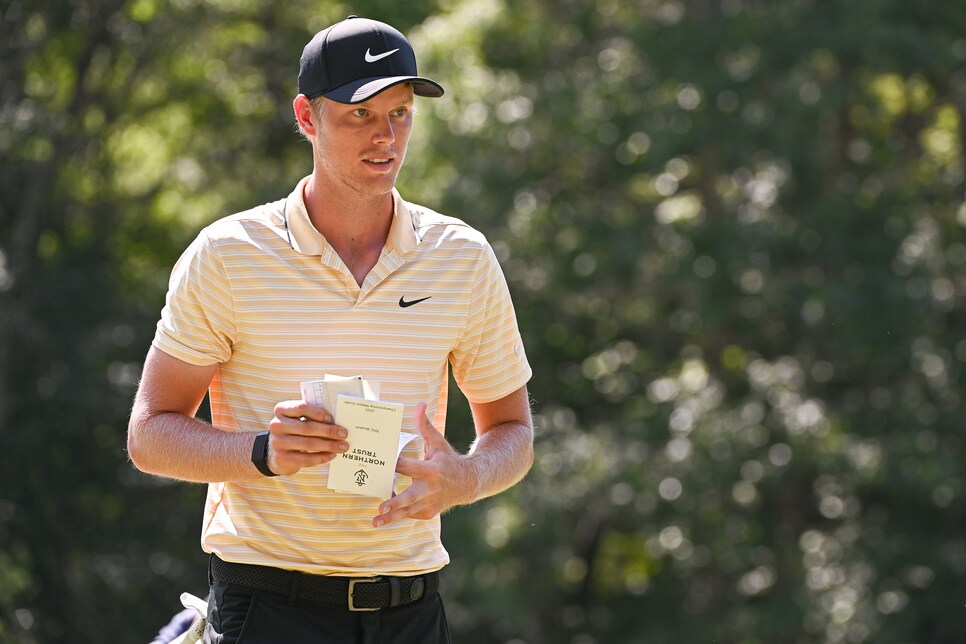 Cameron Davis of Australia walks off the ninth green during the second round of the Northern Trust.
Ben Jared
Poor Cameron Davis [and Danny Lee and Harris English and Louis Oosthuizen and Kevin Kisner and Russell Henley]
Speaking of disappointing, it's got to be disheartening to play like these guys did on Friday and essentially lose ground. Davis, another overlooked young player at 25 years old, could be in line for the biggest week of his life. The Aussie has shot rounds of 64 and 65 and is still somehow flying under the radar heading into the weekend. Danny Lee is three back after shooting a seven-under 64. Harris English backed up his strong first round with a 66 and also finds himself three back. Louis Oosthuizen threw up a pair of 65s and will need to come from behind. Kevin Kisner kept it rolling with a 66 and still needs to make up four shots. And the same goes for Russell Henley, who went 64-67 to reach 11 under. "Play better" does not suffice in this situation, because I'm not sure how much better you can play than some of these guys did [besides shooting 59 or 60].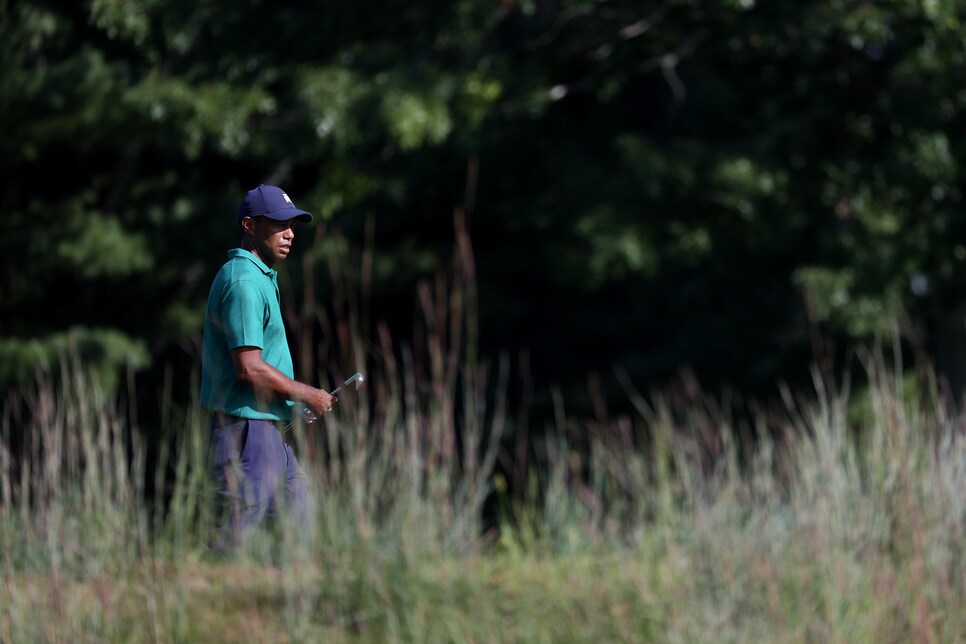 Tiger Woods walks to the 12th green during the second round of the Northern Trust.
Rob Carr
A quiet day for Tiger Woods
All that old Scotty Cameron magic from Thursday? It went poof. Well, actually, Woods still putted fine, but not well enough to overcome some very shaky iron play, the strength of his game. If the irons aren't going to be completely dialed in, and if he keeps losing strokes around the greens, it'll be tough for Woods to contend. He'll keep fighting, just like he did Friday to shoot even par and make the weekend, but we're still waiting on that one round where it all comes together. Maybe we'll get some early morning, moving day juice from the Big Cat, but at three under, he'll need a miracle [aka a 59] to have a chance.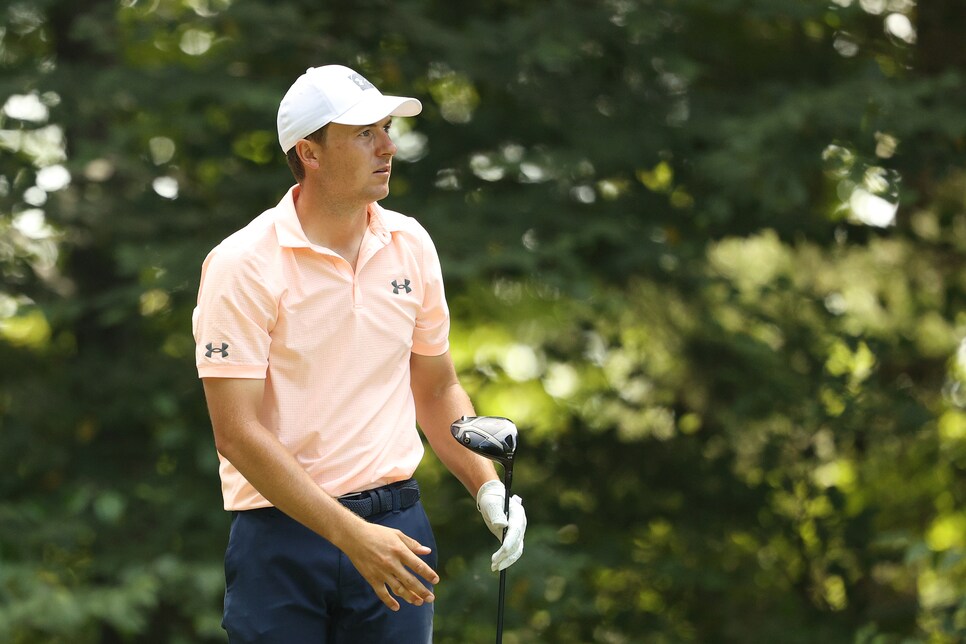 Jordan Spieth watches his shot from the ninth tee during the second round of the Northern Trust.
Maddie Meyer
Did you ever imagine a world where Jordan Spieth finished the year 108th in the FedEx Cup standings?
Entering the week at 100th, Spieth needed to jump 30 spots just to advance to the BMW. The way he's been playing, that was a pipedream. At two over [69-71] he missed the cut, dropping him to 108th in the standings. His season is now over.
Last year, even after a slow start, Spieth was able to go from a low point of 196th in the standings all the way to 66th. He did get into the BMW, but his season ended that week. The year before that, when the playoffs were still four events, he also made it to the BMW, which was the third leg at the time. Before that, he made the Tour Championship in every full season he played on the PGA Tour.
This year, he didn't even sniff week two. It's become downright depressing at this point. We all keep saying he'll come back around, but that's going to become harder to believe if he has another season like this one. As a member of the golf media, I'm rooting for it to happen, because his presence on Sundays in majors and big-time tournaments is sorely needed. It feels like ages since we've had that, though.