News
Can Harris English finally capitalize at Kapalua on his ridiculous run of form?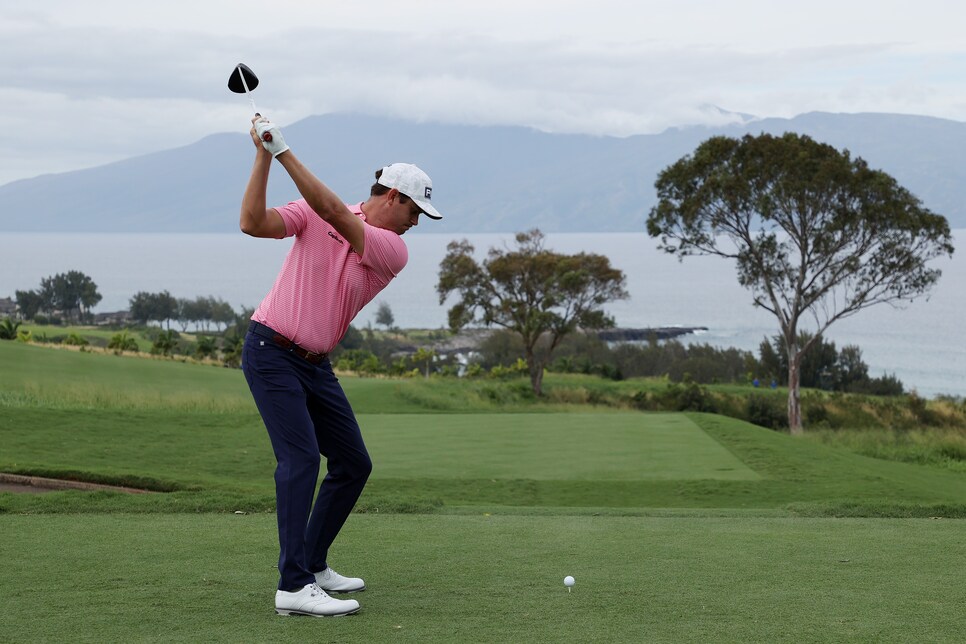 Harris English plays his shot from the seventh tee during the second round of the Sentry Tournament of Champions.
Gregory Shamus
Through 36 holes at the Sentry Tournament of Champions, golf fans could not have asked for a better leader board to kick off 2021. The top three players in the world—Dustin Johnson, Jon Rahm, Justin Thomas—are all in striking distance, as are the likes of Patrick Reed, Bryson DeChambeau, Xander Schauffele and Collin Morikawa. Need we continue?
Didn't think so. That said, not one of those names is your solo leader. That designation belongs to Harris English, arguably the hottest player in the world not named DJ.
Exaggeration? Only slightly. The former Georgia Bulldog really has been that good of late, but the key difference (big emphasis on KEY), is that he has not won on the PGA Tour since 2013. In the hopes of changing that, English plans to "keep the pedal down and keep making birdies," as he stated in his post-round interview. Considering who is chasing him, that strategy is his only option.
Here are five takeaways from Day 2 at Kapalua.
Please, Harris, just win already
It's said countless times about a number of players every year on the PGA Tour. "It's just a matter of time until [insert guy] wins." It feels like we're well past that point with English, who has been just about as good as Dustin Johnson over the last year, minus all the winning.
Seriously, it's not that crazy of a take to say he's been as good as DJ. Since the first event of 2019 (Military Tribute at the Greenbrier), English has made 26 starts on the PGA Tour. Ten times he's finished in the top 10, eight of those coming inside the top six and four inside the top four. What's even more remarkable about his ridiculous run of form is that it has come after his worst year as a pro in 2018-19, when he failed to post a single top-10, made a career-low $628,922 and fell to 369th in the Official World Golf Ranking. In 16 months, he's vaulted all the way back to 29th, one spot shy of his career-best 28th spot.
Despite all this, he's stuck on two wins, the last of which came over seven years ago at the 2013 Mayakoba Golf Classic. His first career win came just five months earlier at FedEx St. Jude, so he's shown before that he can capitalize on a hot stretch. He's in the midst of an even hotter stretch right now, and it's starting to feel like he better cash in on it sooner rather than later. It won't be easy against this strong of a field, but that would make it that much more rewarding.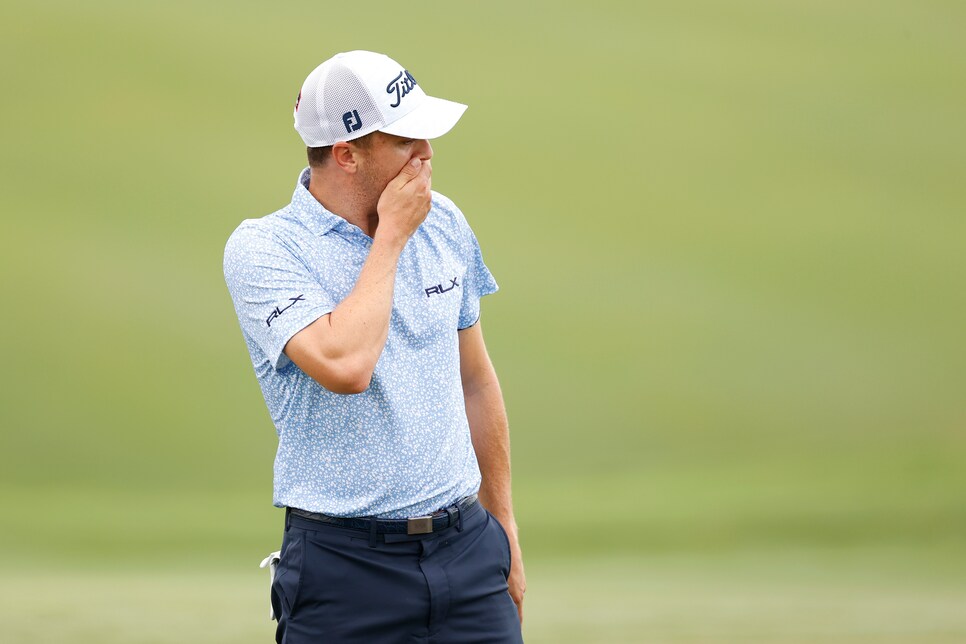 Justin Thomas reacts to a putt on the 13th green during the second round of the Sentry Tournament Of Champions.
Cliff Hawkins
Justin Thomas got his bad round out of the way (he's still only two back)
Justin Thomas, Hawaii, yada, yada, yada. You know the drill by now. He owns Kapalua, even on his bad days. Friday was one of those, with Thomas struggling to a … four-under 69. The horror.
On the scorecard, that 69 looks just fine, but JT was all over the map off the tee. Of course, as he's proven many times before, he can still get so much out of his rounds, perhaps more than any player on the planet. If you saw some of the places he was hitting his second shots from on the back nine, you would have guessed he shot 74 at the absolute minimum.
Alas, he still was well under par, enough to be just two back heading into the weekend. If that was his bad day, we might as well hand him his third TOC trophy now.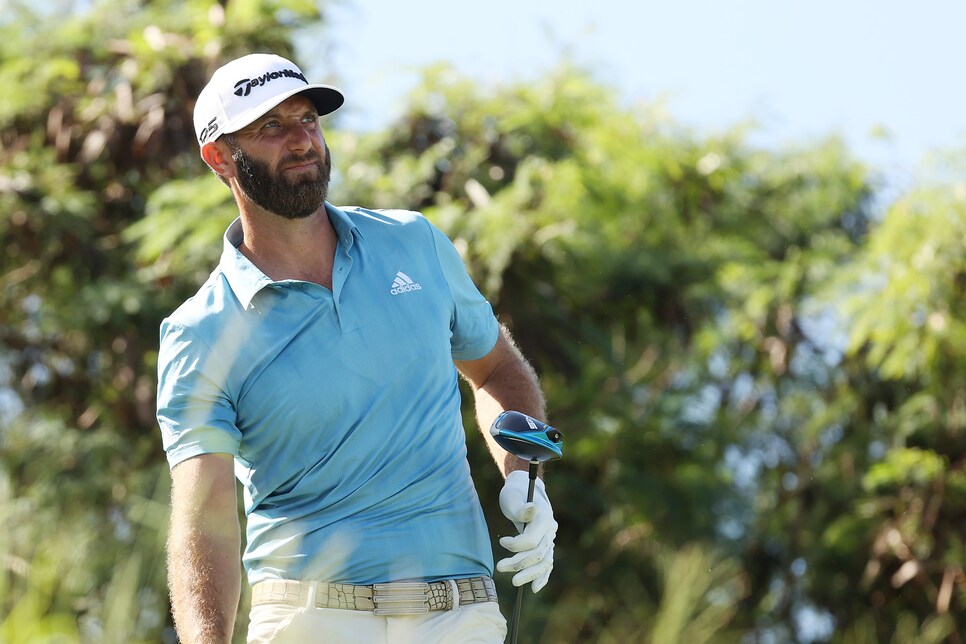 Dustin Johnson, still very good at golf
Because the Plantation course is a par 73, Dustin Johnson's two-under 71 looked worse than it actually was on Thursday. If you remove his out-of-character 80-80-78 stretch in late July, Johnson only shot 71 or worse in four of his last 40 rounds (not a typo), and two of those came at the U.S. Open at Winged Foot. This is a man who can roll out of bed, rub his eyes, strut on to the tee and throw up a 69 without blinking. What the hell was wrong with him yesterday? Too much post-Masters partying?! Not enough practice?! Had DJ taken a step back?! As the great Vince Lombardi once screamed, "What the HELL'S goin' on out there?!?!"
OK, deep breaths. Yes, DJ more than likely enjoyed his Masters victory celebration, and he purposely did not play any golf during his time off, so rust was expected. But he shook it off quickly, shooting an eight-under 65 on Friday and playing himself back into the tournament, which he's won twice already. He's fine folks, and so is his mind, which was in peak DJ form in his post-round interview. When Golf Channel's Todd Lewis asked Johnson what he did better on Friday, Johnson simply went "Ummm ... (long pause) ... " before trotting out his tried-and-true "I made more putts" answer.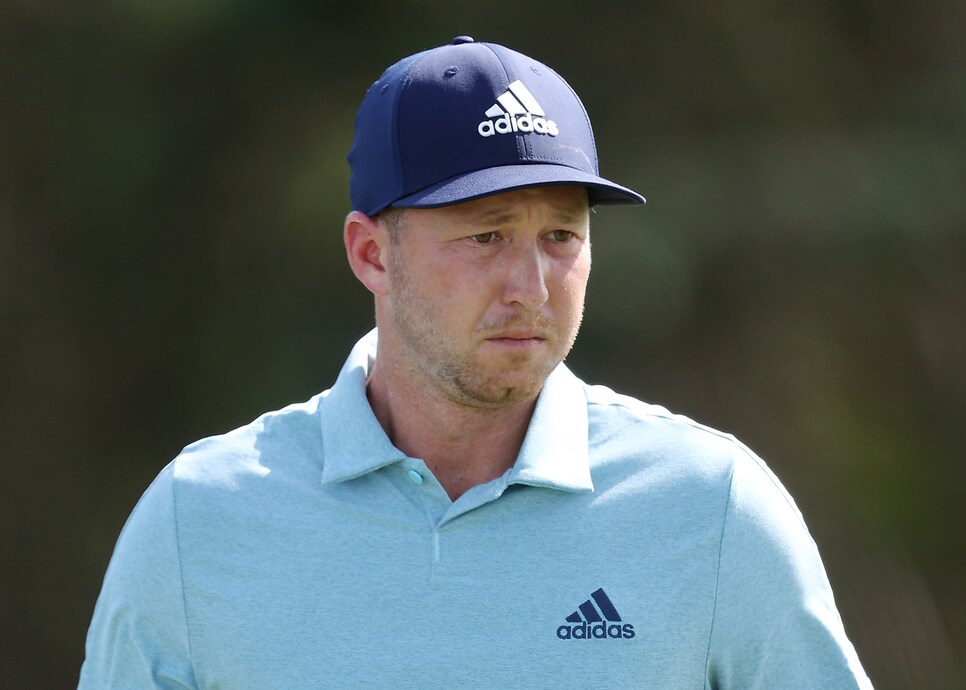 Daniel Berger reacts on the sixth green during the second round of the Sentry Tournament of Champions.
Gregory Shamus
How much longer can we sleep on Daniel Berger?
Probably not much longer, especially if he goes out and wins against this field as one of the actual "champions" from last season. Should Berger, who is in a four-way tie for second, go on to win, it'd be his second victory since June, and it could make him a borderline lock for the Ryder Cup (Berger is currently 11th in the American team rankings). He gets to avenge his November Masters absence in April, and he'll have three other cracks at making his presence felt in a major in 2021. Hell, he could represent the U.S. in the Olympics at this rate. Simply put, we need to put a little more respect on this man's name, and we also should bet him every week, given he's always 30-1.
Will the real trade winds please stand up?
In case you didn't hear Mark Rolfing say it enough already, the famous "trade winds" that often wreak havoc on the players at Kapalua have not been blowing. Many of the players claimed it was a bit breezy on Thursday and not breezy at all on Friday, but both days have been rather calm. Scores are always low at this event, but without any weekend wind we're headed for 25-under territory. Be a real shame if it got a little gusty and made this thing super interesting on Saturday and Sunday. Real shame.