News
Tiger makes the right call, Bubba gets real and two other takeaways from Day 1 of the Northern Trust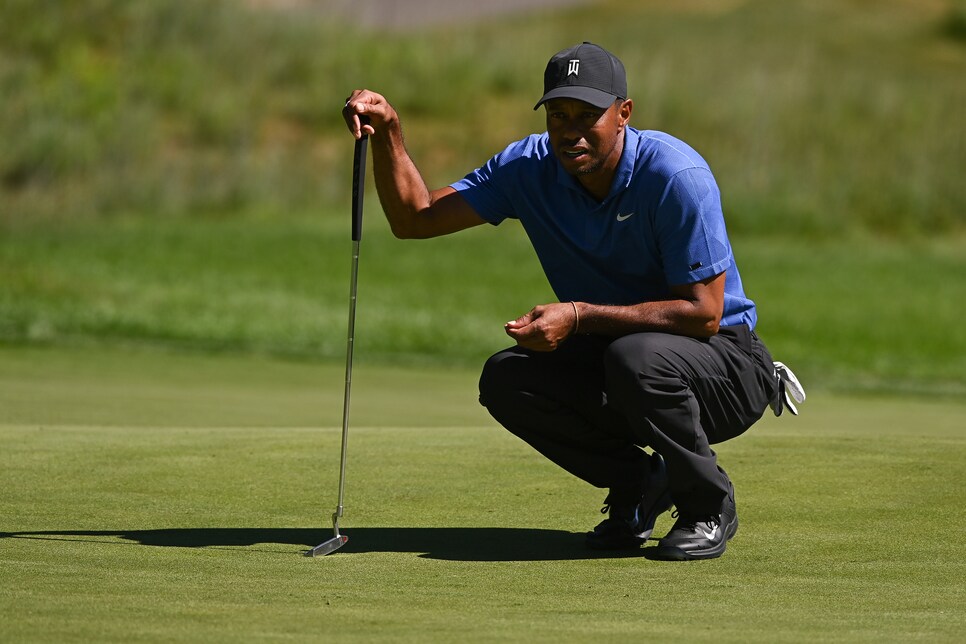 Tiger Woods reads the 17th green during the first round of the Northern Trust at TPC Boston.
Ben Jared
Woods, who picked up one of his 82 PGA Tour victories here in 2006, built on the momentum from his final-round 67 at TPC Harding Park, shooting a three-under 68 to get himself in the mix in the first FedEx Cup Playoff event.
Here are our five takeaways from Day 1 of the Northern Trust.
Tiger goes back to "ol' faithful," which was the right move
In a surprising move, Woods put a new putter in the bag for the PGA Championship, his first major start since a missed cut at Royal Portrush last July. The results were ... not great, aside from Sunday. It was an understandable move given how poor he rolled it at the Memorial Tournament, but the new flat stick didn't help matters much at TPC Harding Park.
Woods wastes little time going back to "ol' faithful," as he called it on Thursday. The Scotty Cameron he's won a billion tournaments with was back in the bag in Boston and he made five birdies, the longest of which came from 16 feet. As for the other four, they were all within seven feet, but those are the ones you have to make when you give yourself those chances. It wasn't an Ian Poulter-like performance on the greens, but it got the job done Thursday.
"Just stubbornness, I guess," said Woods when asked of the decision to go back to the old putter. "I practice all the time with -- I have been, with a longer putter, and the one I've been using that one for 21 years, and then also my 8002. I switch back and forth between all of those. I really do practice with my 8002 probably the most because I like feeling that toe release and I like putting with my right hand. That's basically my training aid, and then I went to a longer putter to get more reps in. Went with it at the PGA, had one good day, the first day, and then after that I didn't really putt well. When I was at home practicing I didn't really use this putter. I was practicing with the other one to make sure I could get some reps and get some feel, and all of I sudden—heck with it, I'll just put it in play and see how it goes, and it worked."
Sure did. Let's hope it doesn't get benched again any time soon.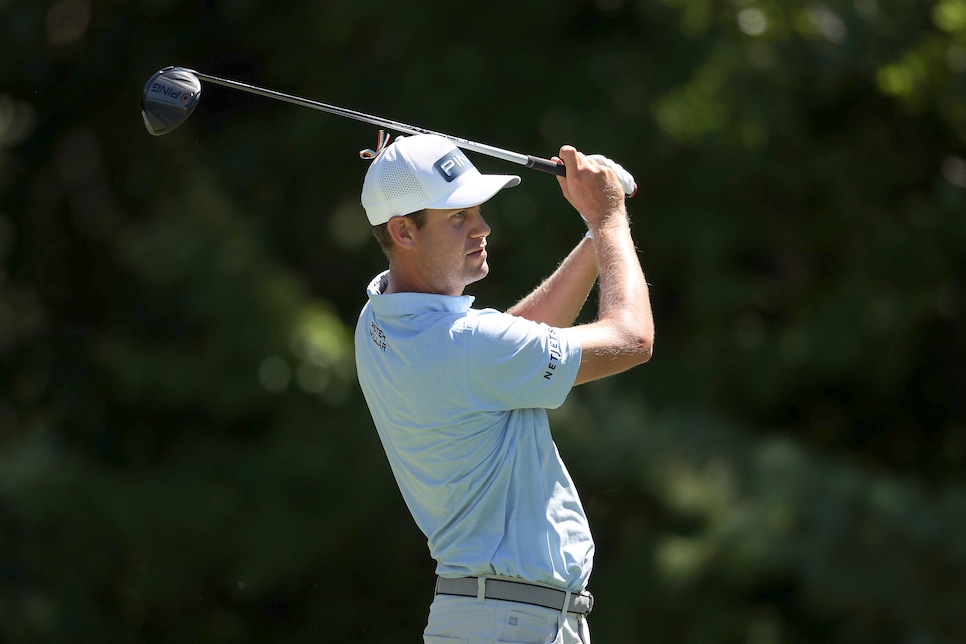 Harris English plays his shot from the 14th tee during the first round of the NorthernTrust at TPC Boston.
Rob Carr
Harris English is a first-round god
If not for Bryson DeChambeau and his average of 68.00 in first rounds on tour, do you know who would be leading that stat? Harris freakin' English. The guy knows how to get off to a hot start. Thursday was the eighth time in his 18 starts this season that he's shot 67 or lower, and it's the second straight week he's opened with a 64. Why am I not betting him to be the first-round leader every week?
Now comes the hard part. Of those eight times he's shot 67 or lower, he's finished outside the top 10 four times. Fast starts are good, but it's extremely difficult to back it up the following day, let alone the rest of the week. That said, he did pick up three top 10s the other four times he opened with 67 or lower, so he's no choke artist. This week, if he can keep it rolling, he could give himself a chance at the biggest win of his career to date.
Bubba Watson's post-round interview is a must-see
If you have a few extra minutes, I highly recommend watching Bubba Watson's post-round interview on GolfChannel.com. Watson has always been vocal about his mental health issues, so that's nothing new. But it sounds like he's really been struggling of late, and the most notable quote was when he essentially said he hasn't been believing that he could hang with these young guys right now.
"The problem I've had over the last year or so is just the mental part," Watson said to Golf Channel's Todd Lewis. "The thinking. Been trying to work on that a bit. I knew my ball-striking was there, and again, we've got three more days. I could shoot 102 tomorrow, right?
"It's just mentally believing in myself, believing that I can play golf with these young guys. I feel like I have the ability to hit the shots; it just comes down to thinking that I am good enough, that I'm man enough to hit the shots."
Watson said he has a "breathing coach" who is helping him calm himself, but also admitted that he still deals with the mental side of the game and life.
"Life is hard—on course, off course," Watson said. "A lot of people don't talk about it much. I went through a lot of mental issues, still going through them. I'm still going to battle them the rest of my life. Just trying to work on my part, getting more relaxed."
Pretty jarring stuff to hear from a 12-time PGA Tour winner with a pair of green jackets, but it goes to show no matter how successful you've been in this sport, it can still eat away at your brain. By the way, Watson shot a six-under 66 on Thursday and sits one off the lead. He can still play with anybody.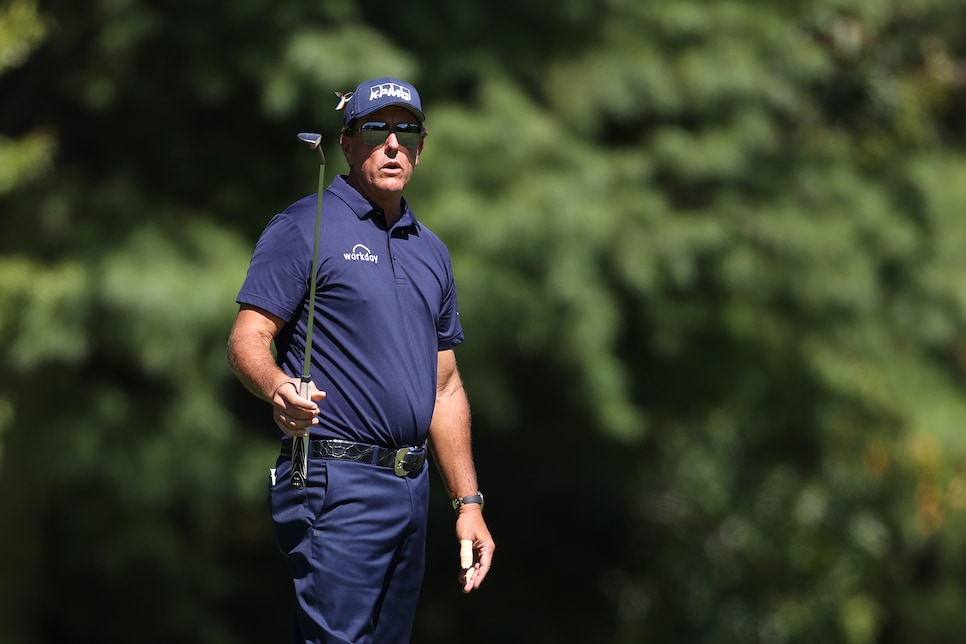 Phil Mickelson watches his putt on the ninth green during the first round of the Northern Trust.
Rob Carr
Gut-check time for some on Friday
Well, mostly Phil Mickelson, who opened with an ugly 74. Only the top 70 in thge standings after Sunday advance to next week's BMW, and Mickelson was just inside that threshold when he began the day. Now, he's projected at 79th, and a missed cut would end his season. With nearly 70 players at two under, he's going to need something ridiculous to survive.
Other notables who need to go low on Friday include Matt Kuchar, who despite shooting a two-under 69 went from 63rd to 72nd on Thursday. Alex Noren, who began the day at 78th, dropped to 86th even though he too shot a 69. Sung Kang dropped from 61st to 75th, Paul Casey from 55th to 67th, Harold Varner III from 73rd to 85th, Bud Cauley from 74th to 87th and Doc Redman from 60th to 74th. Friday will be a much more important cut sweat than it normally is for this group.