The Loop
Tahoe, Days 4 & 5: The Celebrity Event And Wrap Up
To all jersey-wearing, autograph-seeking, celebrity-worshipping face-painters who like golf and travel, how and why did I not see you at Edgewood in Tahoe last week? You would've been a kid at a McDonald's Playland, and the celebrities would've been the tub of plastic balls. They're everywhere. And they're relaxed and accessible.
But before I walked amongst the gladiators of sport and cinema over at Edgewood, I jumped a final early-morning round at Old Greenwood, the only course I tried twice among the five I played in Tahoe.
Here's a picture of the 18th green: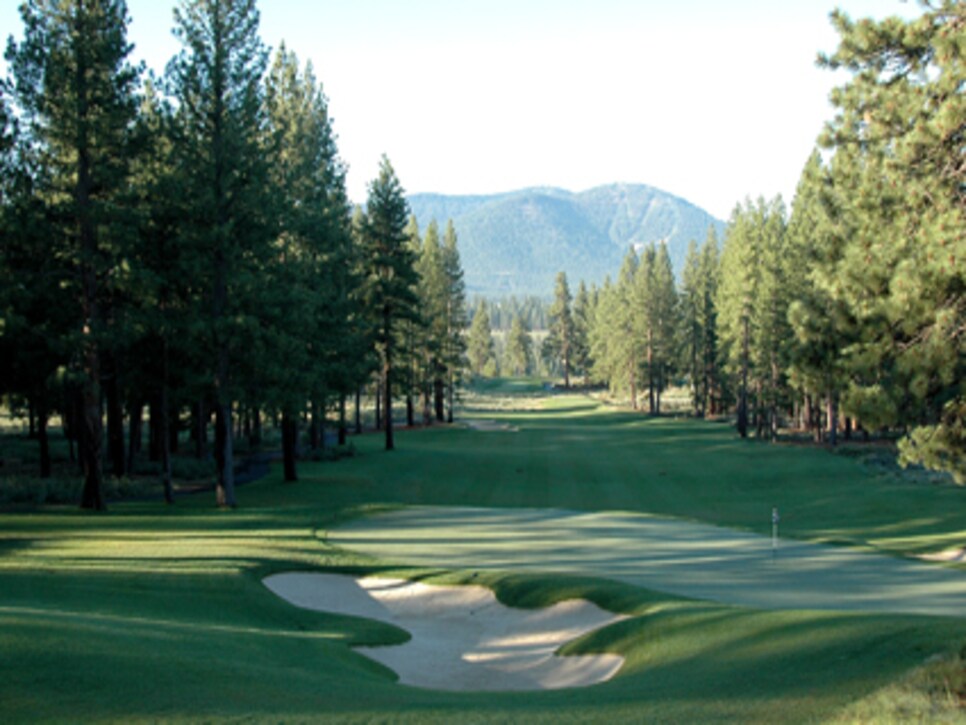 Then I drove through my favorite spot in Tahoe, Incline Village, en route to Edgewood for a day and a half of the festivities at the American Century Championship. My goal: come back with some Q&As for upcoming issues of Golf Digest. I also wanted to touch base with a few "friends" I made 15 years ago, back in 1995, when I caddied at this event for Mike Shanahan. I was a senior in college; Shanahan was about to begin his first year as the Broncos head coach.
Cut to last week--I was in town to report a story on golf in Tahoe and Shanahan is about to begin his first year as the Redskins coach. I'd say Shanahan remembered me. Sort of. He remembered we were paired with Ernie Banks and Digger Phelps, who I argued with over the rules, specifically where he could drop after dumping one into a hazard. Shanahan was a generous tipper--he threw in an extra $50 because my altercation with Phelps caused severe swing troubles for the former Notre Dame coach and Shanahan ended up beating Digger by two strokes.
This year Shanahan, who had only played twice before Edgewood, beat Phelps by 13 points: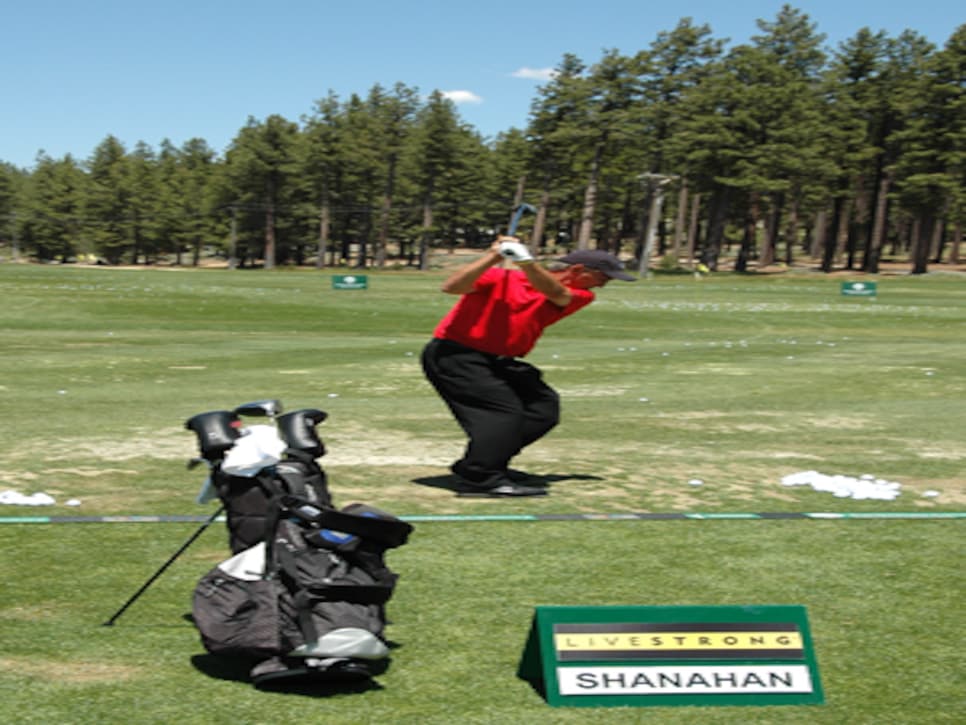 Last Thursday Haney's four playing partners got quite a deal for being paired with the notable swing coach. They enjoyed an 18-hole playing lesson, which, according to Haney, would normally cost $25,000 each. Dave MacEwen, pictured below, was told by Haney, "Faster back, faster through, just in case you hit it."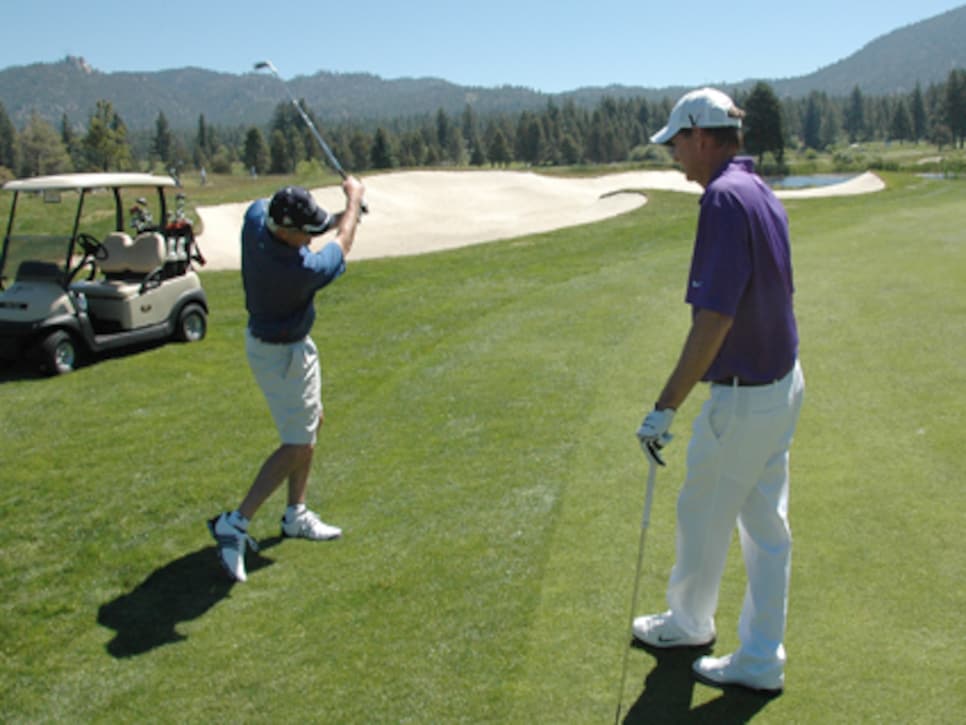 Haney quietly replied, "I think he will win the tournament."
Then the fan asked, "What about Barkley, will he win this tournament?"
"I give him 5,000 to 1. I think this is Barkley's grand finale . . ." said Haney, "as a righty. I think he comes back next year as a lefty."
"He couldn't do any worse," said the fan.
The fan was right. Poor Charles, he finished dead last.
But regardless of the quality of his golf, Barkley is the unofficial host of this event. Jordan is the biggest name, but Barkley is by far the biggest personality. He works the course and the party sessions after the golf as though he has a stake in the tournament's success (pardon the quality of a cell phone snap):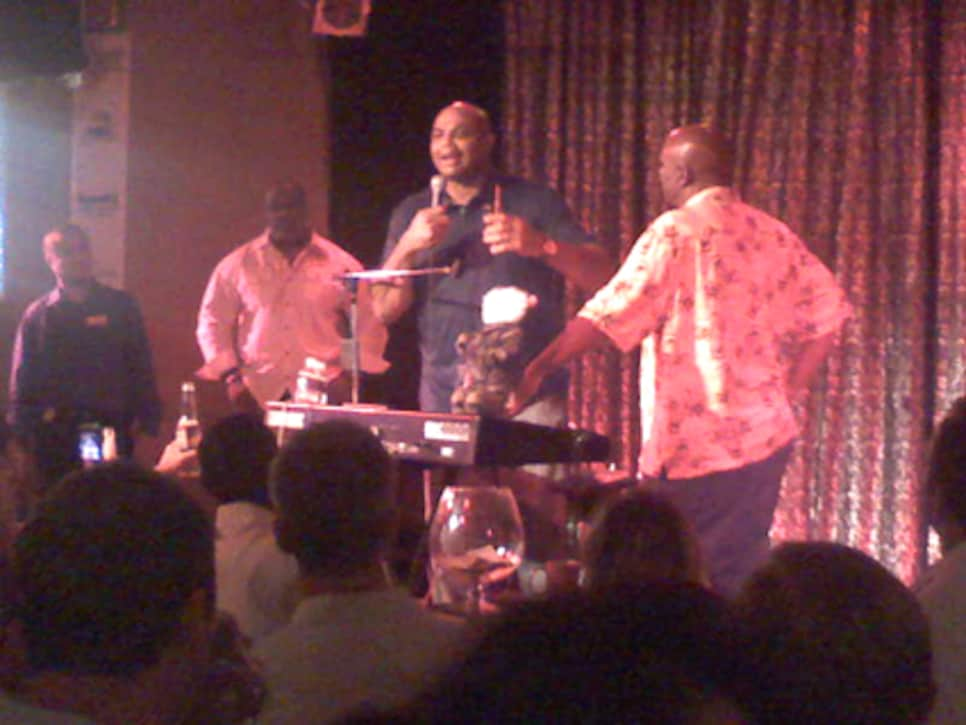 As much fun as it was partying with Barkley, most of the memorable moments occurred out on the course. The seventh tee is where Blake Mori and 24 of his friends have camped out for the past three years. They're loud, but fall short of obnoxious: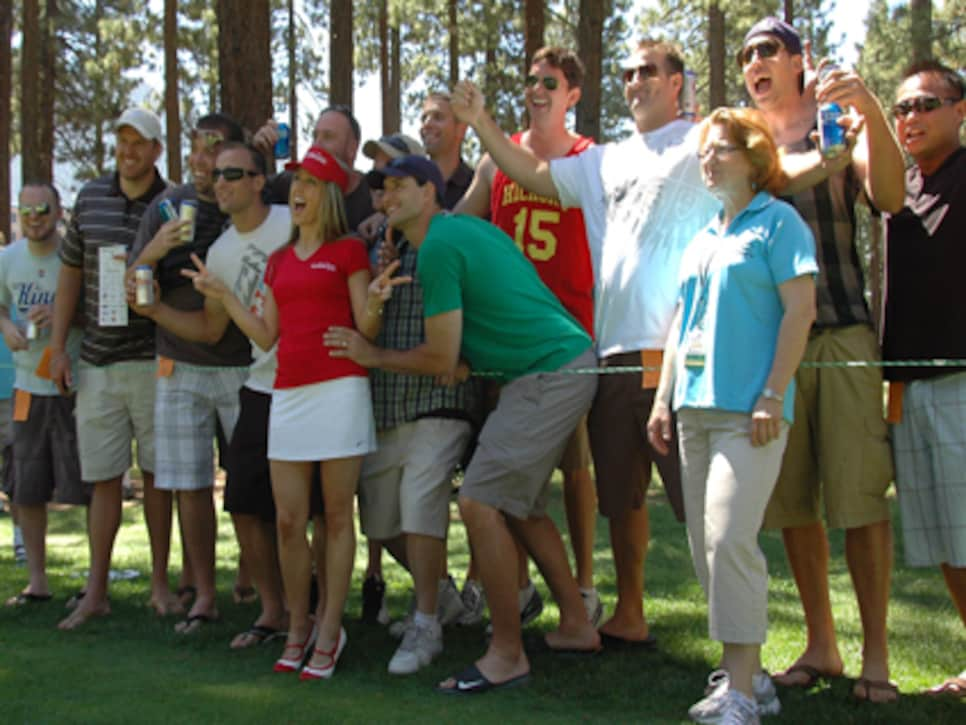 They told this poor amateur, "With that hat, you better be good." He wasn't: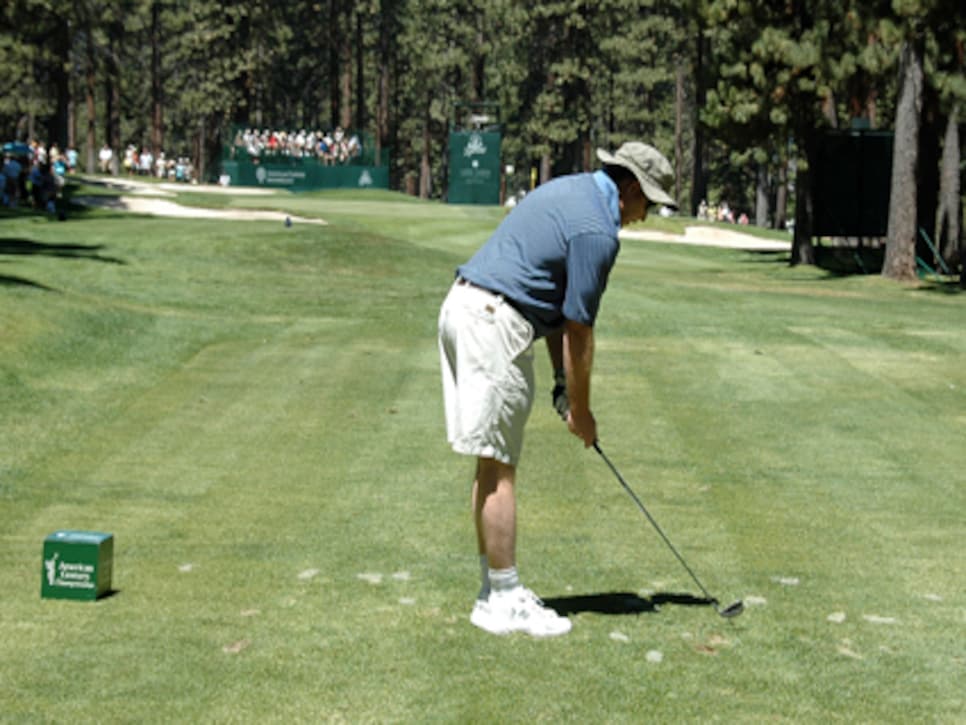 Then Jason Kidd's group came along: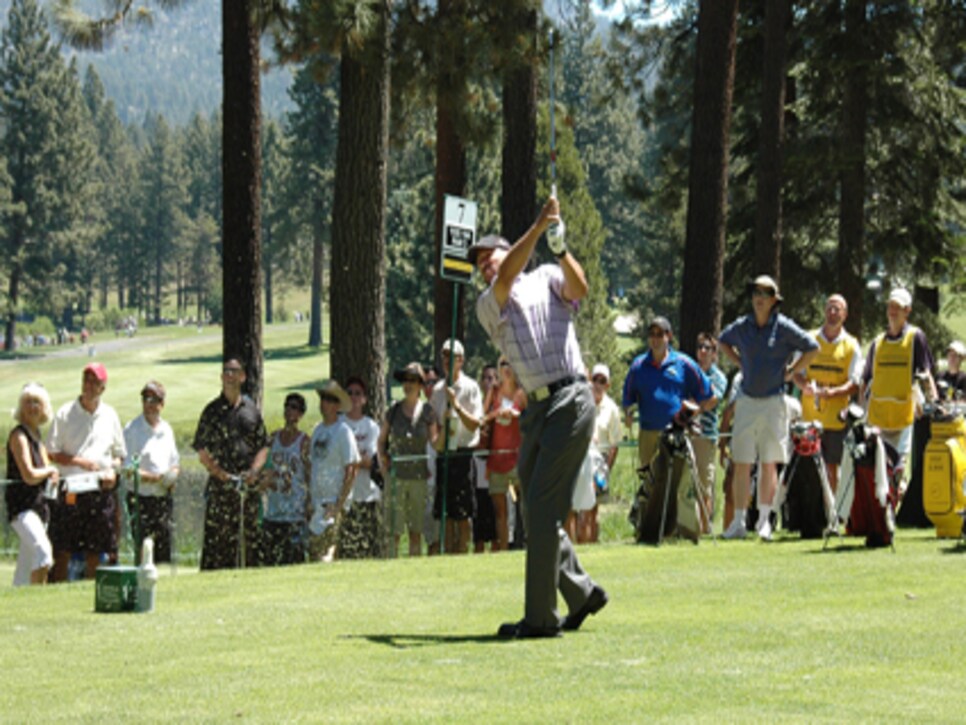 Kidd laughed, hit his shot, and then ran down the line of fans slapping hands: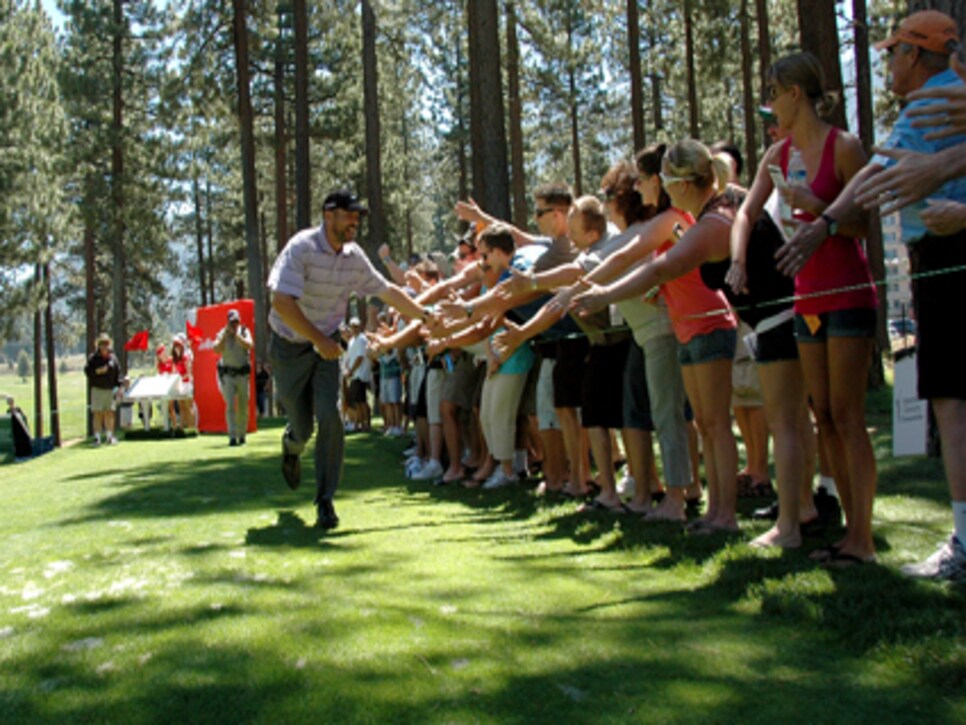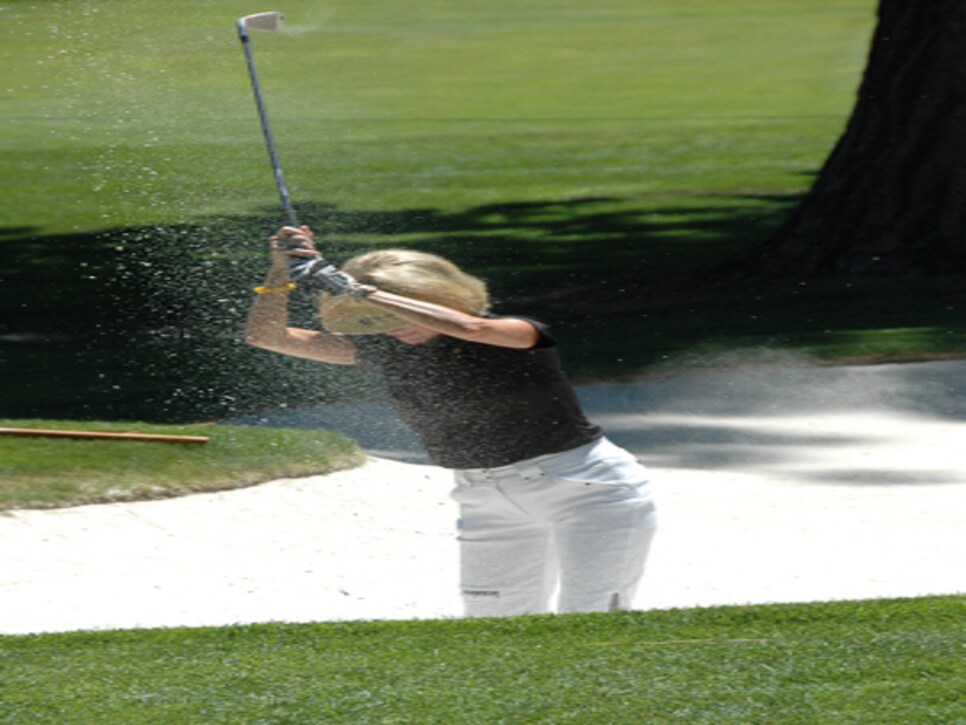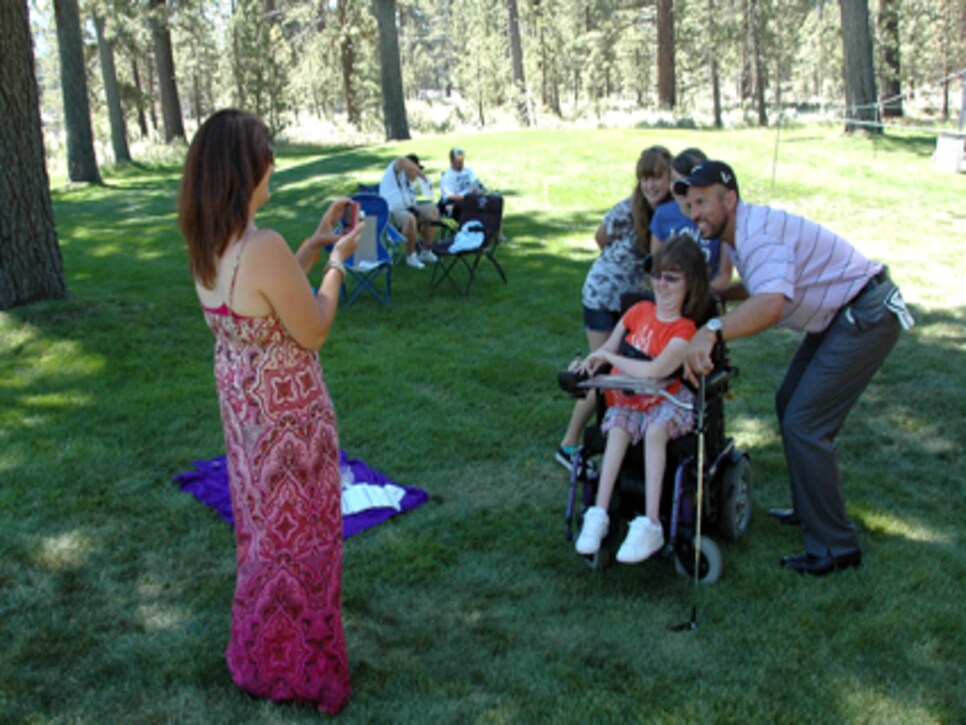 I asked Kelly if Lance played golf: "Not really. He'd rather ride his bike for eight hours than play a round of golf."
And then there's Jared Allen, who says he's a 12-handicap. "I'm the guy who's awesome on the range and then I suck on the course." I couldn't help but notice Allen likes to play in flip flops: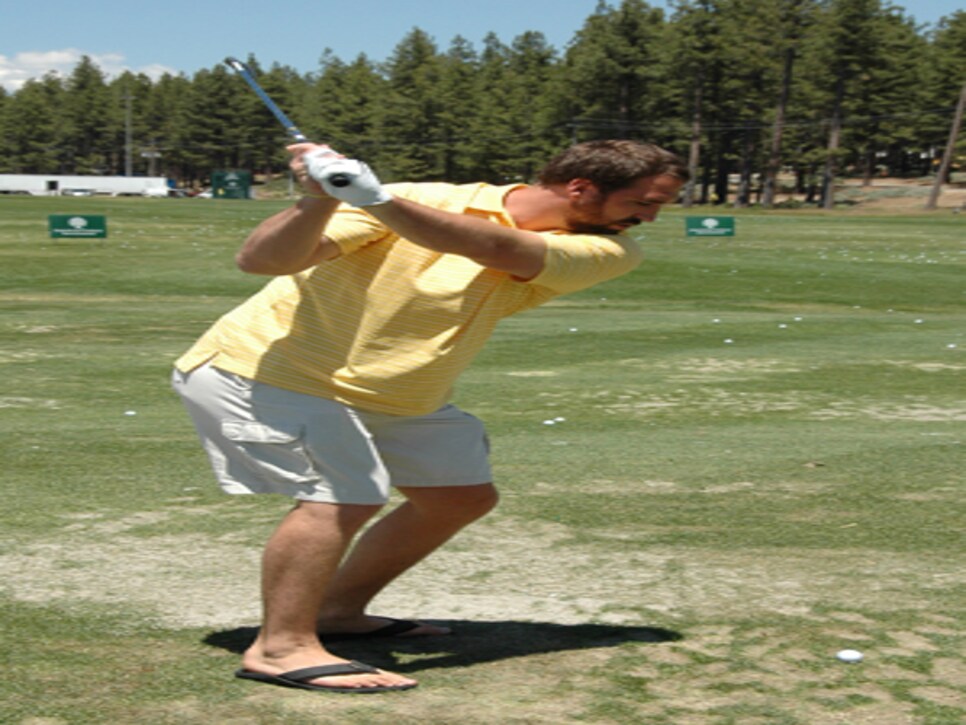 1) Timilick. It had the best combination of course design, conditioning and setting with a private facility polish. Just wait until they get a pro shop (tentatively scheduled to be done in spring, 2011).
2) Old Greenwood. Houses on golf courses usually bother me, but not the ones here. These actually fit their surroundings. It's a blast to play, the service is exceptional and I loved the valley view from the 16th tee.
3) Clear Creek. I liked the Coore/Crenshaw course. I'll like it better, not if, but when it goes public.
4) Edgewood. After playing four new courses in the area I came to realize that the host course for the American Century Championship is probably overpriced and certainly not worthy of its No. 65 ranking among America's 100 Greatest Public Courses. I still like holes 16, 17 and 18 because nothing's better than playing right next to Lake Tahoe, and Edgewood is the only course you can do that.
5) Gray's Crossing. There has to be a No. 5, and on this list, it's no slouch. It's just not interesting enough to rank any higher. I appreciated the breakfast burrito and the twilight rate ($100 after 3:00).
As for the American Century Championship, click here to read Eddie Matz's review in the current issue of ESPN The Magazine. Matz, by the way, is a cancer survivor and walked the celebrity-am round on Thursday with Kidd, Kelly and Doug Ulman, CEO and President of the Livestrong foundation. Ulman, 34, survived cancer three times before the age of 20 and went on to play soccer at Brown.