Living the Dream
I played in Tahoe's celebrity golf tournament and, yes, it's as good as it sounds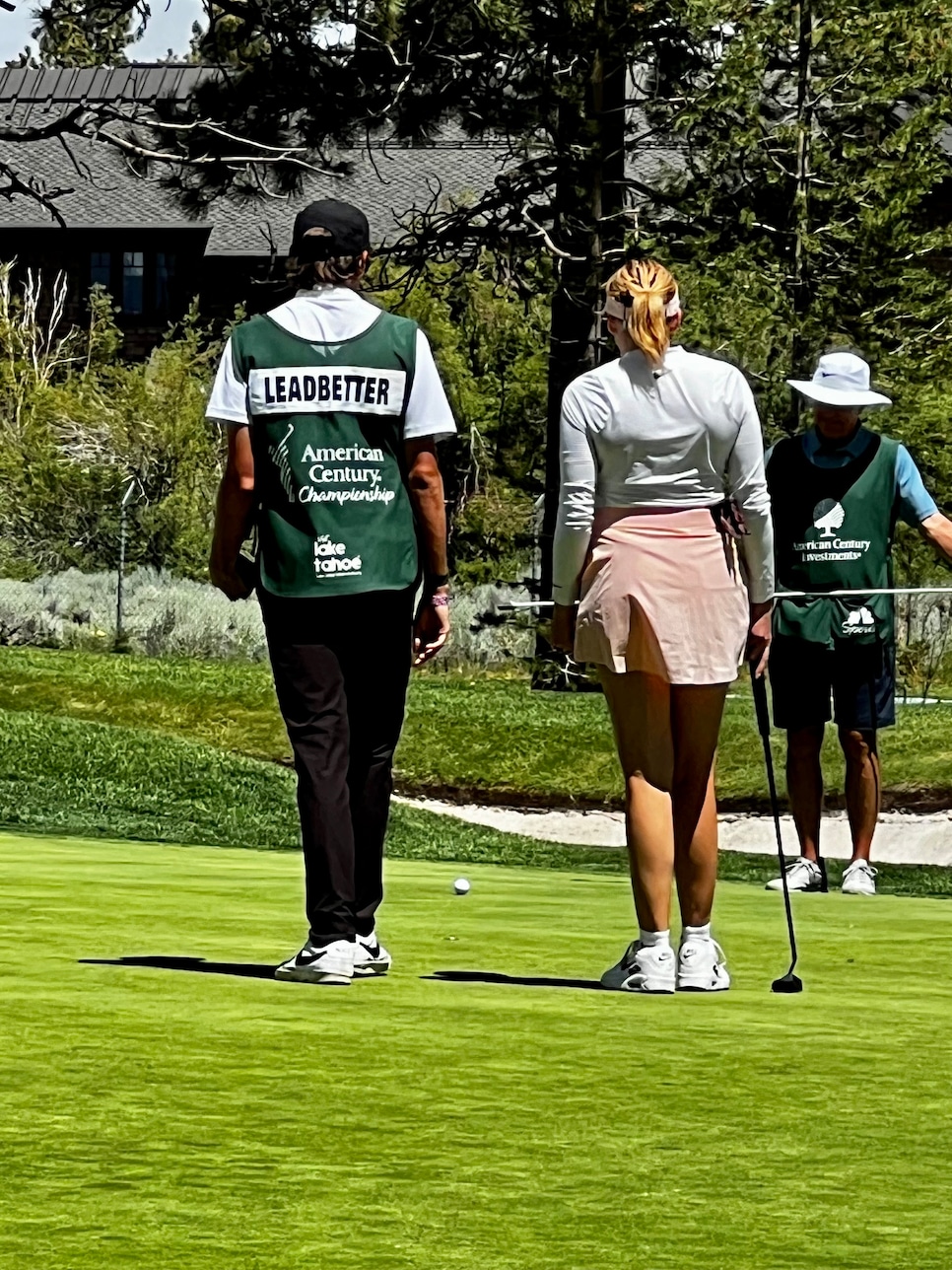 That's right, your girl made her first start in the American Century Championship and what a week it was. Each summer, the most famous golf-obsessed celebrities gather at the pristine Edgewood Lake Tahoe for 72 hours of non-stop golf intermixed with fabulous lakeside parties. You could've told me I had to play right-handed (I'm left-handed), and I still would've had the time of my life.
I may not have finished top five or even top 50, but Steph's been playing in this event for over a decade, so give me a couple years to catch up! Also, did I wave to him from across the fairway on his third hole of the day and did he wave back? Yes. Did that spur him on to victory? I mean ...
Anyway, it was an incredible week at the gold standard of celebrity golf tournaments. Here's what I learned.
If you think playing in a golf tournament might make you nervous, add 25,000 spectators.
I used to play my fair share of high-level tournament golf. It's been just shy of a decade since I won a college golf tournament but I figured tournament nerves are tournament nerves. Boy, was I wrong. Fairways and greens look a whole lot smaller when spectators are jammed around them, and missing a five-footer hurts twice as much when you hear the low "ooooooh" from the crowd. But making a birdie with a crowd? You feel like a god!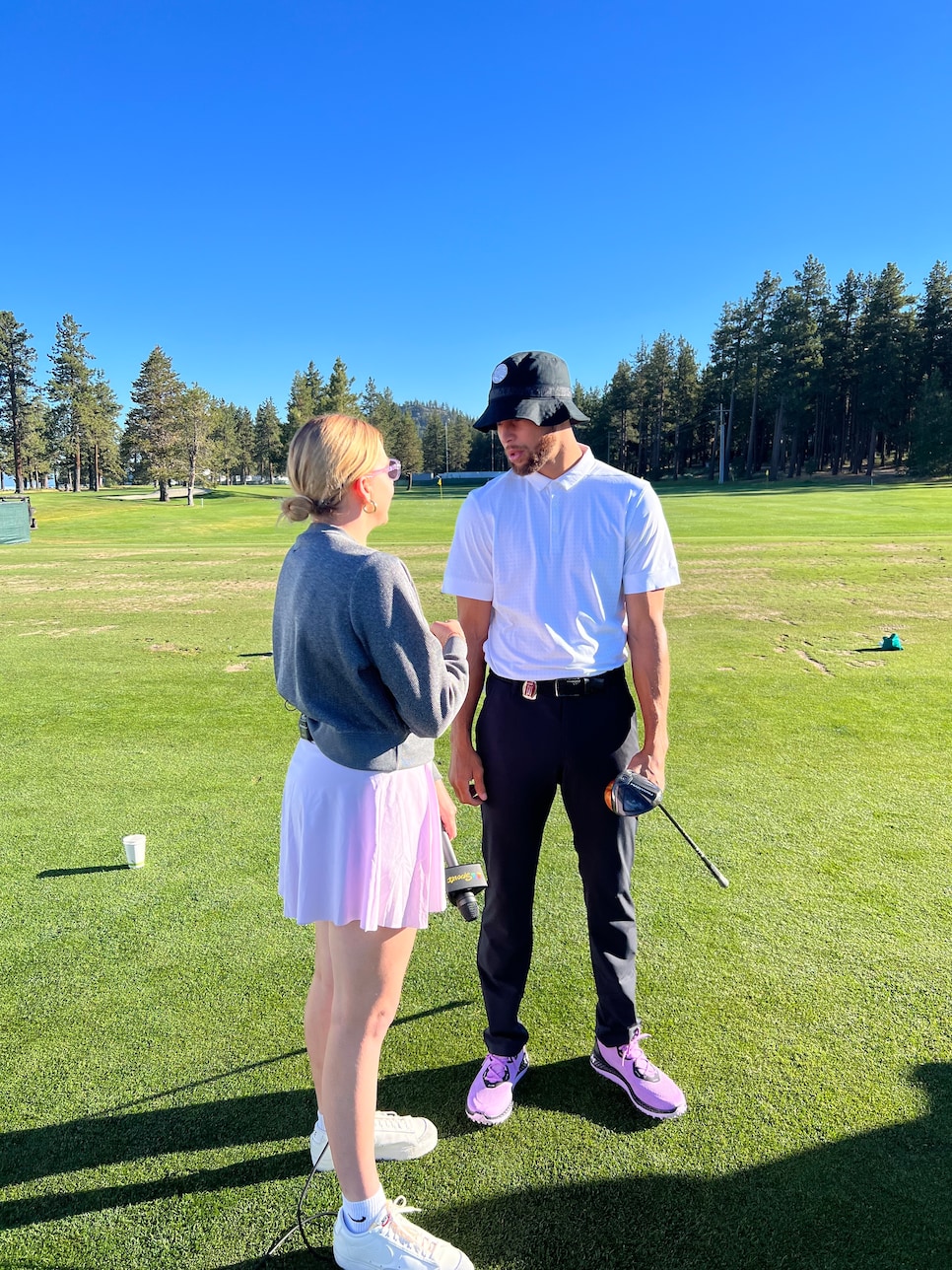 Celebrities. They're just like us! (Meaning they are obsessed with golf, share tips on the range and are on the never-ending quest to find the magic potion to fix their slice.)
The range post round one was a site to behold—Michael Pena sharing what he learned from Sean Foley with Chace Crawford; Tony Romo digging for answers in the dirt and my brother James (a professional golfer) helping Joe Buck with his swing. It doesn't matter who you are. Golf has its grip on all of us, and we all want answers!
What's the fastest way to gain 25 yards off the tee? Head to Tahoe. I played from the tournament tees at 6,900 yards which seemed daunting until I clocked my 7-iron 175 yards. In the first round, I was paired with two NHL players, T.J. Oshie and Alex Killorn. Watching them carry their drives 330 was a sight to behold.
Travis Kelce is excellent at karaoke.
Remember those lakeside parties I mentioned? Great food, great conversation and star-studded karaoke. Everyone from Rob Riggle and Ray Romano to Kathryn Tappen and Travis Kelce got up there to give it a go. And Travis has got some pipes! Check out this video.
I need to work on my signature.
Signing autographs is a new thing for me. Sure, I've taken a few photos with people who follow golf closely, but signing hats and golf balls? That's new. Maybe my signature doesn't belong beside the likes of Jerome Bettis and Joe Buck (yet), but I happily signed away. I even signed a pregnant woman's belly! Cross that off the bucket list. Anyways, I'll be perfecting that doodle for future signings.
Jack Wagner and Jim McMahon have played this tournament EVERY YEAR. That's 34 years in a row! For the second round, I was paired with former vice president Dan Quayle and McMahon, who played with his foot in a CAST! That's how much these players love the event. Ray Romano has been playing the ACC since his twin boys were 13. They're now 30, and they continue to tag along for all the festivities.
They say never meet your heroes. I beg to differ.
As if my week couldn't get any better … on Sunday I was paired with Nate Bargatze and Colin Jost, two of my favorite comedians. I had the opportunity to play a couple holes with Nate in Golf Digest's On The Tee series and was looking forward to picking his brain some more. And Colin could not have been nicer. He told me that his wife Scarlett Johansson had started taking lessons as well. Who knows? Maybe we'll see her in the field in a couple years, too.