Symetra Tour
Symetra Tour will stage marquee event at French Lick Resort beginning in 2022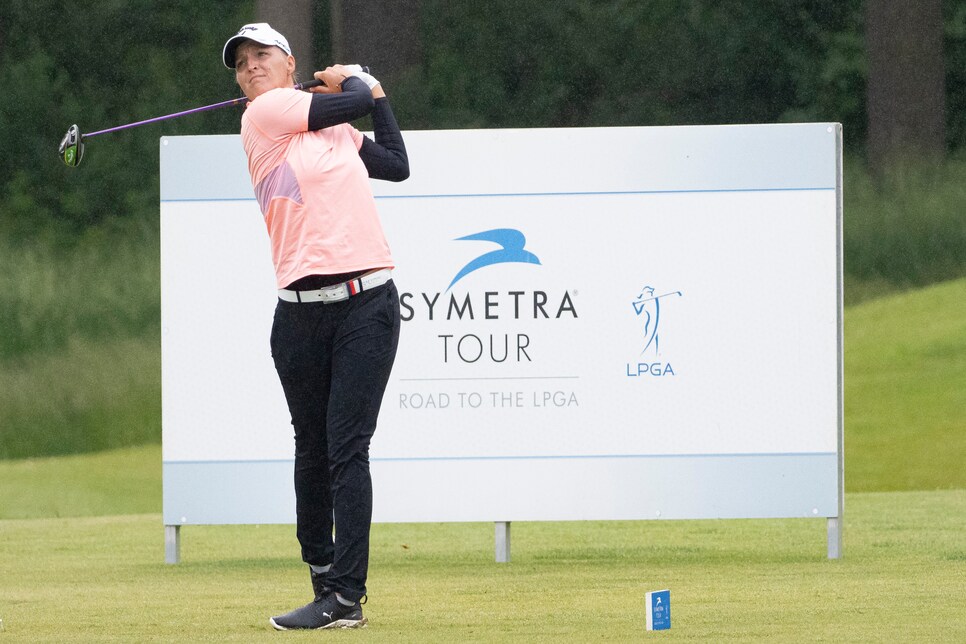 Perrine Delacour tees off in the 2019 Symetra Tour Four Winds Invitational.
Joseph Weiser/Icon Sportswire
The Symetra Tour took another step in paving the road to the LPGA Tour Saturday morning. Along with French Lick Resort, Symetra announced a three-year contract beginning in 2022 to create the French Lick Resort Stroke Play Championship at the Pete Dye Course. It's the largest tournament purse ($335,000) and winner's check ($50,250) in Symetra's 41-year history.

"The Pete Dye Course has a tradition of hosting major championship golf," Chief Business Officer of LPGA Qualifying Tours Mike Nichols said in a press release Saturday. "By elevating the tournament experience for the Symetra Tour, French Lick Resort sets an example for our current and future partners of how we can ally to support these professional athletes chasing their dreams."

Symetra, the developmental circuit of the LPGA, has annually expanded its average purse size since 2013 from $108,000 to $191,000 this year. The French Lick Resort Stroke Play Championship breaks the previous high tournament purse ($300,000) at the 2019 Zimmer Biomet Championship, pushing the expected purse size average over $200,000 in 2022.

The French Lick Resort hosted Symetra in four of the past five years, but at a different course. The Donald Ross Classic, played at French Lick Resort's Donald Ross Course, ran from 2017 to 2019 and returned this week after taking a hiatus due to the coronavirus pandemic in 2020. Saturday is the final round of the 2021 Donald Ross Classic. Patty Tavatanakit, 2021 ANA Inspiration champion, won the 2019 Donald Ross Classic.
The Pete Dye Course expands its hosting duties for the LPGA with the French Like Resort Stroke Play Championship. It's also the home of the Senior LPGA Championship, which started in 2017.

The French Lick Resort Stroke Play Championship will become the new "flagship event" as part of the contract, receiving the most Rolex Women's World Golf Ranking points of any Symetra tournament. The event will also live-stream during the third and fourth rounds. It's the first time a Symetra tournament will live-stream since the 2017 Symetra Tour Championship.