News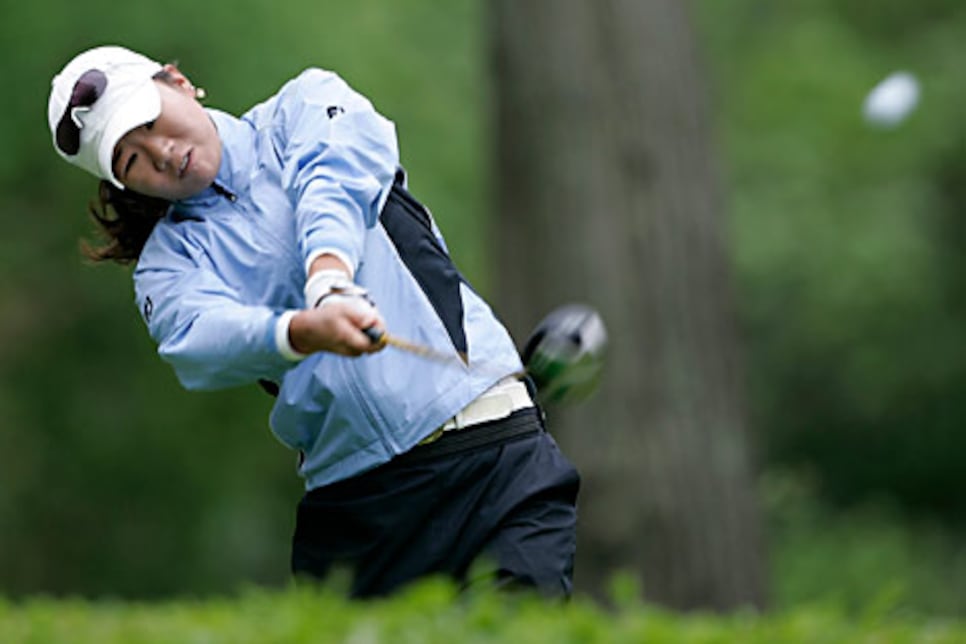 Oh capped her win with a little emphasis when she birdied No. 18.
CLIFTON, N.J. (AP) -- Seeing the likes of Brittany Lincicome, Paula Creamer, Suzann Pettersen and Michelle Wie didn't intimidate Ji Young Oh in the least in the final round of the Sybase Classic.
The 20-year-old, straight-hitting South Korean went into the final round with the idea that it was her tournament to lose and she went out and won it.
Oh shot 2-under 70 on a raw, cold, windy day -- the second best final round -- and benefited from a couple of mistakes by Pettersen on the back nine to capture the $2 million event by four shots with a 14-under total.
It was her second win on the LPGA Tour, coming less than a year after winning the State Farm Classic in Illinois.
"At the State Farm I didn't expect to win that tournament, the opportunity presented itself to me," she said through an interpreter. "I played with a lot of great players (in this event) and from the first day when I made that hole-in-one I knew that trophy was waiting for me and I needed to do everything in my power to win this tournament."
"I really wanted it badly and there was no way I wasn't going to get it," Oh added.
Oh started the round tied with Pettersen for the lead with Lincicome one shot back, and Wie and Creamer three behind.
Wie, the 19-year-old phenom who is still seeking her first LPGA win, and Creamer never challenged. Both hit into the water on the par-5 fifth hole, and Wie did it again in taking a double bogey at No. 12. They finished tied for third at 8-under on the Upper Montclair Country Club.
Lincicome, who won the Kraft Nabisco Championship last month for her first title, struggled all day with her putting and finished at 6-under at a 77.
That left Oh and Petersen to battle for the $300,000 top prize.
Pettersen bogeyed the first two holes and fell three behind after three holes. However, the 28-year-old Norwegian, who now has five top-10 finishes this year, made up the difference with a 5-foot birdie at No. 6 and bogeys by Oh at the eighth and 10th holes.
A bad drive by Pettersen on the dogleg, 408-yard 12th hole led to a bogey and gave Oh the lead for good.
Pettersen missed birdie putts in the 15-foot range on the next four holes, and then handed Oh the tournament when she missed a 2-foot tap-in on No. 17. The margin grew to four shots when Oh rolled in a 7-foot birdie on the 72nd hole and Pettersen bogeyed after another bad drive.
"To win golf tournaments you need to make putts when you really need to," Pettersen said. "Today wasn't that day."
It was for Oh. Despite trailing playing partners Lincicome and Pettersen by 50 yards on most drives, she showed a steady iron game, hit her rescue club well on long second shots and displayed a great short game.
She save par on the fourth hole with a bunker shot that rolled into the pin and dribbled 2 feet away. She sank a 15-foot putt for par on the ninth hole from a hole-high location on the fringe. She also lagged close for tap-ins at least a half dozen times.
"I was so nervous but after the first few holes I became really calm and just thought about my game and just good shots and good putts," said Oh, whose best previous finish this year was a tie for sixth in the Mastercard Classic. Her other finishes this year were in the 30s and 40s.
Oh refused to rank herself among the South Koreans on tour, saying she felt she was very good player.
Wie had chance to get going early but she missed an 8-foot birdie putt on the first hole. She had a couple of good par-saving putts on the next three holes, but her end started when she dumped a shot from 165 yards into the pond in front of No. 5.
"I putted well today and drove the ball well," Wie said. "If I could have hit a couple of irons better than it would have been a different story."
Creamer said the day was a struggle.
"No one did anything out there," she said. "It was just a matter of who could make pars."
Three-time defending champion Lorena Ochoa, who was trying to join Annika Sorenstam and Laura Davies as the only LPGA players to win an event four straight years, finished at 1-under.
"I was just not on my best game this week," Ochoa said. "I never got a good momentum, never felt comfortable out there. It was just a struggle. It's OK. That's just the way it is sometimes and I am happy."