News
Lincicome Moves Out In Front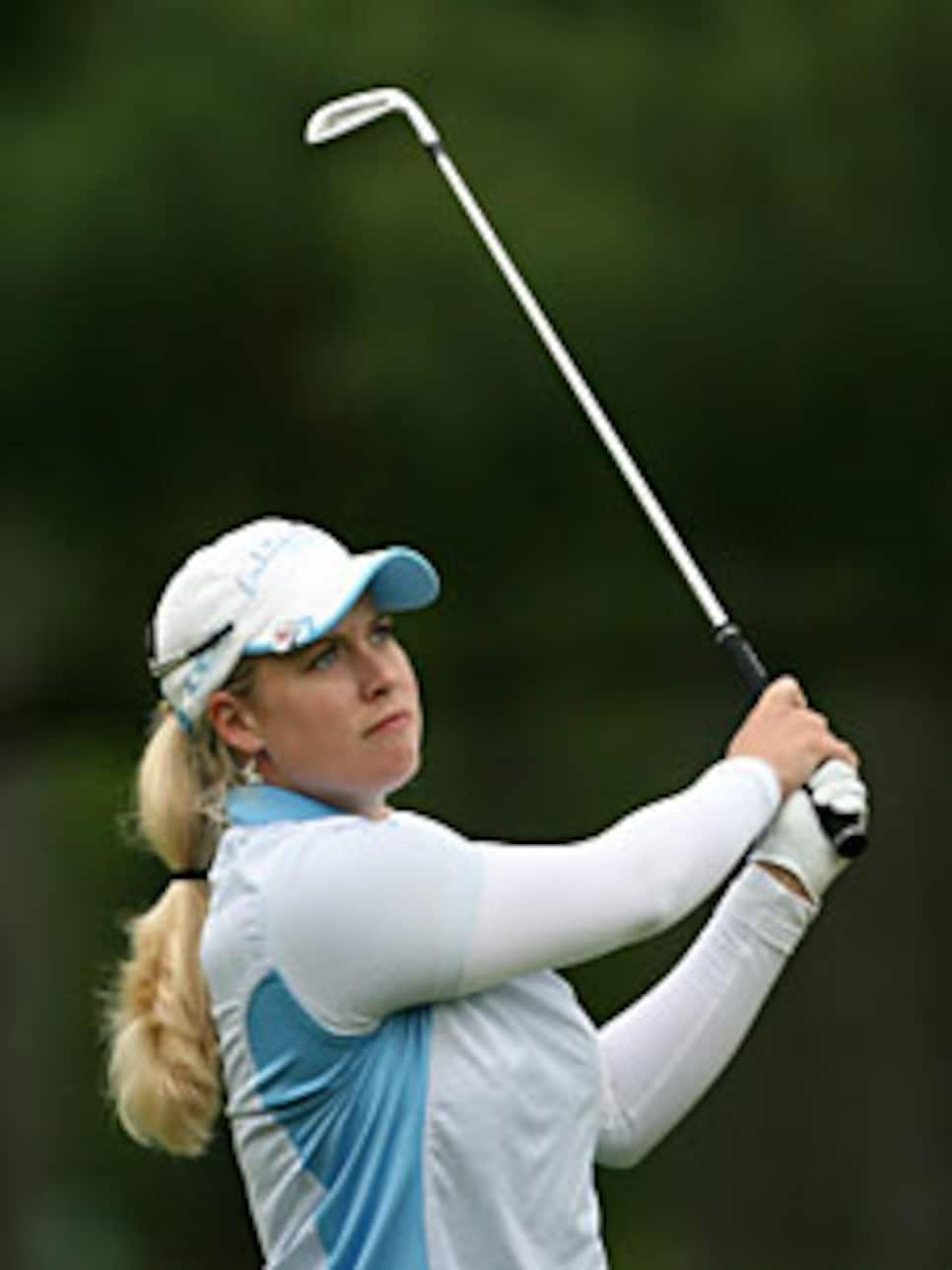 Brittany Lincicome is looking for a second win of the season to go with her win in the Kraft Nabisco Championship.
CLIFTON, N.J. (AP) -- Less than six months ago, Brittany Lincicome had a long sit-down with her parents and talked about the possibility of taking a year off from golf.
"Bam-Bam's" game had gone bad.
With a little more work and a coaching change, things have turned around. Last month, Lincicome won her first major - the Kraft Nabisco Championship - and this week the 23-year-old from Florida is starting to show the consistency that all good players seem to possess.
Lincicome followed an opening-round 64 with a 3-under 69 on Friday to take a two-shot lead over Suzann Pettersen of Norway and Ji Young Oh of South Korea at the LPGA Sybase Classic.
"I really had no expectations today, just to keep it under par," Lincicome said. "I was hitting it good yesterday, when I went to the range this morning, I felt like I was hitting it really well. I hit 17 greens today, which is pretty phenomenal."
The only one that Lincicome missed in a bogey-free round was at the par-4 16th.
"I've never had two full rounds, 36 holes, without making a bogey before, and I think that was the only thing on my mind on the back nine," Lincicome said. "I looked at my caddie at one point and I just said, 'Can we just 3-putt one hole just to get it out of the way and I can be done with it and move forward?'"
Lincicome's 11-under total on the Upper Montclair Country Club was the lowest 36-hole total on a par-72 course on the LPGA Tour this year.
First-round leader Helen Alfredsson, coming off a career-best 62, shot 76 in a round that included a missed tap-in. She was tied for fourth at 6-under with Wendy Doolan, who shot 68.
Michelle Wie, looking for her first professional win, Hall of Famer Karrie Webb and Paula Creamer were among a group at 5 under.
Three-time defending champion Lorena Ochoa had another 71 and was in danger of seeing her hold on this event end.
"I'm not playing my best and you have to play your best to win here," Ochoa said.
Lincicome played 22 events last year and missed 11 cuts. She had one top-10 finish and earned $114,963, less than $700,000 than she earned in each of the previous two years.
"This offseason I worked really hard to turn it back around, and luckily here I am," she said.
Lincicome was fortunate the 19-year-old Wie isn't closer.
She was almost perfect from tee to green, but she missed seven putts of 10 feet or less, including three on the last four holes.
"It's just a little bumpy," said Wie, who created some headlines earlier this week by saying she still wants to win a PGA Tour event and play in the Masters. "I'll work on putting a little more and make some more birdies."
The only leader to play in the morning Friday, the 28-year-old Pettersen shot a 2-under 70 that included two tap-in birdies.
"I'm playing my own game, and today 2 under was like a decent score," Pettersen said. "But like I said, there's still a lot to be done out there."
Oh, who won the State Farm Classic last year, also had four birdies and two bogeys. She finished strong with birdies from 6 feet at the par-3 15th and 5 feet at the par-5 18th.
"Winning a tournament on the LPGA Tour is never easy, regardless of how many wins you have had in the past," Oh said. "(Winning) certainly means I have more confidence in my game. I know I can get there."
The downfall for the 44-year-old Alfredsson started at the fourth hole when she missed a tap-in for par. She added five more bogeys before the round ended, with the low point coming at the easy par-5 seventh. She clipped a tree on the right with her drive, pulled the next shot into the rough, then a clipped another tree before chipping onto the green and two-putting.
"I just didn't feel comfortable," Alfredsson said. "I was very jittery, not like a nervous jittery, but it was not like the calm I had yesterday."
Alfredsson said the shot miss at the fourth hole didn't start her downhill run.
"I wasn't hitting it solid," she said.