'Swing Away': A yipped putt, a Greek philosopher's assist and a story of redemption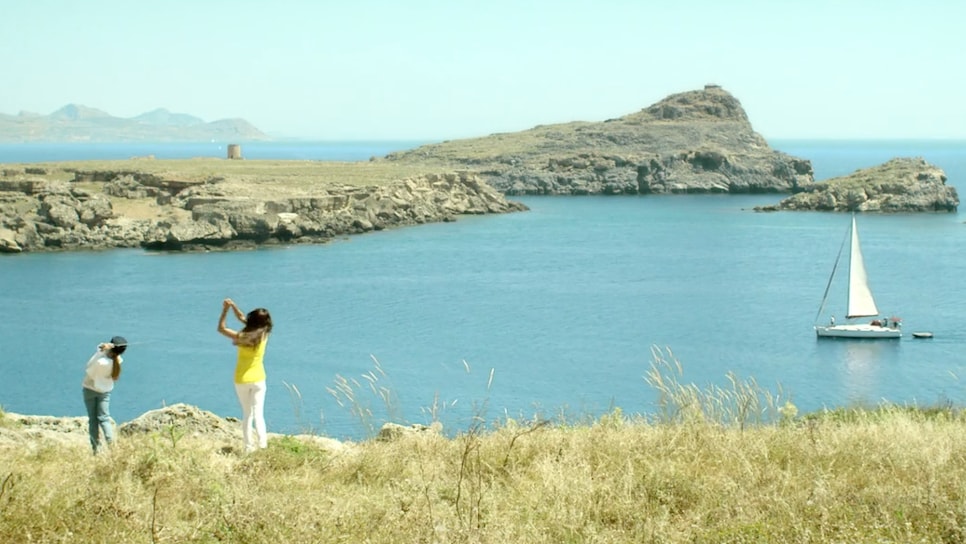 "Swing Away" is a new golf feature film that begins with Jerry Foltz (as all golf movies ideally should, it says here) in New Jersey and ends with a renowned philosopher's words recited in Greek and in Greece.
That is a long par five from Foltz to philosophy, from the Jersey shore to a Greek island that is home to one of the Seven Wonders of the World. But it's charmingly navigable in three shots (of ouzo, preferably), as well as a good walk unspoiled, a journey enhanced by the film having been shot mostly on location on the island of Rhodes with its stunning views of the Mediterranean.
The movie was produced by George Elias Stephanopoulos, who was the executive producer of "Golf in the Kingdom," the film adaption of Michael Murphy's iconic book. Former PGA of America CEO Joe Steranka and former LPGA player Nicole Castrale are among the film's consultants.
Swing Away opens at a fictionalized version of an actual LPGA event, the ShopRite LPGA Classic at Seaview Golf Resort near Atlantic City. It has an actual Golf Channel analyst, Foltz, describing the scene that includes an actual LPGA champion, Castrale, potentially headed for a playoff with the fictional Zoe Papadopoulos (played by Shannon Elizabeth), provided the latter holes a three-foot putt for eagle.
She doesn't. Zoe has the yips, lips out the putt, then throws a five-star tantrum that includes her burying the head of her putter in the green, earning a suspension in the process.
The mention of the yips to a golfer might suggest a horror story, but the only horror, exclusively hers, is the embarrassment she encounters from her meltdown and ensuing suspension. So Zoe, an American of Greek descent, flees to Greece to decompress and ride out the suspension, and to visit her grandparents.
"Between baking bread and eating baklava," the synopsis on the film's website states, "she meets and mentors a ten-year-old girl who is determined - against all odds - to become the next golf sensation. Along the way, Zoe rediscovers her Greek heritage, her love of the game, and the hidden strength within herself as she inspires the townspeople in an epic showdown against a greedy American developer."
Zoe is hired to be the golf professional at the decrepit Colossus Golf Course (in reality Afandou Golf Resort) and is instrumental in its resurrection as a profitable business.
"How did this happen?" the course manager asks her.
"Mostly the remodel," Zoe replies. "And I called in a few favors. Oh, and I got you a little writeup in Golf Digest online, too."
Zoe also amusingly gives lessons to the soccer-crazed villagers, many of whom would rather kick a golf ball than hit one. In one scene, before their first group lesson, Father Anthony (played by Christos Sougaris) offers up a prayer. "May they enjoy the fruits of the game," he says in conclusion, "and not kill anyone. Amen."
The American developer is played by John O'Hurley, best known for playing the role of J. Peterman on "Seinfeld." O'Hurley is an avid golfer, whose handicap index has been in single digits. His character in the film, Glenn Henderson, plays to about a five, according to Zoe's research, and he ends up in a match with Stella, the 10-year-old girl, played by Viktoria Miller.
The match comes down to the 18th hole, where the yippy Zoe has to stand in for an injured Stella on a make-or-break putt on which the future of the course and the property depends.
Early in the film, Zoe, who is attempting to re-learn the Greek language, is shown reading a book written by Nikos Kazantzakis, a famous Greek philosopher, whose most cited quote (and one that is the epitaph on his grave) is, "I hope for nothing. I fear nothing. I am free."
Zoe, standing over the putt, recites the words in Greek. No expectations, no fear, a free mind. Suffice it to say that the yips can't be conquered simply by co-opting a philosopher's words and deploying them as a mantra. The yips are more complicated than that in reality.
But this isn't reality. It's a movie and a fun and festive one that ought to be enjoyed with a glass of ouzo and a toast. "Στην υγειά σας," as they say in Greek. Cheers.