News
Swedish rookie Alexander Bjork impresses with bogey-free 65 to win Volvo China Open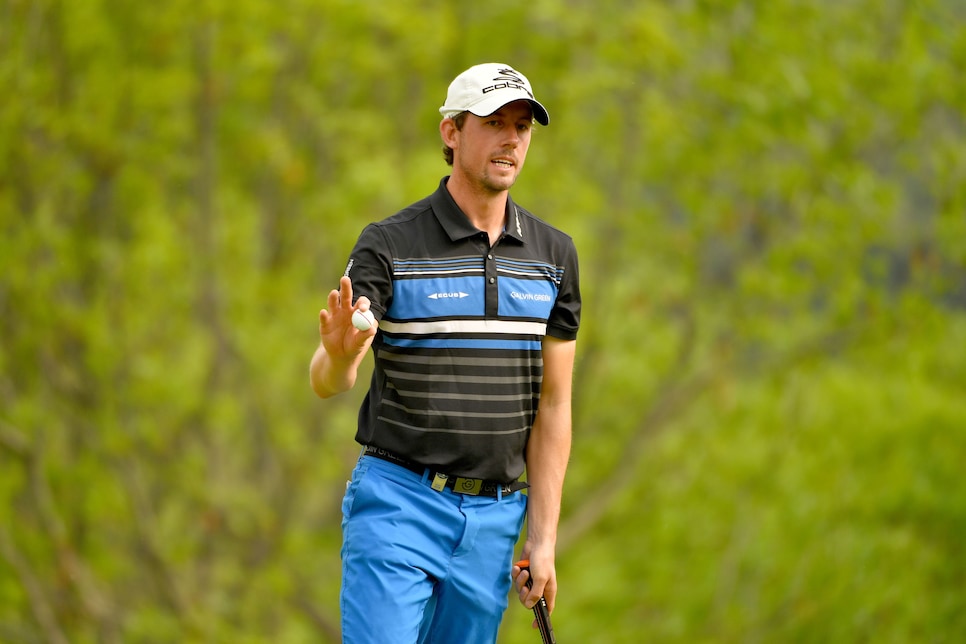 This is a victory those in the know have been expecting for some time. One year on from recording a string of fine performances during his rookie season on the European Tour—most notably at the Open de France—and only seven days after a T-3 finish in Morocco, Alexander Bjork is a winner at the highest level. With a bogey-free seven-under 65 at Topwin Golf & C.C. in Beijing, the 27-year-old Swede claimed the Volvo China Open title by one shot over Spain's Adrian Otaegui. Bjork was 18 under par for the 72 holes and picked up $526,377 for his trouble.
It was a busy and ever-changing final round, one in which any number of players challenged for the lead. At one point on the front nine as many as six men were tied for first place. Low scoring was also a feature. Englishman Jordan Smith set the early target with a 64 that took the European Open champion to 16 under par.
That was never going to be quite enough though. With matching birdies at the drivable 327-yard par-4 15th, both Bjork and Otaegui reached 17 under. The biggest turning point, however, arrived two holes later. Minutes after Bjork had holed from about 10 feet for his 20th birdie of the week (he also made one eagle), Otaegui three-putted for bogey, eventually missing from no more than three feet. Needing an eagle on the par-5 18th to force a playoff after Bjork played the 583-yard hole for a cautious par, the Spaniard's greenside chip came up four-feet short. He settled for birdie and second place.
Similarly, Otaegui's playing partner, Englishman Matt Wallace, needed three to get down from behind the 18th green after flushing his second shot right over the flag and, sadly for him, the green too. For him, that was two shots too many.
"It's tough to describe my emotions," said Bjork, who was once ranked in his country's top-10 junior tennis players. "I've been feeling ready to make this step. I was less nervous this morning than normal. I was confident. But you never know when it is going to happen. I'm really happy and very proud of myself. Today was maybe the best round I've ever played in such a situation. I've been striking the ball so well off the tee and putting solidly. My swing feels right there. And it was nice that it worked so well today under the pressure. I was still able to hit good shots.
"I didn't look too much at the leader boards early. But I knew I needed to make birdies coming home [he made four]. That actually helped me. In a way it was easier to be aggressive than to play safe. I guess it was meant to be. I was close last week. And I'm so happy to be the first Swede to win this event."