News
Suzy Whaley's advice for Peggy Ference
There aren't many women who know what it's like to play with the guys under extreme pressure in front of cameras and a gallery, but Suzy Whaley (No. 5 on Golf Digest's 50 Best Women Teachers in America) is one of them. In 2002, before Annika Sorenstam had ever contemplated playing in a PGA Tour event, Whaley qualified for the PGA Tour's Greater Hartford Open by winning a PGA of America section championship. The following summer, she held her own in the tournament, shooting 75-78 in the first two rounds, an impressive score for any teaching pro in a PGA Tour event, and a remarkable score for a woman. Whaley missed the cut but won a lot of fans with her composure, grace and solid game.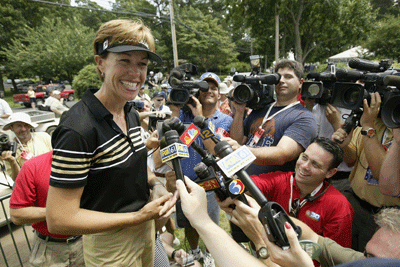 *Seven years later, Golf Digest readers have picked 5-handicapper Peggy Ference of Skillman, N.J., to tackle a different yet similar task as the winning contestant in the 2010 U.S. Open Challenge. Ference, 51, will play the role of "average American golfer" in a foursome with three celebrities (Drew Brees, Wayne Gretzky and Mark Wahlberg) who are taking on Pebble Beach from the tips in an attempt to see what they can shoot on a men's U.S. Open layout a week before the pros play it. (The Challenge will be broadcast on NBC right before the final round of the U.S. Open on June 20th.) In addition to having to manage the pressure of that mission, Ference finds herself in a similar position publicly to the one Whaley faced in 2003: she's become a poster girl for women golfers across the country. "I've been really surprised by how much this seems to mean to people I don't know," Ference says. While Ference successfully rallied her local golf associations and fellow country club members to vote for her every day during the month-long competition, she had no idea that her quest to win the spot in the field (she was one of five finalists and the only woman) had gone viral and become a national crusade for women golf bloggers and advocates of all kinds. "I did a Google search a couple of weeks ago and came across these amazing campaigns, and people comparing me to Annika and Michelle Wie [laughs]. I'm just a regular girl from New Jersey." All the attention has brought a different perspective to Ference's adventure. "I wouldn't call it pressure, but now that I'm in, I feel a great responsibility. A responsibility to do well for all golfers, but especially women and children."
Whaley knows that feeling, and has some advice for Ference. "I'd tell Peggy to stay focused on the task and not on the results," Whaley says. "The golf ball has no concept of tee played, score shot, or tournament entered. [When preparing for the GHO,] I devised a plan to get stronger mentally and physically, and I surrounded myself with people who supported my efforts and were there to help me accomplish my goals. I was determined to remember the day, embrace it, and enjoy it for the opportunity that I'd earned. And I couldn't have done any of it on my own."
Since learning of her win, Ference has been working with her coach to develop a new shot, "that high, 30-yard pitch from the rough that lands softly, bounces twice and stops." Ference figures she'll be hitting long clubs into small, hard greens at Pebble Beach, so she fully expects to be unable to stop the ball on the putting surface on many holes, and sometimes come up short. Either way, the short, high-spinning pitch shot will be crucial to her scoring. "But I'm also making sure I don't over-practice. I don't want to be too fatigued when I finally get there."
Whaley urges Ference to prep herself mentally as much as technically. "I visualized playing the course strategically, for my ability and game, each night in my head. I also realized that those playing with me would be nervous, too -- I wouldn't be alone in feeling that pressure. But I never let my nervousness become fear. Nerves are normal, and you will be very nervous, but you can turn that nervous energy into positive energy through your pre-shot routine. I worked very hard on perfecting my pre-shot routine so it became a calming influence over each shot. And it was extremely helpful to me to focus on playing my game against the course, not against those in my group or in the tournament around me."
Ference is clear on one thing: no matter what happens, her main goal is to have fun. "It's a once in a lifetime opportunity, and I'm not going to waste it being too nervous." Whaley thinks that's a great attitude. When asked what she remembers the most about her moment on the world stage seven years ago, Whaley says, "out of all the commotion, cameras, and fans, I remember my family first. Especially my daughters, smiling at me on the first tee and mouthing to me 'you can do it.'"