News
Suzy Whaley 'humbled and honored' to become the first female president of the PGA of America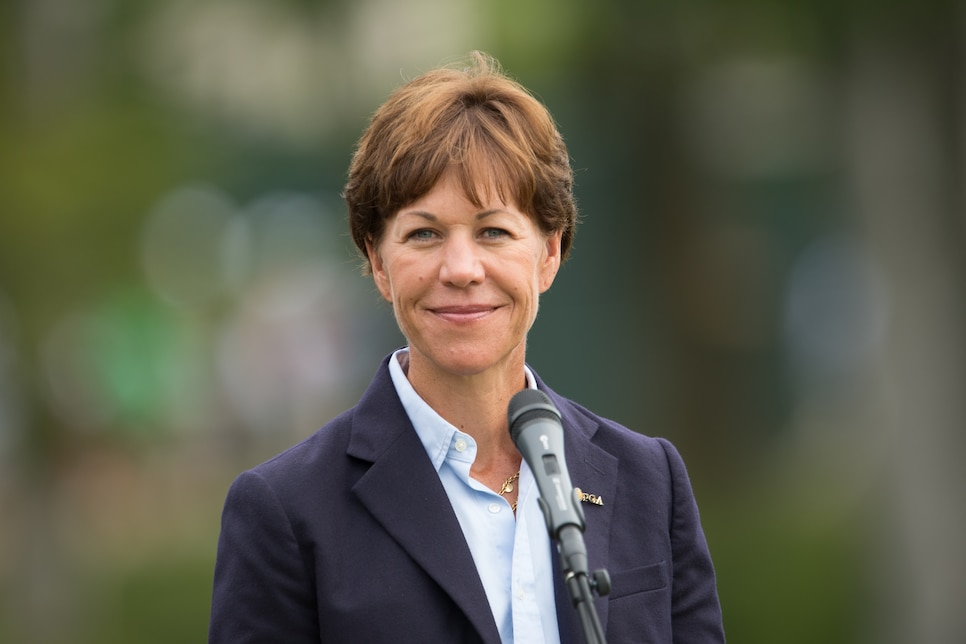 (Photo by Montana Pritchard/The PGA of America via Getty Images)
INDIAN WELLS, Calif. — Suzy Whaley joined the PGA of America in search of more competitive playing opportunities, a modest ambition that 17 years later has morphed into her becoming the first female president of the 102-year-old association.
Whaley, who for the last two years has served as its vice president, was formally be elected to a two-year term on Friday at the PGA's annual meeting here.
"Not enough adjectives," a past president, Derek Sprague, said shortly after her election. "Historic doesn't do it justice. So I'll use a new adjective we learned this week. Amazable."
Whaley, 51, is the 41st president of the PGA. Jim Richerson, the senior vice president business development for Troon, was elected vice president, while John Lindert, the director of golf/chief operating officer at The Country Club of Lansing in Lansing, Mich., was elected secretary.
"It feels great," Whaley said after the election. "You think about, you imagine it, you work so hard with so many people, as part of a group, as part as a team, that you lose sight of it. But ttoday it was fun. It's wonderful to be in this position. A huge responsibility, but i'm humbled and honored. I'm so gratefuful to the PGA of America. I'm humbled by the fact that our 29,000 members have confidence in me to lead the PGA of America.
"Obviously, as a woman, at the end of the day, if, like the Renee Powells and Mary Bea Porters, women who led by example, others see me in that role, how exciting for the game beyond enhancing our members' careers."
Whaley said she has no specific agenda in place, beyond continuing what the association has been trying to do: Grow the game
"We need to make the funnel as large as possible," she said. "What's exciting is more and more people are trying the game for the first time. We had two-point-four million women trying golf for the first time last year. We have facilities like Top Golf offering people a golf experience.
"Our role now is, how to we lead and collaborate with all of those who are having that open funnel into the game, to get them with a PGA professional, to get them on the golf courses. Doesn't have to be 18 holes. Could be nine holes or going to the putting green with their daughter or son. That's what we hope to do."
Whaley joined the PGA of America in 2001, as a means finding more playing opportunities.
"I became a PGA professional so I could play more competitive golf," she said. "I watched my husband [Bill], who also is a PGA professional, playing. I was an LPGA Teaching and Club Pro and didn't have that opportunity. My husband got sick of me complaining about it and said, 'Why don't you join?' I said, 'I think I will.'"
Whaley, the director of instruction at Suzy Whaley Golf in Cromwell, Conn., originally set out to play the LPGA, and was a member in 1990 and 1993. But she gravitated toward teaching and spent five years with the Jim Flick Golf Schools, then became the head professional at Blue Fox Run in Avon, Conn., in 2002.
The same year, Whaley won the Connecticut PGA Championship and earned an exemption into the PGA Tour's Greater Hartford Open in 2003.
Meanwhile, she had become active in the PGA's Connecticut Section. "I met so many amazing people in the PGA of America who were as passionate about the game as I am," she said. "I joined committees and ended up loving that, so I joined more committees." She eventually became a board member at the section, as well as a vice president at large, was elected the secretary of the PGA of America in 2014, then elected its vice president in 2016. She succeeds outgoing president Paul Levy.
Whaley assumes the presidency only months after the PGA of America hired Seth Waugh as its CEO, replacing Pete Bevacqua.
"I've known Seth for awhile," Whaley said. "I had an opportunity to serve with him in a board capacity. He is a proven CEO [formerly with Deutsche Bank Americas]. His network in golf is extensive. He loves the game and is passionate about growing game. He has a son pursuing professional golf, so he also understands the game from a parent's perspective, which I think is incredibly important. I'm excited to work with Seth and have an opportunity to learn from him."