The Loop
Sure winning majors is how you make history, but top-10 finishes aren't shabby
Tiger Woods' career pursuit of winning the most majors has somewhat dimmed the great achievement of being in the hunt for a major in the first place and doing so consistently in a career. With the Masters upon us, the first chance at being in the mix for 2015 has arrived, and with it, an opportunity for 11 of the top 25 in the Official World Golf Ranking to get their first top-10 finish in the Masters.
Three of them -- Patrick Reed, J.B. Holmes and Chris Kirk -- are seeking their first top-10 finish in any of the four majors. If they do, they will duplicate Arnold Palmer's 60-year-old feat from the 1955 Masters, when his tie for 10th was his first top-10 finish in any major. But for the following group of top-25 players in the world, they have top-10s in other majors but have yet to have a Masters top-10: Henrik Stenson (0 for 9 Masters), Dustin Johnson (0 for 5), Martin Kaymer (0 for 7), Hideki Matsuyama (0 for 3), Kevin Na (0 for 4), Billy Horschel and Victor Dubuisson are both 0 for 1, and Brooks Koepka is in his first Masters.
Jordan Spieth and Jimmy Walker will try to remain perfect. They made their Masters debut in 2014 and each had a top-10. Also trying to stay perfect, in a different sort of way, are defending champion Bubba Watson and Zach Johnson: the only times they were in the top-10, they won, Bubba in 2012 and 2014, and Johnson in 2007.
The all-time leaders in top-10 finishes in professional majors resembles a slow growth chart. It takes a long time to see movement. Although it doesn't take the place of winning, piling up top-10s shows you've been a historically significant player for a long time. Jack Nicklaus is a dominant No. 1 with 73, well ahead of Sam Snead and Tom Watson with 46 each. After the last five seasons and 20 majors, three players have broken into the top 10 on the all-time list. Woods added six top-10s and moved from T-8 to a tie for sixth with Arnold Palmer at 38. Phil Mickelson added seven top-10s and went from 12th to a T-8 with Gene Sarazen at 36. And Ernie Els had five top-10s and is now solo 10th with 35 top-10s.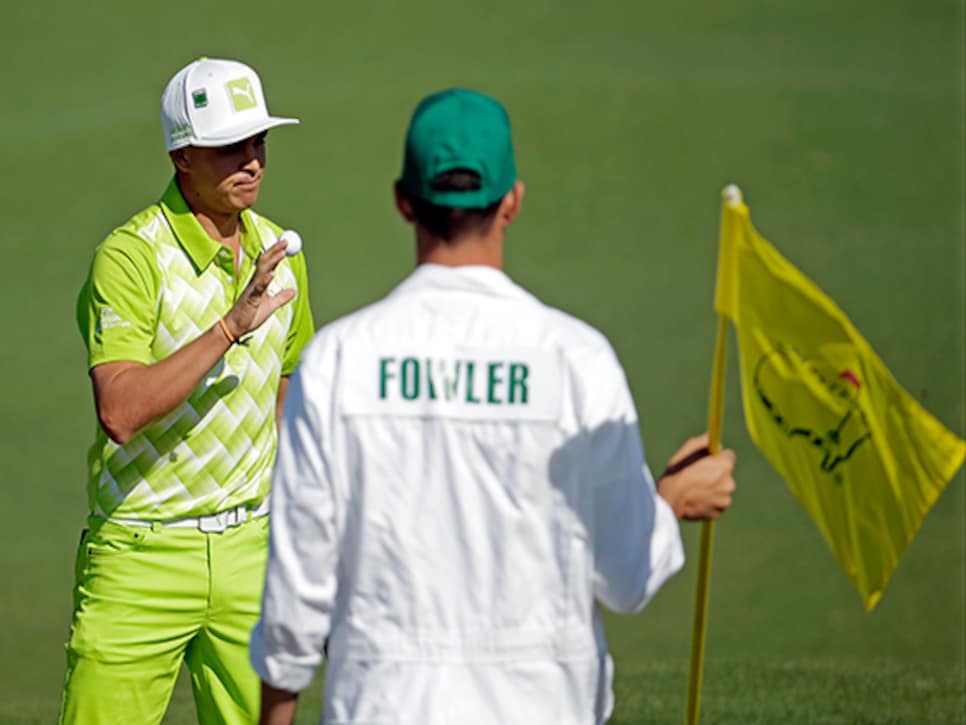 Rickie Fowler's 2014 season in the majors was record-breaking for a non- winner. His top-10 finishes in all four majors was the 23rd time that has happened. Twelve times it has happened to a player who didn't win any of the four, but Fowler had the lowest cumulative total of this dozen, his finishes adding up to 12 (T-5 at the Masters, T-2 at both the U.S. and British Opens, and T-3 at the PGA). Next best all-time with combined finishes of 17 are Jack Nicklaus in 1977 (2nd at Masters and British, T-10 at U.S. Open, 3rd at the PGA) and Ernie Els in 2004 (2nd at the Masters and British, T-9 at U.S. Open, and T-4 at the PGA).
Also of note, Nicklaus still has the longest span between first and last top-10s in the modern era at 38 years, with Snead at 37 and Watson 35. And Sergio Garcia is now tied with Ed Dudley for the dubious but not insignificant honor of having the most top-10s without a victory in one; he and Dudley -- more positively known as Augusta National's head pro for 25 years -- both have 19 top-10s and are tied for 35th all-time.