News & Tours
Super Golf League officials meet with agents at Kiawah, say more player offers to come in 4-to-6 weeks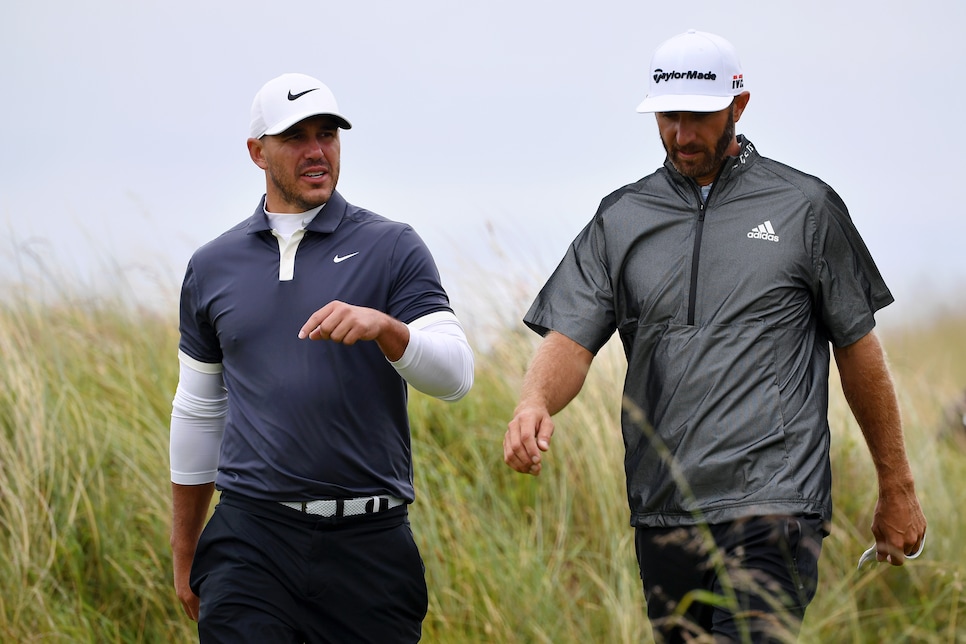 Brooks Koepka and Dustin Johnson are two players that officials with the Super Golf League have reportedly made offers to join the potential rival to the PGA Tour.
Stuart Franklin
KIAWAH ISLAND, S.C. — The current golf order has congregated on this idyllic island for the second major championship of the year. The disruptors, however, are here as well.
On Tuesday evening, just 36 hours before the first tee shot of the PGA Championship, representatives for the Super Golf League hosted a number of agents for a meeting at a home on Kiawah Island. A source who attended tells Golf Digest that the purpose of the gathering was to make clear that the project continues full-speed ahead—and that a number of additional players would have ready-to-sign offers within four to six weeks.
"It all happened pretty quick," the source, who spoke on the condition of anonymity, said. "It was like, We have everything sorted, it's all going to work out."
The group seems undeterred by concerted efforts to stop its progress, and it hopes to host its first event as soon as January—an idea the source described as "highly ambitious."
Present for the meeting were lawyers from a high-profile American law firm that is handling the venture's contractual work. These attorneys assured agents that they were combing through any potential legal hiccups and that their process, too, would be completed sooner rather than later.
"I left the meeting more confident than I was before that this likely won't go forward," the source said, and suggested he feels others in attendance share his sentiment. "I think they'll realize there are too many hurdles, too many obstacles."
Perhaps the most intriguing aspect of the SGL's proposal is the prospect of guaranteed money—players will be paid a yearly salary, $30 million or more for some, and be required to play a specific set of events. The PGA Tour gives players great freedom to make their own schedule, but compensation is contingent upon on-course performance.
To address that issue, the PGA Tour recently established the Player Impact Program, a $40 million prize fund that will be distributed at the end of the year to the 10 players that bring positive exposure to the game. The PIP was widely seen as a response to the guaranteed-money issue; a way for the Tour to pay its biggest stars even if their games fall on hard times.
As Alan Shipnuck of the Fire Pit Collective reported, the Super Golf League is a separate operation from the Premier Golf League, whose backing comes largely from Europe and the West. The group that hosted the meeting on Tuesday is funded largely by Saudi Arabian interests, and a high-ranking official from Saudi Arabia's Public Investment Fund—which invests money on behalf of the Saudi government and includes more than $300 billion—video conferenced into the meeting.
"If someone wants to play on a Ryder Cup for the U.S., they're going to need to be a member of the PGA of America, and they get that membership through being a member of the tour," Waugh said. "I believe the Europeans feel the same way, and so I don't know that we can be more clear than that.
"Particularly for younger players that are going to have a 20-year career out here, I just don't think they're going to be better off in that format than they already are," Waugh continued. "I've talked to a bunch of them. As you can imagine, you look them in the eye and you just say, 'Be careful what you wish for, because short-term gain feels good for a little while, but long-term gain is what makes lives."
On Wednesday, however, U.S. Open champion Bryson DeChambeau said it was something he was considering. "I've got a lot of people in the background working on it for … my agent, we're all dealing with that. I think at the end of the day there's interesting concepts, but that's all I really have to say about it. There's not much I can do personally. I'm out here just playing golf trying to win a major championship. You know, I think at the end of the day it's people in the upper management that has to be taking care of that compared to me. I really can't do unfortunately much about it. I wish I had a bigger say in things, but I don't, I just play golf."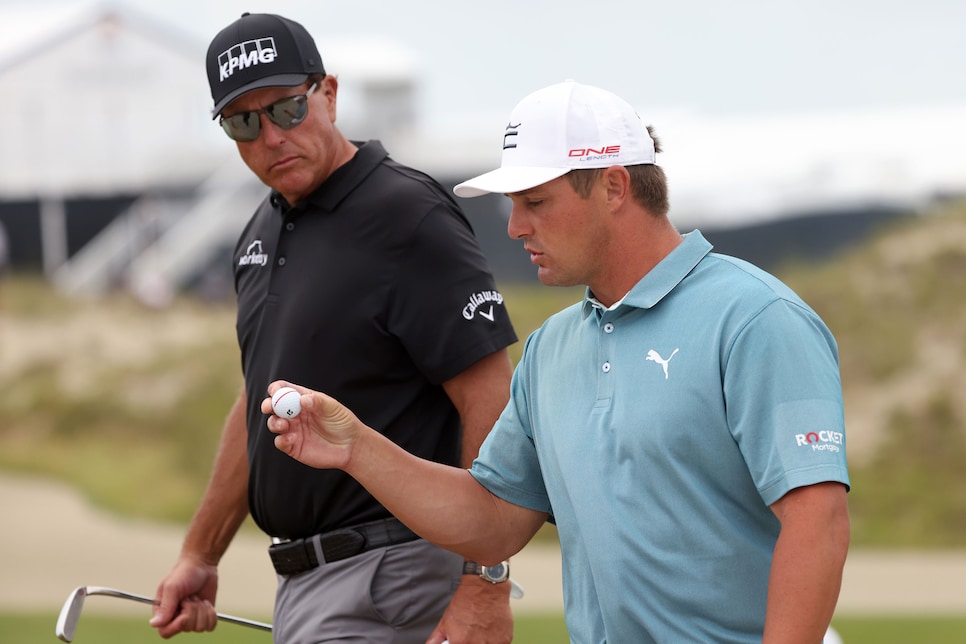 Phil Mickelson and Bryson DeChambeau have both said they are curious about the SGL concept and have people in their camps exploring options.
Jamie Squire
News of this latest potential challenger to the PGA Tour began early last year, but a number of big-name players quickly shut down the possibility of leaving behind the current golf ecosystem for something entirely new. The idea seemed dead until earlier this month, when a report from The Telegraph suggested a number players—namely Dustin Johnson, Phil Mickelson, Justin Rose and Brooks Koepka—had been offered $20 million or $30 million or more to sign with the new league, which feature smaller fields and a more global schedule than the current PGA Tour structure.
Dustin Johnson's agent, David Winkle, confirmed to the Associated Press that Johnson had been approached.
"He has listened to their presentation, like all the other top players," Winkle said. "No commitment whatsoever."
The news dropped just hours before the PGA Tour held a mandatory players' meeting at Quail Hollow. During that meeting, commissioner Jay Monahan reiterated the stance he took when the first PGL noise surfaced last year: it's us or them. Any player that signs with this new league, Monahan conveyed, would face immediate suspension and likely expulsion from the PGA Tour.
"People can see it for what is, which is a money grab," McIlroy said. "Which is fine if that's what you're playing golf for is to make as much money as possible. Totally fine. Then go and do that if that's what makes you happy. But I think the top players in the game — I'm just speaking my own personal beliefs — I'm playing this game to try to cement my place in history and my legacy and to win major championships and to win the biggest tournaments in the world.
"I'm very much against it. I don't see why anyone would be for it."
Other players seemed a bit more open to the possibility. Rickie Fowler called the idea "definitely interesting," while Phil Mickelson outlined what he sees as potential benefits for fans.
"I think the fans would love it because they would see the best players play exponentially more times," Mickelson told ESPN. "Instead of four or five times, it would be 20 times ... I don't know what the final number is.
"But that's a big deal to give up control of your schedule. I don't know if the players would be selfless enough to do that. But every other sport, the entity or teams or leagues control the schedule. The players kind of play where they are told to play. Whereas here, we're able to control it."