The Loop
Suns forward Josh Jackson was at 'The Malice at the Palace' when he was 8 (!), says he "threw a water bottle"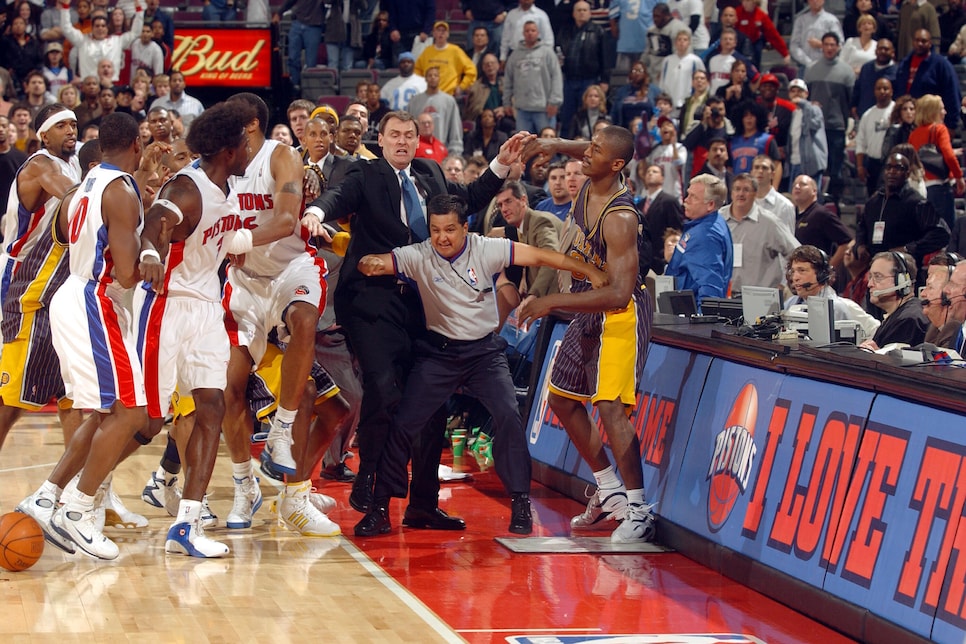 'The Malice at the Palace' was one of the all-time "where were you when it happened?" moments not only in NBA history, but in sports history. As I recall, I was in my house watching the jaw-dropping replays of the fight on SportsCenter. I know, cool story bro.
Now, just imagine you were in attendance on the fateful night that Ron Artest went into the stands and started swinging? I think that would produce some vivid memories. Phoenix Suns forward Josh Jackson remembers it well, because he was in the building at the young age of EIGHT years old. File this story in the "feel old yet?" department.
Jackson, now 21 and in just his second year in the NBA, is penning a diary chronicling his sophomore season for "The Undefeated" with the help of one of the site's writers Marc J. Spears. In the third entry published on Wednesday, the recent fight between Rajon Rondo and Chris Paul came up in the first paragraph, with Jackson stating he hadn't seen anything like it since 'The Malice at the Palace' back in 2004. Jackson, who was born in California but grew up in Michigan, was a huge Detroit Pistons fan, and he jogged his memory about the whole wild situation in his latest diary entry.
"I was 8 years old. I was kind of sitting right at midcourt about 20 rows up. I remember seeing so many people everywhere fighting. I remember [then-Indiana Pacers forward] Jermaine O'Neal getting hit with a chair. That was one of my most vivid memories. I remember Ron Artest laying on the scorer's table and someone throwing a drink on him."
"I was looking around and everyone was throwing something onto the court. I am not going to lie. I threw a water bottle. Why? It's my home team. I'm a Pistons fan. What? The Pacers came in here throwing punches on my favorite players. I couldn't have that."
Look, we don't condone the water bottle throwing, even if everyone else was doing it, which to an eight-year-old kid means "DO IT" immediately, but you can't say Jackson wasn't a true fan. For those who remember, it happened when the Pistons were down 15 points with less than a minute to go, meaning you're either a diehard, insane, or both to still be in the building. As ugly as the whole thing was, it's still pretty cool to be able to say you were there.
By the way, let's run it back. We wouldn't be doing our job if we didn't: