News & Tours
Sungjae Im and Si Woo Kim are playing for something far bigger than the Ryder Cup this week in China (UPDATE: Korean team wins gold)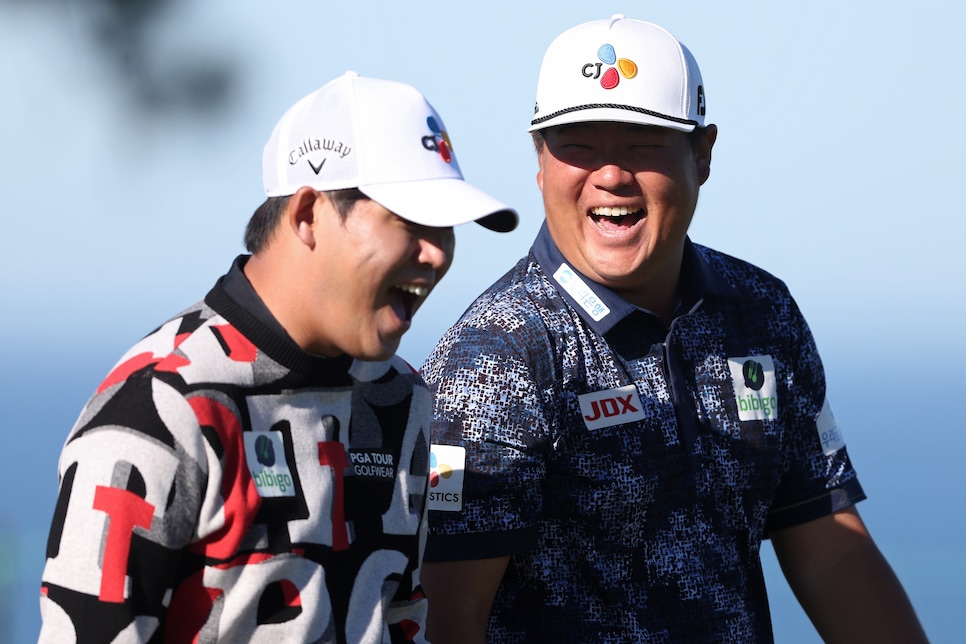 It goes without saying that the biggest event in golf this week is taking place in Rome. However, Sungjae Im and Si Woo Kim might argue that it's taking place in Hangzhou, China.
In fairness, the two South Koreans might have a point, too. While the Ryder Cup is one of the biggest events in golf, Im and Kim are playing for something far bigger this week at the Asian Games—military exemptions.
The opportunity for this life-changing scenario for Im, 25, and Kim, 28, first arose when, in February 2022, news circulated that for the first time professional golfers would be allowed to compete in the Asian Games. Previously, the games were for amateurs only, meaning there was only one real opportunity for professional golfers like Im and Kim to avoid their nation's mandatory 21-month military-service requirement, and that was by winning a medal of any color at the Olympic Games. When they both failed to do that at the Olympics in Tokyo in 2021, it meant they would have to wait until Paris in 2024, without a guarantee of making the team or a guarantee of being in form, for another opportunity. Winning PGA Tour events, or contending in majors, two things both Im and Kim have done, unfortunately mean nothing when it comes to fulfulling this duty.
The Asian Games were originally scheduled to take place this time last year, but they were postponed a year due to the COVID-19 pandemic. Kim and Im were announced as two of the team members by the Korea Golf Association in 2022. They will be joined by amateurs Jang Yu-bin and Cho Yoo-young. In order to be "largely exempt" from service, which must be completed before your mid-30s, they will need to win a gold medal in either the team or individual portion of the games.
Should neither Im or Kim win gold at the Asian Games, or win a medal of any kind in the Olympics next August, they could suffer a similar fate as Sangmoon Bae, another former South Korean phenom who won twice on the PGA Tour in 2013 and 2014 before he had to fulfill his military requirement after the 2015 Presidents Cup. Bae, 29 at the time, began his service that November and it ended in August 2017. The now 37-year-old has bounced between the PGA and Korn Ferry tours ever since, even picking up a KFT win in 2018 at the Albertsons Boise Open. Most recently, he played in the Fortinet Championship earlier this month, tying for 52nd. Other cases of well-known South Korean golfers having to complete service include eight-time PGA Tour winner K.J. Choi and 2009 PGA champion Y.E. Yang, who each completed their service in their early 20s before finding success in pro golf.
The golf portion of the games will take place at West Lake International Golf Course, located in the Xihu District of Hangzhou. As popular Sungjae Im Twitter tracker account Sungjae Tracker pointed out, it could be difficult to follow along live here in the states. But the schedule and results can be found here. Day 1 of golf competition will begin Sept. 28 and run to Oct. 1, when medals will be on the line. Im, currently ranked 27th in the world, finished inside the top 20 in four of his last six PGA Tour events. Kim, ranked 40th, recently qualified for just his second career Tour Championship, where he tied for 17th.
UPDATE: With a final-round team score of 18 under, the Republic of Korea claimed gold at the Asian Games. As a team, Sungjae Im, Si Woo Kim, Yubin Jang and Wooyoung Cho shot a collective 76 under to win the team portion of the competition by a whopping 25 shots over Thailand. This means that Im and Kim, as well as the two amateurs, will avoid their mandatory 21-month military requirement. A clutch week, to say the least:
In the individual competition, Im shot a final-round 65 to finish one stroke shy of gold. He won silver, while Kim finished three back of Im in solo fourth, just missing out on bronze:
While this is certainly massive for all four players, it's particularly huge for Kim, who, at 28, was beginning to run out of chances. Korean males have to complete the military service before their mid-30s. Im, 25, would have had a few more opportunities, but neither of them have to worry about it any longer now.