News
Sung Hyun Park fans knew her U.S. Women's Open win was only a matter of time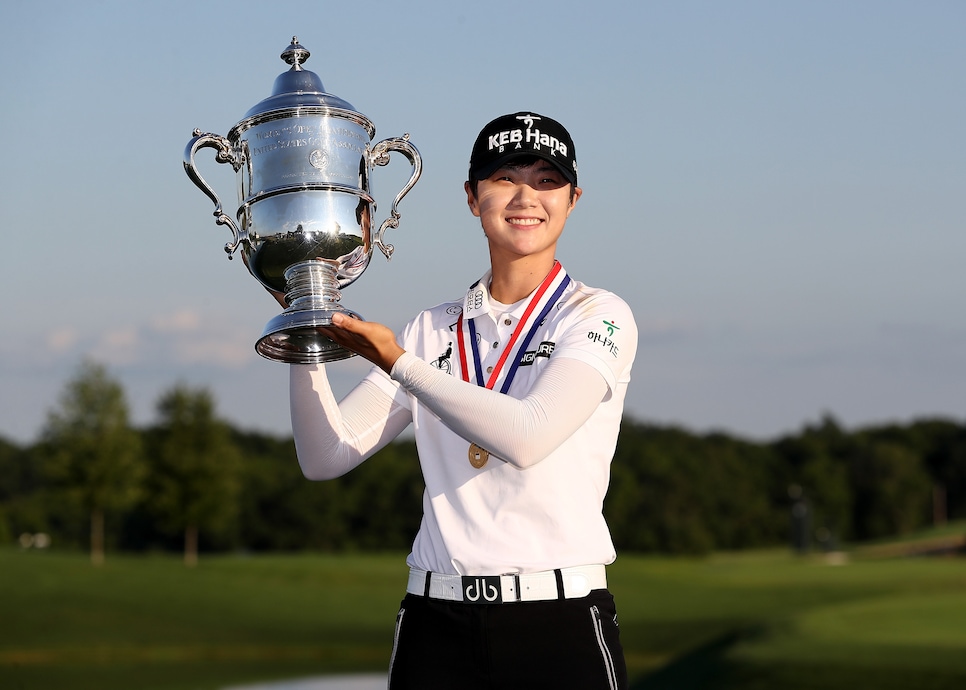 BEDMINSTER, N.J. -- Watching Sung Hyun Park's approach shot into par-5 18th hole roll off the back of the green, leaving her ball in a swale, brought a nervousness to the crowd. The light wind and beating sun had dried Trump National Bedminster's greens out enough to make the chip scary with the U.S. Women's Open on the line: Just a little long, and her ball could easily run off the green and into the pond on the other side of putting surface. But Park remained steady. Her chip bounced softly on the green, rolled towards the hole and came to rest about a foot and a half from the hole. The ensuing par putt put her at 11 under for the tournament, all but giving her the title. Shanshan Feng, who had led after each of the first three rounds, would have to hole out for eagle on the 18th to force a playoff.
Suffice it to say, Park's fan club felt confident enough that Feng wouldn't pull off the eagle that they unrolled two big banners as Park walked off the green that said Congratulations Sung Hyun Park in Korean and Winner Sung Hyun Park. The fan club's confidence shouldn't be underestimated: They thought enough of Park to have the banners made in the first place, before they even left South Korea for the United States.
"I guess we had the right dream," said fan club member Julia Larson.
They had been carrying a smaller banner throughout the week that they said translated to, Our energy is your energy. We're in this together.
It's hard to understand how popular the new U.S. Women's Open champion is in her native South Korea without actually going to Korea. But any athlete who draws several dozen members of a fan club from Asia to a tournament in the U.S. certainly has a decent level of fame. When Park, a rookie on the LPGA, is asked about her fan club and her status as a famous athlete in Korea, her humility takes over.
"It's rather embarrassing to talk about it, but I would like to think that I probably had a pretty good record through the KLPGA," Park said. "And I had seven wins, so that's kind of prompted me to have more [fans] then and I'm always grateful that, you know, I get to have this position that I am now."
Park's fan club has a few nicknames for her. One of which is "Dak Gong," which directly translates into "Shut up and attack." And if you watch her stoic demeanor on the course, the nickname makes sense. She wears the brim of her hat low on her forehead, her eyes peering out fixed and focused on the task at hand. She walks with perfect posture, her shoulders back, her spine straight. She doesn't smile a lot, doesn't talk much. She, well, shuts up and attacks.
It was a valuable trait during a week that had plenty of distraction. From the rain, to the weather delays, to all of the secret service and fan commotion around President Trump's arrival and viewing of the tournament, it was a U.S. Women's Open that had a lot going on besides just playing golf.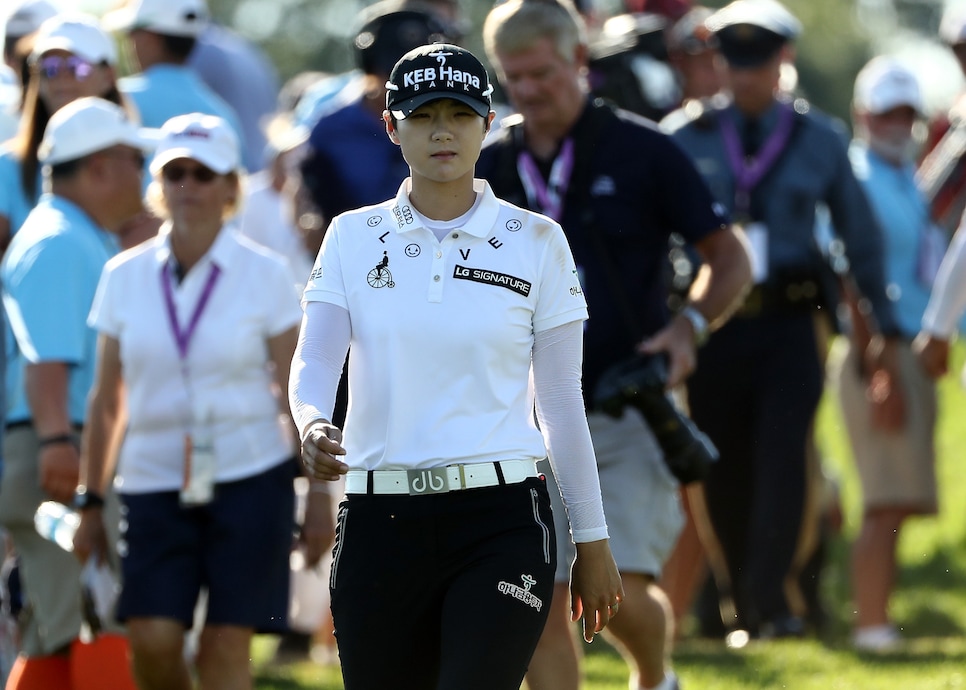 "I think one of the most difficult things is to stay focused and keep that concentration level up because I know first-hand that once you lose it, you play is just going to go sideways," Park said.
At the beginning of the week, things did go a bit sideways for Park. After her first-round 73, Park was T-58, seven shots off the lead. Obviously, that first-round misstep didn't prove enough to derail the No. 11 player in the world. To put into context how impressive her climb up the leader board was: The top 60 and ties make the cut at the U.S. Women's Open. The cut ended up being two over. Had she shot 74 on the second day, she wouldn't have even played the weekend.
But a second-round 70 in the rain pushed her up to T-21. Her 67 on Saturday brought Park's name into conversations. She was alone in fourth place heading into the final round, three shots off of Feng's lead. Though this is Park's first year on the LPGA as a member, she was in a similar position at last year's U.S. Women's Open at CordeValle. Park was in the final group on Sunday, but fell off after her group was put on the clock at the turn. She finished T-3.
On Sunday at Trump National Bedminster, Park was in the second-to-last group, and had even more ground to make up than she'd been faced with the year before. Feng looked comfortable and in control over the first three days of play; she had made only one bogey over the first 54 holes. So it wasn't as if making up those three shots was going to be easy for Park.
But Park made birdies at two, five, eight, 12, and 15 to tie for the lead with Korean amateur, Hye-Jin Choi at 10 under. Feng was one shot back at nine under. Park then birdied the 17th, a hole that only gave up four birdies all day, just as Choi made a double-bogey 5 on the 16th, knocking her all but out of contention. Meanwhile, Feng didn't have a realistic chance after making par at 17.
"I'm not surprised that she won this week," Feng said. "I was just talking to my friends, I said, 'As good as she is, she's going to win anytime.'
"She's young and long so she hits the ball very long and very straight, very accurate."
Park is, indeed, quite long. The 23-year-old ranked in the top three in driving distance all four days. She's the fifth longest player on tour this year, averaging 274.2 yards. But it was work on her short game that was the difference for Park, the place where she admits there is room for improvement.
"Fans in Korea actually know about this – my issues with my short game," said Park. "So I particularly study and practice focusing on my short game more than others."
Though her work on her short game helped throughout the entire tournament, that chip on 18 was the culmination of it.
"My mind basically went blank," Park said about hitting the shot. "But at that moment, I was telling myself I should just stick to how I usually practice. So I think the repetition and practice that I carried out probably paid off. To be honest with you, I was actually surprised myself."
Park said that surprise didn't leave her until she got to see her mom when she walked off the 18th green.
"She stood right in front of me and she said, 'I am so proud of you Sung Hyun,' " recalled Park. "At that moment it really dawned on me. I guess I really won the championship."