The Loop
Sunday primer at the Open Championship
ST. ANDREWS, Scotland -- Some more questions to ponder as the final groups prepare for their Open Championship starting times:
__Louis Oosthuizen? Really?
We are done dismissing Oosthuizen's chances given not only the size of his lead, but also the stylish and cool manner in which he built it. Playing late on the weekend for the first time in a major, the 27-year-old South African's nerves were on display only briefly, when he three-putted the first hole. But from there, it was as if he had been in this sort of situation countless time before. Of course, as Ron Sirak notes, Sunday at a major is an altogether different animal, so there's still plenty of time for Oosthuizen to take stock of his surroundings.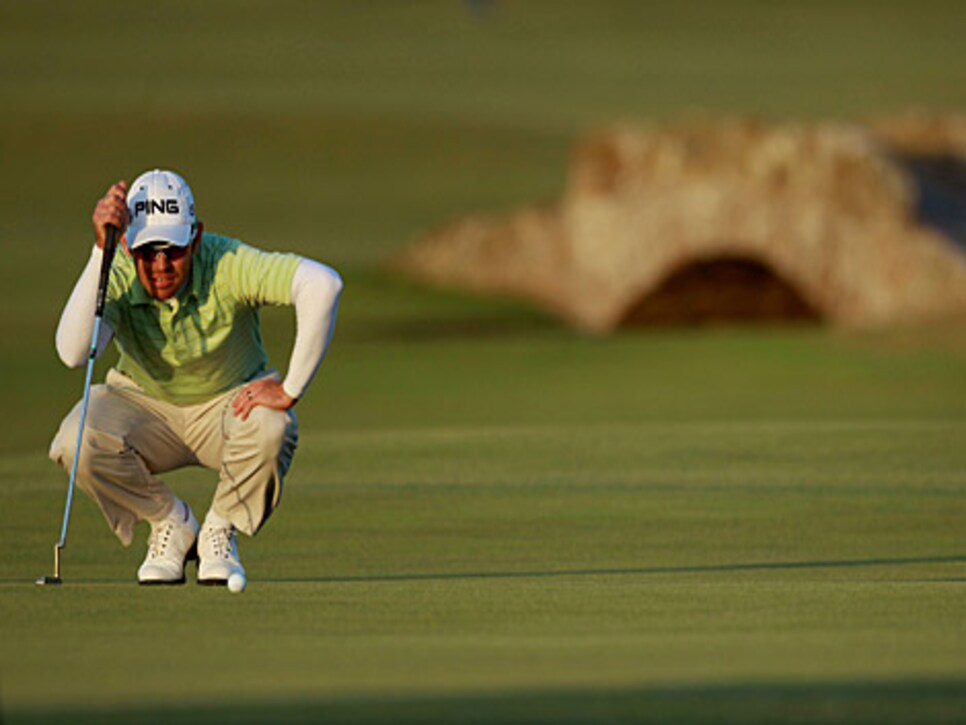 *(Photo by Getty Images) *
OK, but if this guy even has a chance to be "the champion golfer of the year," the least we can do is pronounce his name correctly.
The correct pronunciation is WUHST-hy-zen. When in doubt, just go with Louis.
Of the host of challengers looking to hunt Oosthuizen down, does anyone jump out?
The most obvious candidate is Paul Casey, first because at 11-under par, he's Oosthuizen's nearest pursuer, but also because he's a formidable talent who once was ranked as high as third in the world. But the 32-year-old Casey has yet to do much on the game's grandest stages, whereas Henrik Stenson at least held off an impressive field in the 2009 Players Championship.  Eight back at seven under, Stenson would need a score like his closing 66 at TPC Sawgrass to even have a chance. Another intriguing possibility is Dustin Johnson, who is back in the mix after his final round implosion in the U.S. Open.  If Johnson plays like he did four Sundays ago at Pebble Beach, we should forget about him making up a nine-shot deficit. But if he plays like he did the first three days of that major, well then look out.
Anyone else looking like a big winner this week?
He won't swing a club, but there's something to be said for the week being had by Pete Cowen, the swing instructor whose stable of players include Oosthuizen, Lee Westwood, Alejando Canizares, Stenson, and U.S. Open champion Graeme McDowell. With that kind of showing at St. Andrews, Cowen might want to consider securing a new phone after this week, because the one he has is likely to explode.