The Loop
Sunday morning primer at the Masters
AUGUSTA, Ga. -- The final groups in the Masters are still hours away from teeing off, but it's not too early to start thinking about what to expect. With that, let's run through some quick storylines:
Is it possible Sunday can top Saturday?
You would think not given the barrage of birdies, eagles and roars you could hear all the way to Aiken. One important difference, however: as opposed to Saturday, when the man on top at day's end merely earns the privilege of a sleepless night and a late afternoon tee time, today he gets a green jacket and his name etched in history. The higher the stakes, the greater the entertainment value. So yes, we think it can get better.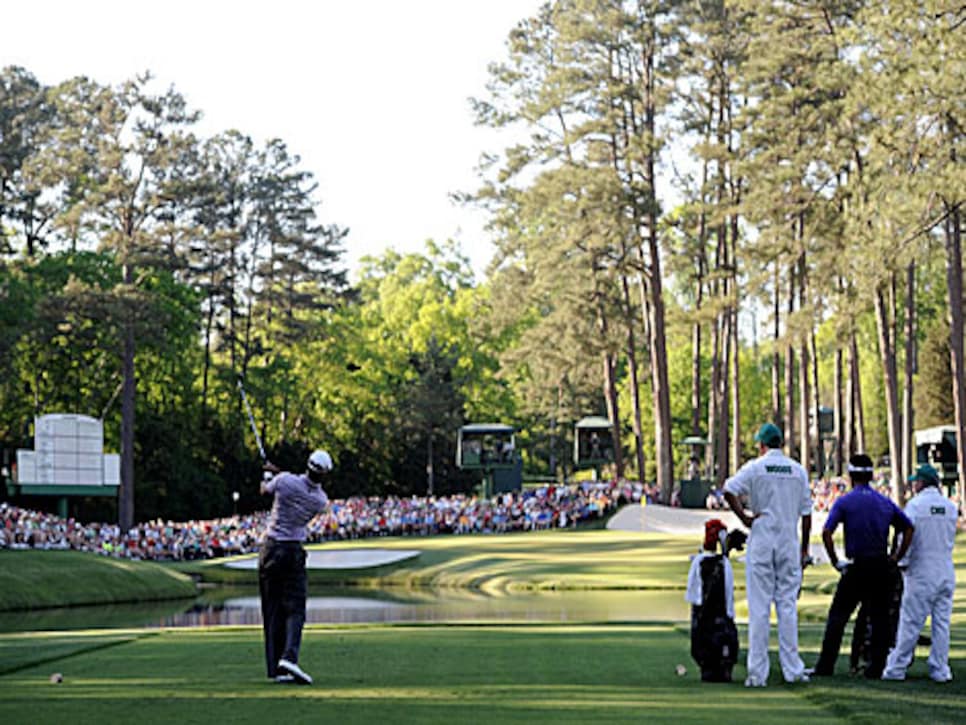 __Can Tiger really win this thing?
__You're not really asking that question, are you? Granted, Woods' play was sloppy at times on Saturday, and it's also true he has never come from behind to win a major. But Woods can still make up a four-shot deficit faster than you can say, "Hey Lee Westwood, can you take us through the quadruple bogey on 4?"
__But what's up with the swearing? Wasn't Tiger going to work on that?
__Fair point. Twice in consecutive holes a television microphone picked up Woods lamenting a poor shot, in language that was slightly saltier than, "Gee, I really wish I hit that better." Remarkably, when Woods was asked about the incident after his round, he didn't recall losing his temper, proving either A) he has an acute case of selective memory, or B) he really does enter into another zone when competing. Maybe it doesn't have to be all or nothing, but a Woods who occasionally flares up and is in contention is still preferable to one bites his lip and is hardly a factor.
__Getting back to Westwood, he can't hold on, can he?
__If you look at Westwood's recent run of near-misses in majors, most notably a late gaffe at Turnberry that likely cost him the British Open, he appears prone to getting in his own way. Then again, compared to some of the recent major champions whose resumes paled in compared to Westwood's -- Y.E. Yang, Trevor Immelman, Zach Johnson -- you're also tempted to say the Englishman is long overdue.
__Is there anyone beyond the trio of Westwood, Phil Mickelson, or Woods who could sneak from behind to win this thing?
__If it's possible to play three days alongside the game's No. 1 before an audience of millions and still fly under the radar, K.J. Choi has somehow done it. Once a consistent threat in majors and then more recently a player who had seen his game dip, Choi has kept pace with Woods all week long. Four shots behind Westwood, he has a chance to become the second consecutive Asian winner of a major.
If the tucked hole locations for Sunday are any indication, the aggressive player in the final round risks getting burned. By that measure, it may be difficult to imagine anyone playing late in the day going ridiculously low. More likely it would have to be a player five or six strokes back who can jump out early, go directly at flags, and try to post a score. And while a sentimental pick to do so would be 50-year-old Fred Couples, a couple of more likely candidates exist in Hunter Mahan (six under) and Anthony Kim (five under). Young, fearless, and perhaps still naive enough to not get caught up in the moment, don't be surprised if at least one of them makes a charge on Sunday.