The Loop
Sunday at the Masters: Final round blog
AUGUSTA, Ga. -- The leaders are all off in the final round of what has already been an immensely entertaining Masters. Let's start right in with some live updates (most recent posts on top):
6:52 p.m.: With a two-shot lead, Mickelson goes ahead and makes another birdie on No. 18. He raises his arms in celebration, hugs his caddie, Jim "Bones" Mackay, and then walks off the green for a long embrace with his wife, Amy. The win is Mickelson's third Masters title and fourth overall major championship.
6:40 p.m.: Westwood makes a birdie at No. 17 to pull within two shots, but Mickelson ends any possible drama by making a four-footer for par.
6:05 p.m.: In the "Will this guy ever go away department?", Woods sinks his 15-footer for eagle on 15 to get to 10 under. If not for his slow start and his brain cramp on 14 -- true, not an insignificant "if" -- Woods could be looking at another green jacket.
__6:02 p.m.:__Kim holes his par putt from the fringe on 18 for a 65 and the clubhouse lead at 12 under. The odds are against that holding up, but it does give the leaders something to think about coming down the stretch.
5:51 p.m.: Another stunning moment. Tiger sticks his approach to No. 14, but misses an easy birdie chance. To make matters worse, he walks around the hole and casually taps it in, only the ball lips out. The two-shot swing leaves him at eight under and virtually out of contention. Choi makes a bogey as well to fall to 10-under.
5:45 p.m.: In a tournament that has seemed to produce an endless series of incredible shots, Mickelson just topped them all. After hitting his tee shot right into the pinestraw, he hooks his second around a tree, over the creek and within four feet of the hole. Amazingly, however, he misses the putt, but still makes birdie to get to 14-under. Westwood makes birdie as well to stay within striking distance at 12-under.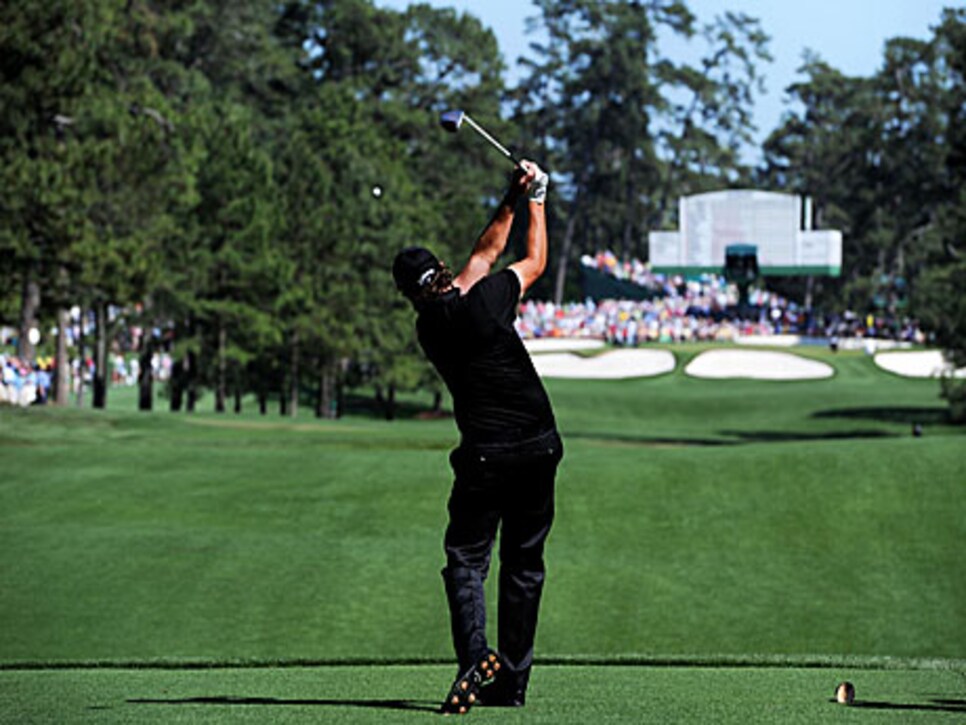 5:37 p.m.: Tiger converts his eight-footer for birdie on No. 13, but Choi makes his first mistake of the day. His approach goes into the back bunker and he takes four more shots to get down for an ugly bogey to drop back to 11-under. Back on the tee, both Mickelson and Westwood hit wayward drives to the right.
5:32 p.m.: Kim rolls in another 20-footer, this time for birdie on No. 16. He now stands at 12-under, seven under on his round. Meanwhile, Tiger nearly holes his third from 74 yards on No. 13. It spins back, but lips out and he'll face about an eight-footer for par.
5:30 p.m.: Mickelson makes a 20-footer for birdie on No. 12 to retake the lead at 13-under. Westwood makes par to stay at 11-under with Kim. Choi remains one back at 12-under.
5:22 p.m.: A new challenger has emerged. Anthony Kim just rolled in a 20-footer for eagle on No. 15 to get to 11-under. 13-15 is the stretch where you need to do some damage and Kim just did that, going birdie-birdie-eagle.
5:20 p.m.: Mickelson and Westwood both make two-putt pars on the difficult par-4 11th hole. While they putt out, Woods makes a 15-footer from the fringe on No. 12 to save par and stay four shots behind Mickelson and Choi.
5:11 p.m.: Tiger makes bogey on No. 11 after hitting his tee shot way right into the trees. He nearly pulled off an unlikely par after hoisting his third shot off of the pine straw and over the trees to eight feet but his putt lipped out. Meanwhile, Choi made another routine par to stay tied for the lead at 12-under.
__4:51 p.m.:__Maybe K.J. Choi was privately stewing all winter that he didn't get to become the first Korean major winner. But he has an excellent chance to follow Y.E. Yang as the second, with his birdie on the 10th moving him into a tie with Mickelson at 12 under. Better still (for him at least) is that Mickelson lost his drive into the trees, and appears to be land-locked for his second shot.
__4:45 p.m:__Lead change alert. After Mickelson pushes his drive into the trees on 9, it is Westwood  who makes a mess of the hole. While Mickelson manages to get up and down for par from short of the green, Westwood's three-putts drops him out of the lead and puts Phil in front for the first time all day.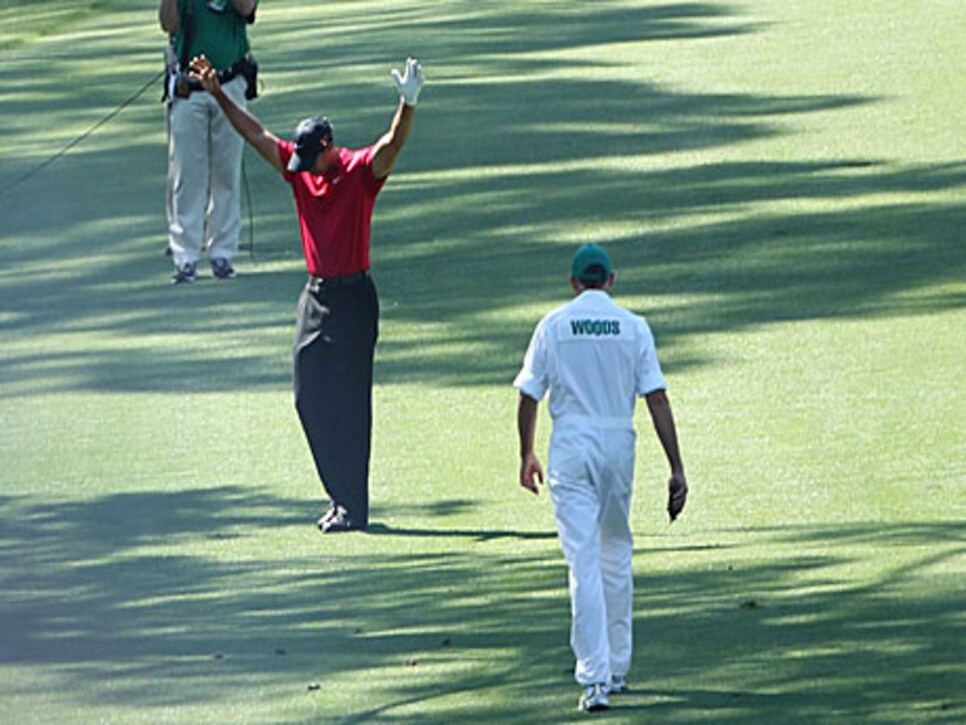 __4:42 p.m.:  __At the risk of stating the obvious, how remarkable is that Tiger Woods makes the turn with even a sliver of a chance in the Masters? After slapping it around through the first six holes, he plays the next three holes in four under, only the latest example that no golfer is more proficient at willing his way back into the picture.
4:35 p.m.: Look out. Tiger drains his eight-footer for birdie on No. 9 to finish the front nine eagle-birdie-birdie. Incredibly, after three bogeys on his first five holes, he winds up shooting a 1-under 35 on the front to remain in contention at nine under. Choi makes par to shoot a 33 and stay at 11-under.
4:30 p.m.: Westwood fails to birdie the par-5 eighth hole after his tee shot finds the right fairway bunker. Mickelson converts his four-footer for his first birdie of the day to tie Westwood for the lead.
4:26 p.m.: Fred Couples just rolled in a five-footer for birdie on No. 9. The Champions Tour star is out in 33 and is now 10-under.
4:22 p.m.: Woods follows his eagle on No. 7 with a much-needed birdie on the par-5 eighth. Out of nowhere, he's back at even par for the round and eight under overall. Seemingly out of nowhere as well, K.J. Choi just rolled in his third birdie of the day to get to 11-under and one off the lead.
4:11 p.m.: For a second straight day, Westwood makes a scrambling par from the left trees on No. 7. Mickelson makes a difficult two-putt for par as well to remain one behind his playing partner.
__3:57 p.m.:__Hold on there. Woods not only stops the bleeding in this disastrous final round, he may have given himself a kickstart. With his approach from the fairway on the par-four second, Woods finds the green, then watches his ball trickle toward the cup before disappearing for eagle. In moving to seven under, he is still five shots back, but now has the par-5 eighth in front of him.
3:50 p.m.: Mickelson makes a great up-and-down from right of No. 5 to stay at 11-under. Westwood responds by draining an eight-footer for birdie to regain the lead at 12-under. At nearly the same time, Choi rolls in a 15-footer for birdie on six to get to double digits under par.
3:40 p.m.: Another hole, another missed green and bogey for Woods. Through five holes, he has yet to hit a green and is now three over on his round to fall all the way back to five under for the tournament. Playing partner K.J. Choi quietly remains right in the hunt at nine under.
3:36 p.m.: Westwood makes his second bogey of the day when he fails to get up and down from the right of the green on No. 4. Meanwhile, Mickelson makes a routine two-putt par to take sole possession of first place at 11-under.
__3:28 p.m.:__Quick leader board update -- Westwood -12, Mickelson -11, K.J. Choi -9, Couples -9, Ian Poulter -7, Ricky Barnes -6, Ricky Barnes -6, Anthony Kim -6, Tiger Woods -6.
____3:19 p.m.:__Four holes in and Woods still hasn't hit a green in regulation. On the 240-yard fourth, Woods sends his approach right, then chips to eight feet. He misses the putt to fall back to six under.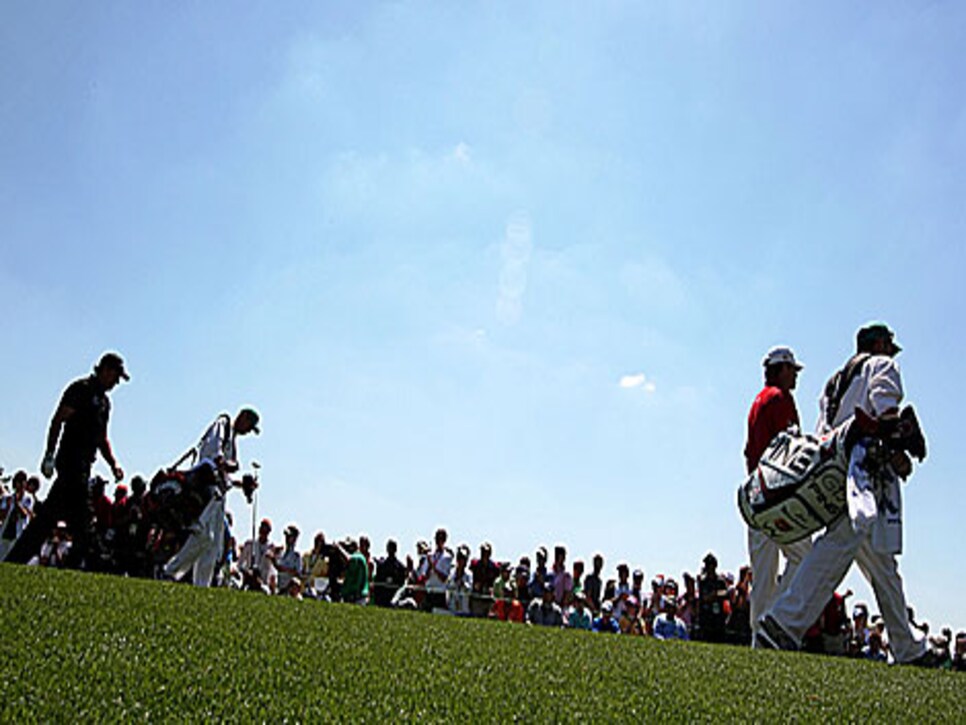 __3:12 p.m.:__Woods at least is able to salvage par by rolling in a 5-footer.
3:09 p.m.: __Call it a sign from the heavens: Mickelson sees a 6-footer for birdie on No. 2 jump off line at the last moment. Only upon closer review does it become apparent that some sort of nut falls from a tree and into his line at the last possible moment, sending his putt astray. He settles for par and loses ground to Westwood, who makes birdie to get back to 12 under.
__3:07 p.m.:__Tiger is looking like 1998 Tiger, airmailing the third green with a wedge in his hand.
__3:02 p.m.:Don't forget 50-year-old Fred Couples, who after birdieing second hole, rolled in another birdie putt from off the green on No. 3. At nine under, he is also two off the lead in his bid to become the oldest Masters champion.
__2:58 p.m.:__Woods makes a mess of the par-5 second as well, sending his shot into the greenside bunker then need two shots to get out. He salvages par, but in essence loses ground in the process. Meanwhile, playing partner K.J. Choi makes birdie, and is now within two of the lead.
2:51 p.m.: At least for Woods, Westwood didn't fare much better After sending his opening drive into the trees as well, Westwood attempted to punch out, but caught another pine in the process. He chipped on in three, but missed the par putt to drop back into a tie with Phil Mickelson, who made par and remains at 11 under.
2:44 p.m.: If Tiger Woods is to make up ground on the leaders, he's not afforded much room for slip-ups. With that in mind, his start moments ago was hardly ideal. On his opening drive Woods pulled his opening tee shot left and immediately dropped his driver on the follow-through (note to Stevie: next time, check those grips). Woods recovered enough to punch through the pines to short and right of the green, but his chip raced past the hole, and he failed to sink his par putt. With an opening bogey, he is again five shots behind leader Lee Westwood.
*-- Sam Weinman and Alex Myers
(Photos by Getty Images) *