The Loop
Sunday at Hazeltine: What You Need To Know
We'll take that as mostly a good thing. But next time, a little notice would help.Â
On, then, to the five burning questions of the day...
Is Tiger losing his touch?
One might think so seeing how an imposing four-shot lead on Saturday was whittled down to two by day's end. But let's also not forget that Woods was playing in the last pairing in the day's most trying conditions; that the guy playing next to him tripped all over himself en route to a 75; and that Woods still managed to keep his competition at arm's length with a round under par. If anything, he is golf's version of Seabiscuit, allowing his competition to pull up next to him, before shifting into another gear and leaving them all staggering behind. That may well be the case again.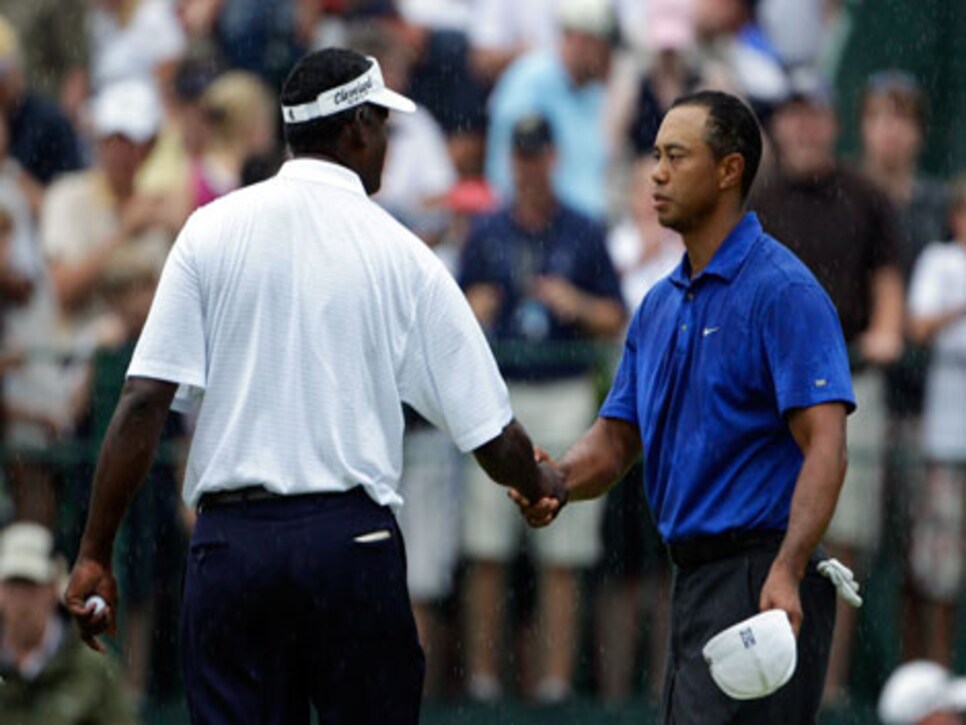 (Photo: Jamie Squire/Getty Images)
OK, fine, Woods is still in command. But doesn't Padraig Harrington present a serious threat?
Of course he does. The defending champion is just two back, and has the perfect nothing-to-lose mindest heading into the final round. And that may well explain Harrington's unlikely run as a three-time major champion. This was a guy who said that when he first ventured out on tour, he merely aspired to being a career journeyman golfer. Three majors later, he is a journeyman who can at least kick around in his own jet.
So finally we've found him: Tiger's true rival.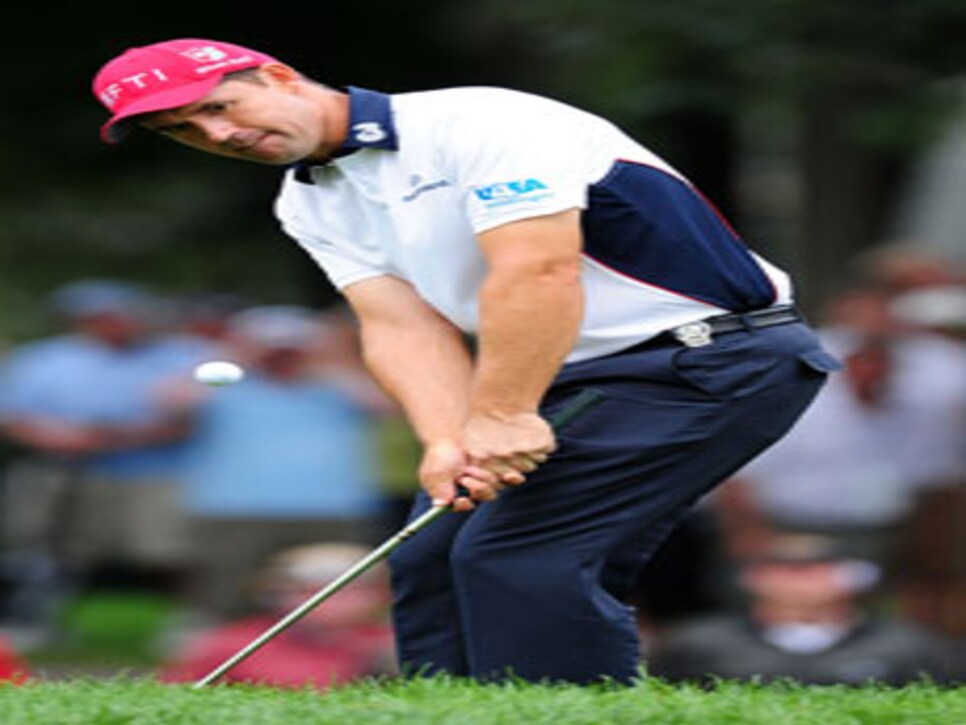 Easy there. Back it up. Harrington has provided compelling theater of late, and he was certainly the golfer who seized the spotlight when Woods was home watching "The View" on his couch. Â But the two have only gone head-to-head in a final round exactly once since then, and regardless of the extenuating circumstances surrounding that day at Firestone, Harrington still coughed up the lead with an 8 at the most inopportune moment. Not exactly rising to the occasion. So sure, if you want to call him Tiger's next rival, he can get in line behind Phil Mickelson, Anthony Kim, Vijay Singh, David Duval, Bob May and Steve Scott.
Good point, and remember, Harrington isn't even playing alongside Woods, today. Y.E. Yang is. Seriously, Y.E. Yang can't win the PGA Championship, can he?
Well, you'd be right in saying the odds are against the 37-year-old South Korean, especially playing for the first time alongside Woods. But Yang did win the Honda Classic earlier this year, and he also won another tournament, the 2007 HSBC Champions in Shanghai, with Woods in the field. Hey, stranger things have happened in the PGA, when for every Woods and Jack Nicklaus hoisting the Wanamaker Trophy, there is the occasional Shaun Micheel or Rich Beem. And it would be a fiitting end to 2009, when Yang could join Angel Cabrera, Lucas Glover and Stewart Cink as arguably the most unheralded collection of major champions in history.Â
If that happens, they might decide to move the Grand Slam of Golf to a pitch-and-putt course in Ft. Lauderdale.Â
So it sounds like there are some decent subplots. Wasn't weather a concern today?
It was, but it looks like the serious storms have blown past Hazeltine, and now there's only a 20 percent chance of thunderstorms. For that reason, the PGA of America decided not to adjust the pairings or the times for today. Here's hoping they're right. We don't want a repeat of 2005 at Baltusrol, when the PGA made no concessions to the weather, and a late storm pushed the finish to Monday. Of course, this could all be part of some grand conspiracy to get us to spend more time at the food court at the Mall of America.