News
Sun protection awareness at the CVS Challenge
Skin protection is critical during the long, sun-drenched days of summer. But what happens now, during the cooler fall months? Can golfers afford to ditch their sun protection regimens?
"Broad-spectrum sunscreen should be worn, rain or shine, 365 days a year," said Dr. Sonia Badreshia-Bansal, a board-certified dermatologist. "Ultraviolet radiation can penetrate the clouds, and even our car windows, so adequate protection is always essential."
The Women's Dermatologic Society developed a program in 2004 called Play Safe in the Sun, which travels to several LPGA and Futures Tour events throughout the season. At each tournament, dermatologists and volunteers provide free skin screenings (up to 325 of them during a single tournament), sun damage assessments, samples of broad-spectrum sunscreen and educational materials to fans, volunteers, players, and caddies. Play Safe in the Sun will cap off their season at this week's CVS/pharmacy LPGA Challenge.
"Thirty-eight percent of the people we see are referred to their own dermatologists for further diagnosis or biopsy of suspicious sites on the skin," said Nancy FitzGerald, director of communications for the Women's Dermatologic Society.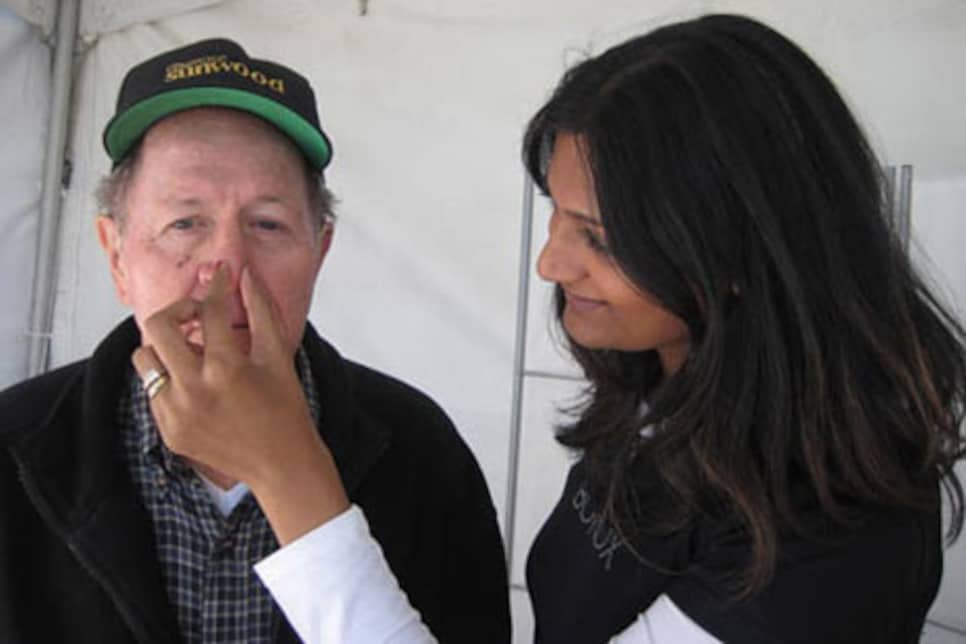 Patient being examined by Badreshia-Bansal for a suspected pre-cancerous lesion. Photo courtesy of Badreshia-Bansal
Paula Creamer, one of several top-ranked Americans in this week's field, says she regularly gets her skin checked by a dermatologist, and reapplies her sunscreen at least three times a day.
"I apply sunscreen every two hours, and I use a lotion with SPF 100," said Creamer. "Then when I am on the course, I use a spray sunscreen because being out on the course, I can't wash my hands."
But she also always wears a cap and sunglasses, an extra step that Dr. Adrienne Stewart and Dr. Michel McDonald, co-chairs of the Women's Dermatologic Society service committee, say is essential to preventing skin damage.
"Relying just on sunblock may give the athlete a false sense of safety," said Stewart. "SPF clothing, hats and sunglasses should also part of the skin protection plan.  Sunscreen only prolongs the amount of time you can be exposed to UVA and UVB rays without incurring as much damage as you would without the block."
For the third consecutive year, Badreshia-Bansal will team up with her husband, Dr. Vivek Bansal, a board-certified plastic surgeon, to oversee the screenings given at the tournament this week. Badreshia-Bansal offers these tips for all golfers:
Apply a broad-spectrum sunscreen (SPF 30 or higher) to all sun exposed areas at least 30 minutes before going outdoors. Don't forget the lips, ears and neck. Reapply the sunscreen every nine holes (or every two hours). Protect your lips with sunscreen and your eyes with UV protective sunglasses. Replenish your sunscreen supply once a year, since sunscreens have an expiration date. Seek shade whenever you can. Wear sun protective clothing: long pants, a long-sleeved shirt and broad-brimmed hats (not just baseball caps).