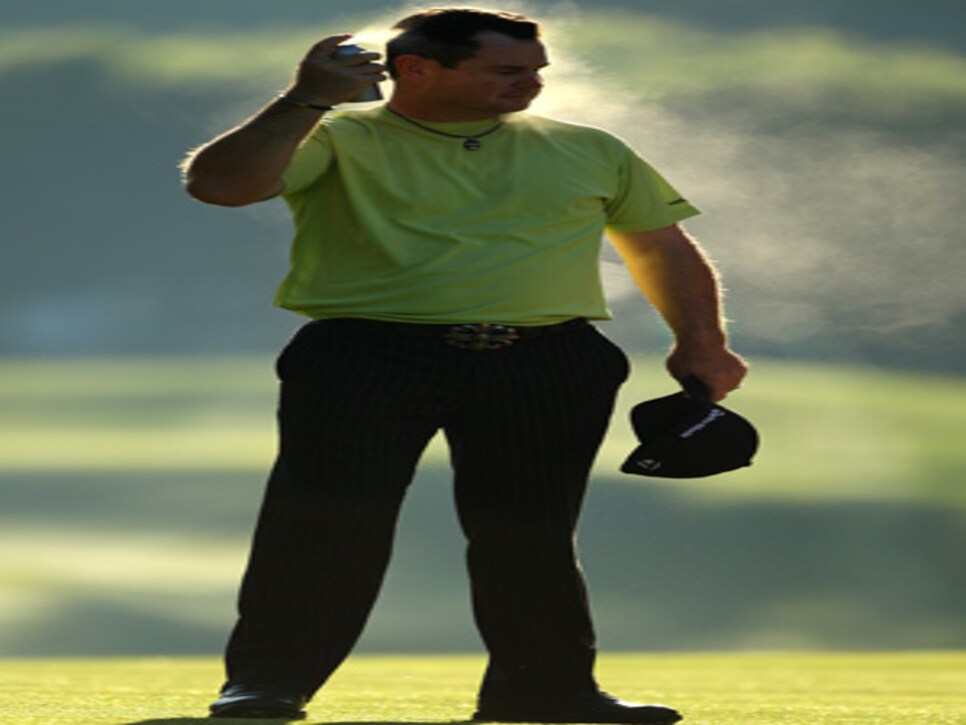 Rory Sabbatini sprays himself with sunscreen during the second round of the Quail Hollow Championship last year.
1. THE HIGHER THE SPF RATING, THE LONGER YOU'RE COVERED.
Any sunscreen that lists a Sun Protection Factor (SPF) higher than 30 is misleading. Why? The sunscreen will wear off (usually two hours) before that extra SPF would do you any good.
2. SUNSCREENS ARE SWEAT-PROOF.
Regardless of how it's advertised, sunscreen coverage will be diluted by your sweat. Keep reapplying.
3. ONCE YOU'RE TAN, YOU DON'T NEED SUNSCREEN.
Tan skin is damaged skin trying to protect itself from further damage. Without sunscreen, you're increasing your risk of more damage, including skin cancer.
4. NO SUN? NO SUNSCREEN NEEDED.
If the sun's rays can penetrate clothing, what do you think they can do to a puffy cloud? You might not get sunburned, but you're still exposed to dangerous ultraviolet rays.
5. LIPS CAN'T GET SUNBURNED.
Lips are particularly susceptible to sun damage. Use a lip balm with SPF 15 or higher. Don't have any balm? It's OK to use sunscreen on your lips, but it will wear off faster than balm.
6. ONLY EXPOSED PARTS OF THE BODY ARE AT RISK FOR SKIN CANCER.
Melanoma, which is potentially fatal, can occur anywhere on the body. So if you see a new, odd or growing skin blemish, see a doctor immediately.
If you do have sun damage and want to have it removed before it develops into skin cancer, three-time PGA Tour winner Scott McCarron says you might want to consider a new laser treatment called Fraxel, which removes precancerous skin lesions called actinic keratosis as well as less-threatening sun blemishes.
"The procedure took an hour," McCarron says. "It wasn't painful, just felt like being pinched by a tiny needle, and the recovery time wasn't long, either. I had these little red bumps on my face for a week or so, but now my skin looks a lot younger."
Unfortunately, insurance does not cover Fraxel, which can cost $750 to $1,500 per treatment.