News
Style Tuesday: Skorts for all body types
I'm back from my golf trip to Nova Scotia! It was so exciting to travel to this destination, and to get back on the golf course after too much time away from it. I was the only woman on the trip, which made it an interesting adventure. I've played on and off in the past and still feel a bit like a beginner, but the good news is that I hit enough great shots during my northern adventure to realize that my love for the game is still intact (so much so that I signed up for a new lesson package at my local NYC driving range the minute I got home). If anything, I'm feeling extra feminine and empowered, because at the end of the day, I like being a woman on the golf course.
There's no better way to show off your feminine side than to sport a golf skirt or skort when you play. It makes any woman look stylish, but you need to make sure you get the right fit and wear the best pieces for your body type. Here are some pointers that can help in selecting the appropriate style for you:
If you have an athletic build, not too many curves, narrow hips and slim legs, that means your body type is a RECTANGLE. You' will look better in styles that have a little drape (extra fabric), pockets at the sides and back pockets with flaps. All these details will give your figure some curves. Ruffles are your best friend. You'll also want to keep your length slightly above the knee, to show off your slim legs. You can pull off any bold print.
If you're an APPLE, you tend to have an undefined waist, a full torso, broad shoulders and slim legs. Pick skirts with a minimal waist band or a style with no waist band at all. Make sure your skirt sits at your natural waist and pick styles with side slits--perfect for showing of your legs. The goal is to not add bulk to your middle but to keep your skort cut simple so as to not add bulk.
PEAR and HOURGLASS body types are pretty similar in the lower half. You have a smaller waist, wider hips and thighs, a fuller bottom and curvy legs. To accommodate this, pick skort styles that fit close to the waist and then drape out over the hips and bottom. The length should fall just below the knee. A wrap skirt or any detail like a belt that draws attention to your waist can really work well for women in these categories. The difference between the pear and the hourglass is the upper body. If you're a pear, you can pull off a boat-neck top; if you're an hourglass, you're better off with a v-neck.
Here are some great new skorts, and the body types they work for: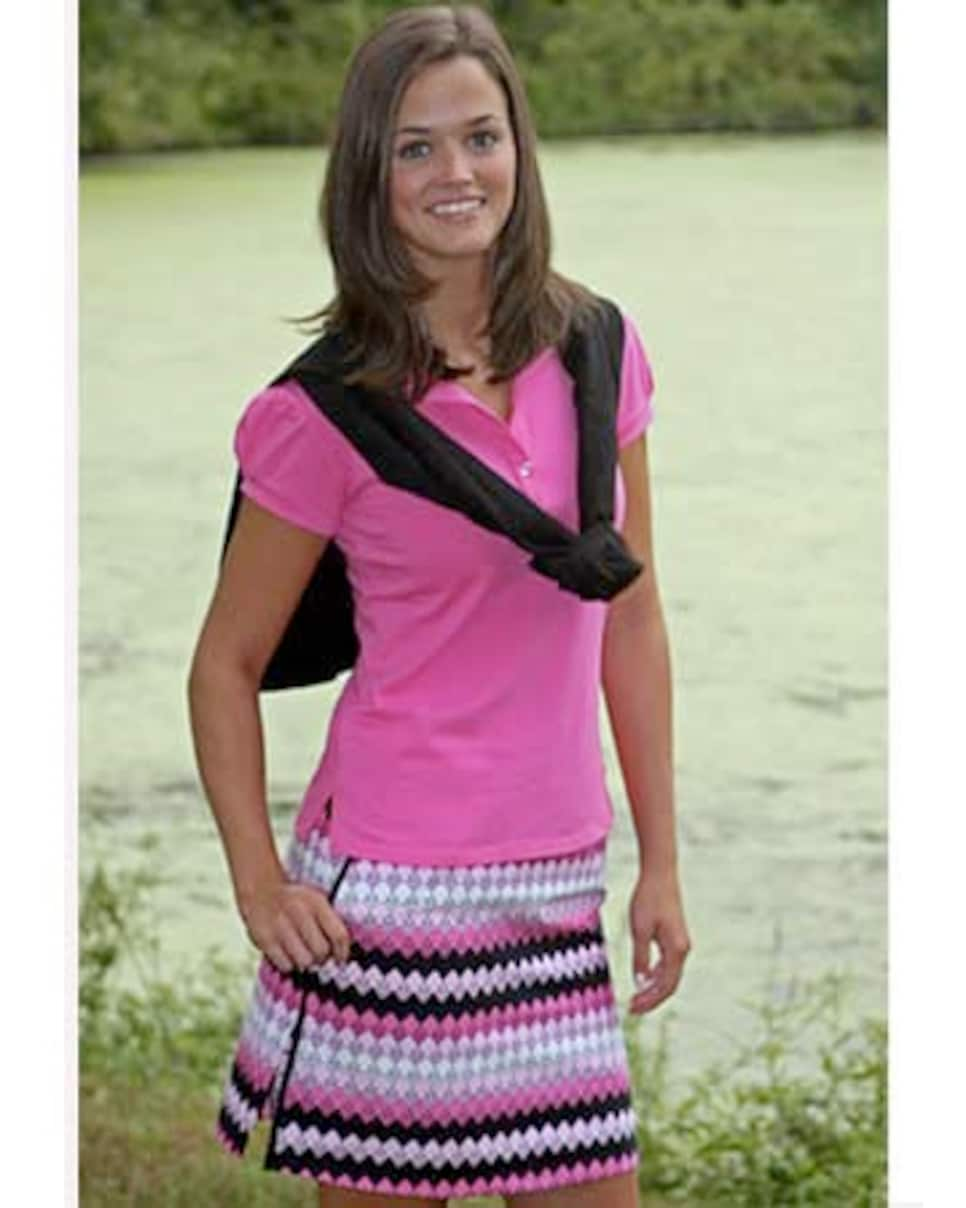 RECTANGLE: Golftini Missoni Skort, $136; visit website. [#image: /photos/55ad8ed4add713143b42ebb8]|||02gdwblog_myth_virtue_skort.jpg|||
RECTANGLE: Lija Myth Virtue Skort, $90, visit website. [#image: /photos/55ad8ed4add713143b42ebbd]|||03gdwblog_puma_shorts.jpg|||
RECTANGLE (these are shorts but they look like a skirt and are very feminine, perfect for this body type): Puma Golf Shorts, $65; visit website. [#image: /photos/55ad8ed4add713143b42ebbb]|||04gdwblog_cutter_and_buck.jpg|||
APPLE: Cutter & Buck Annika CB DryTec Kick Pleat Skort, $42.50; visit website. [#image: /photos/55ad8ed4b01eefe207f7380e]|||05gdwblog_sport_haley.jpg|||
APPLE: Sport Haley Diamond Print Gold Button Skort, $78; visit website. [#image: /photos/55ad8ed5b01eefe207f7381a]|||06gdwblog_adidas_skort.jpg|||
Adidas Golf ClimaCool Full Length Woven Skort, $70; visit website. [#image: /photos/55ad8ed5add713143b42ebca]|||07gdwblog_lindeberg.jpg|||
PEAR/HOURGLASS: J. Lindeberg Jillian Fine Twill Stretch Skirt, $85; visit website. [#image: /photos/55ad8ed5b01eefe207f7381e]|||08gdwblog_toby_tucker.jpg|||
PEAR/HOURGLASS: Toby Tucker Golf Putting Skirt, $205; visit website. [#image: /photos/55ad8ed5add713143b42ebc4]|||09gdwblog_nike_skort.jpg|||
PEAR/HOURGLASS: Nike Golf Convert Skort, $80; visit website. --Argy Koutsothanasis