Style Tuesday: Getting down to your skivvies
We've all heard the expression "Don't get your panties in a bunch," and I think it's sound counsel--in two ways--for women golfers. First, it's never a good idea to take yourself too seriously when you're playing. In other words, remember to have fun. Then there's the literal interpretation of the advice: getting your panties in a bunch can make playing golf extremely uncomfortable. Is there anything worse than a bra with no support, or underwear that rides up as you swing? Not to mention the fact that unseemly panty lines are instant style killers.
Luckily, these days active brands like Under Armour, Champion and Lululemon offer underpinnings that marry comfort and function. When you're looking for the right underwear, keep in mind that a laser-cut style with no seams equal invisible panty lines, even if you opt for a boy-style brief instead of a thong. There are moisture-wicking fabrics, and designs made from breathable wool that keeps you cool when it's warm and warm when the temperatures drop. The latest sports bras give good support and minimize bounce. Mesh panels help minimize sweat stains, and designs with thicker, padded straps offer extra support for fuller-figured women. Would adding a little va-va-voom to your undergarments make you play with more confidence? Then you're in luck, as there now are sexier styles with padded cups that do the job of a regular sports bra.
Here are some of my favorites: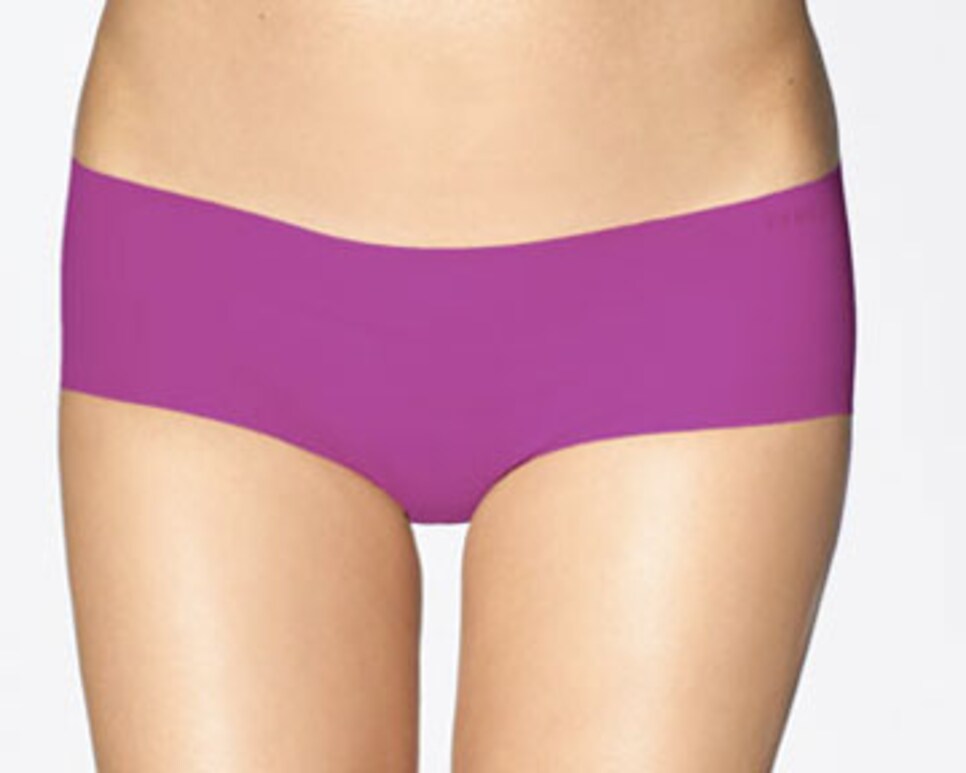 Zobha Boyshort Panty, $18; visit website. [#image: /photos/55ad9211add713143b4318fc]|||GDW fashion|||
Icebreaker Siren Bikini, $28; visit website. [#image: /photos/55ad9211b01eefe207f762d1]|||GDW fashion|||
Lululemon Premium Technikini, $18; visit website. [#image: /photos/55ad9211add713143b431901]|||GDW fashion|||
Lululemon Smooth Moves Girlshort, $18; visit website. [#image: /photos/55ad9211b01eefe207f762d7]|||05gdwblog_fall_fashion_v.jpg|||
Under Armour Women's 360 Double Take Shorty, $20; visit website. [#image: /photos/55ad9212add713143b431906]|||GDW fashion|||
Champion 360 Max Support Sports Bra, $45; visit website. [#image: /photos/55ad9212b01eefe207f762ea]|||GDW fashion|||
Moving Comfort Maia Sports Bra, $46; visit website. [#image: /photos/55ad9212b01eefe207f762e4]|||GDW fashion|||
Danskin Women's X-Training New Aerosilver Glide Sports Bra, $44; visit website. [#image: /photos/55ad9212add713143b43190c]|||GDW fashion|||
VSX Sexy Sport Showtime Crop Bra, $38.50; visit website. --Argy Koutsothanasis