The Loop
Style Inspiration: Geoff Ogilvy and the cardigan sweater vest
Geoff Ogilvy, quietly one of the sharpest dudes on tour, shows you how to pull off the cardigan sweater vest without looking like Mr. Rogers. Update this classic piece with good styling and be the first one in your foursome to wear the fresh look for fall.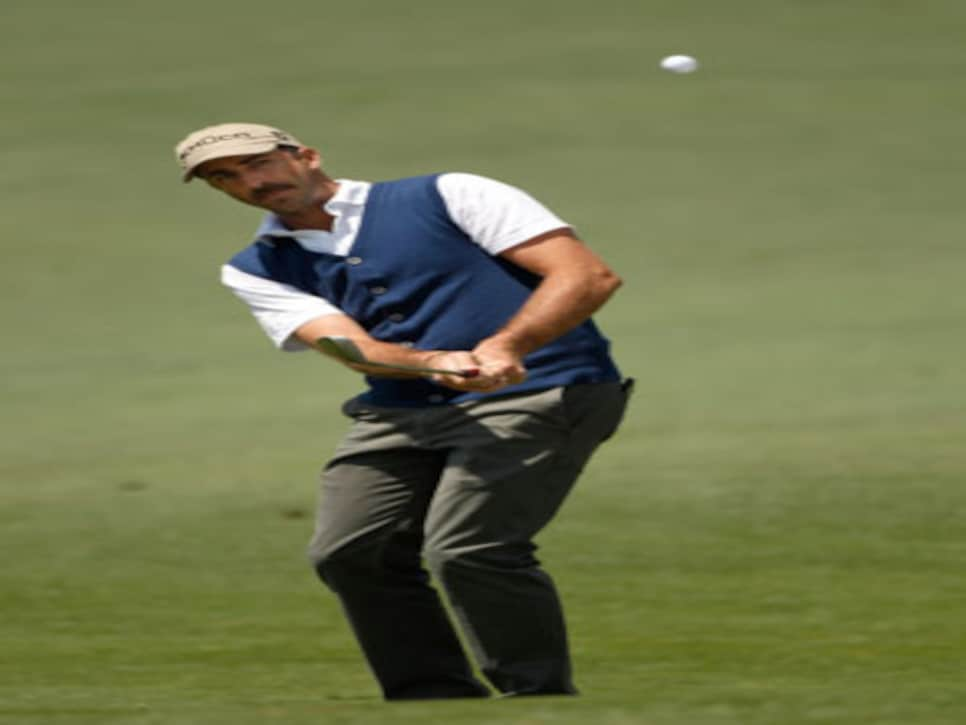 Fit will make or break your style. It's the most important measure of your appearance. Weather you're hanging at the water cooler or hitting a flop shot, well-fitting clothing makes you look better and move easier. Ogilvy's vest fits snuggly around his chest and the length is just long enough to cover his belt. Excess fabric restricts your rotation and will add width to the wrong spots. For extra credit, pop the bottom button open on your cardigan. This'll create a little more shape to that, already well-toned, torso you've got.
Remember to keep the whole look on the same size wavelength. The vest won't work if your shirt and trousers are billowing in the breeze. Keep the sleeves narrow and make sure they bisect your biceps. Slim trousers with a slightly shorter rise have the effect of lengthening your legs and make you look leaner. Slim doesn't mean tight. Nobody wants to see the outline of the tee in your pocket.
Balance is also important and stylish men manage it in interesting ways. For many it means brown belts with brown shoes, but for some it can be anything from sneakers with suits to work-boots with wools. There are varying degrees of difficulty in the spectrum and you've got a little leeway on the links. Instead of pairing the cardigan with the classic khaki, try a dusty olive or burgundy trouser. Even set it up with some dark denim and a sportcoat after the round. The vest layers just as well over a polo as it does under a suit so work it into your wardrobe early and wear it a bunch of ways.
Ogilvy's attention to fit, function and his authentic aesthetic reminds us that the clothes don't make the man, but how you wear them determines everything about the look. The cardigan sweater vest can be an interesting asset to your ensemble. Check out two sharp pieces from the new upstart, Suit Supply, and rock'em into your rounds for fall.
Navy Donegal Cardigan Vest, 100% Cashmere - Suit Supply, $149 and
Green Solid Cardigan Vest, 100% Cashmere - Suit Supply, $149