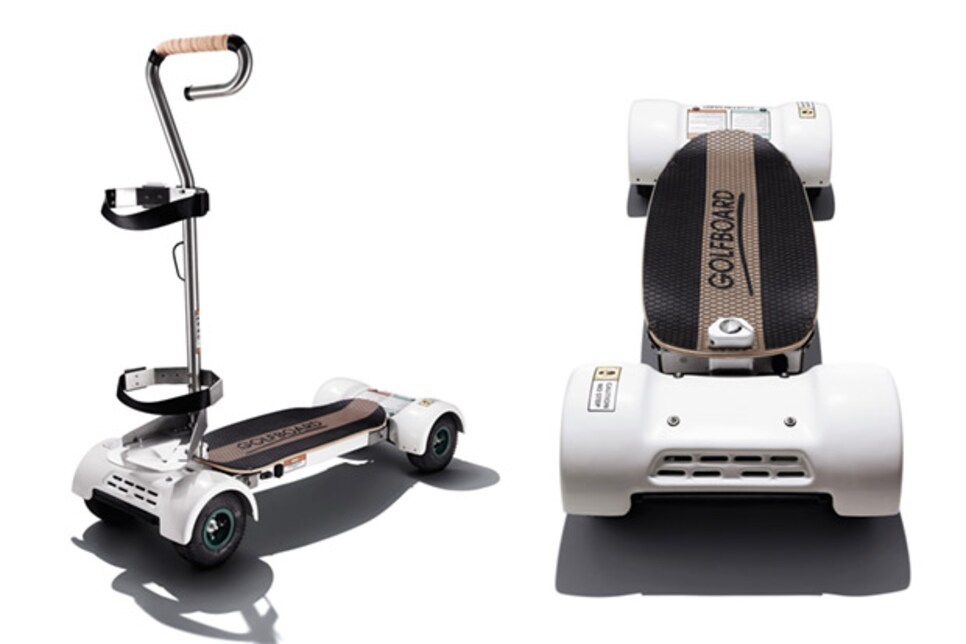 Place your golf bag inside the straps, step on the board and you're ready to hang 10, um, 18.
What started as a far-fetched product idea on the grassroots-funding website Kickstarter has blossomed into one of golf's coolest, buzz-generating innovations.
It's called Golfboard (part golf cart, part motorized skateboard), and it was named "Best New Product" at the 2014 PGA Merchandise Show in Orlando. "Golf hasn't looked this badass since Happy Gilmore," The Huffington Post declared.
Users strap their golf bag to the front, stand on it like a skateboard, and then shift their weight in whichever direction they want to move the vehicle. It has four-wheel drive to deal with typical course undulations. Speed—up to 11 miles per hour—is controlled by using a small, handheld remote. The manufacturer says its range before needing a battery recharge is 18 to 36 holes, depending on conditions. The base price: $3,995.
Golfboard's founders topped their $100,000 fundraising goal on Kickstarter in less than three weeks last summer. Can they generate the same level of excitement among golfers? Co-founder Paul Hodge says they might, if course operators want to attract a new generation of players. "Industry leaders realize that they can't think about what golf is now," Hodge says. "They're thinking about where golf is going."