An MRI For Your Golf Game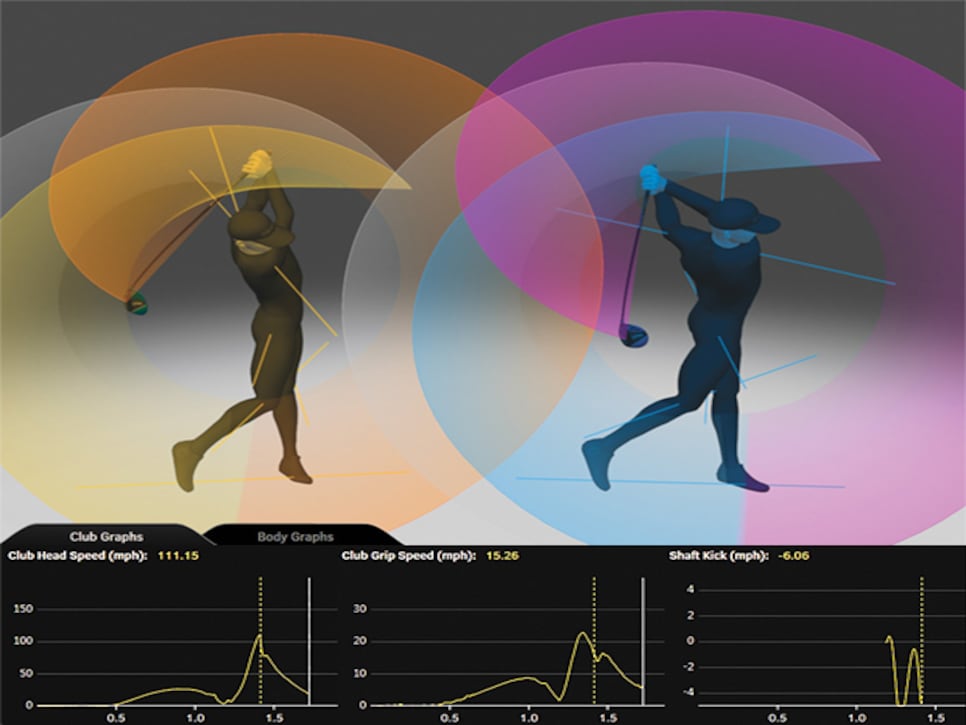 A simulation of what you'll see with the Gears Golf swing-analysis software.
In terms of technological development, the world of golf seems to be in a perpetual state of "Can you top this?" Not long ago it was the TrackMan launch monitor that was revolutionizing the industry. Now Gears Golf is hoping to be the next big thing.
TrackMan uses radar technology to inform you what happens to your club and ball when you swing, but the Gears product focuses more on the movement of the body and its effect on your swing and ball flight. Think of it as golf's version of an MRI, says Michael Neff, the director of Gears Golf.
The Gears system, which retails for a whopping $39,500, records all kinds of data when users hit shots wearing a motion-capture suit featuring 26 sensors placed at key spots around the body and six additional locations on the club.
Using eight high-speed cameras and special software, Gears can determine a lot of interesting—and telling—information.
In addition to finding out why you slice, you'll know which groove on the clubface is making contact with the ball, how much the club's shaft is twisting and flexing during the downswing, and how fast the clubface is rotating at the moment of impact. You can even overlay your swing onto a 3-D version of Rickie Fowler's, or another tour pro's, to see how your swing compares.
"Our goal, basically, is to measure all of those things better than everyone else," says Neff.
The price might be a deal-breaker for many, but by the end of this year there will be 14 Gears systems installed worldwide, Neff says. Because it can be used for equipment testing as well as swing instruction, places such as the equipment labs for Cobra-Puma and Nike Golf and the Golf Performance Center at the Sea Island Resort in Georgia have added it.