The Loop
Struggling McIlroy misses third straight cut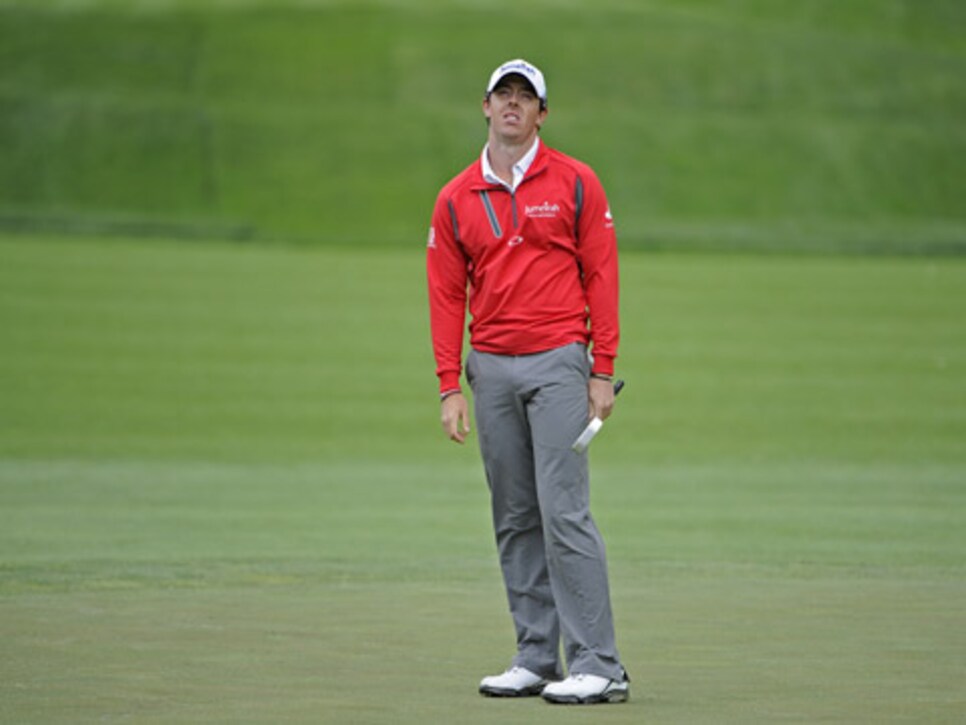 (Photo by Chris Condon/Getty Images)
DUBLIN, Ohio - You wouldn't blame Rory McIlroy for thinking a dark cloud is hanging over him.
On a dank, blustery and chilly day that looked and felt more like Dublin, Ireland, McIlroy, the No. 2 player in the world from Northern Ireland, blew himself out of the Memorial Tournament Friday after another inexplicable display of desultory golf.
A birdie-free 7-over-par 79 left McIlroy with a 36-hole total of 150, three shots outside the cutline, marking the third straight start that he has been dismissed before the weekend. McIlroy has not made a cut since he lost to Rickie Fowler in a playoff at the Wells Fargo Championship, and he posted a 79 for a second straight week.
His continuing struggles are a far cry from his impressive run prior to the Masters when he finished in the top-5 in 10 of 11 starts around the world.
"I hit some good shots, [but] it just seems like every time I go out there I make one or two big numbers and that sort of throws me ... a couple doubles on the back nine," McIlroy, 23, said. "Just those big numbers at the beginning are killing me, and I just need to get those off the card and I'll be OK."
After battling back from a quadruple bogey at the par-3 12th to shoot a 1-under 71 in Thursday's opening round, McIlroy suffered three bogeys and double-bogeys at the 11th and 14th holes after finding water at each. On the par-5 11th, McIlroy layed up poorly on the edge of a creek right of the fairway and then watched his third kick backwards into the water when he tried to hack his ball into the fairway from a thick lie.
"Probably a bit of bad judgment because I thought I could just chip it back out," said McIlroy, who finished fifth in last year's Memorial. "But if I had have examined the line maybe a little bit closer, I might have just taken a drop straight away."
When he drove into another creek left of the fairway at 14, it marked the fourth time that McIlroy had found a water hazard in two rounds.
Earlier in the week McIlroy confirmed that he added next week's FedEx St. Jude Classic to his schedule to ensure that he could get in additional competitive rounds prior to his U.S. Open defense in two weeks at Olympic Club in San Francisco. He even joked that, "these twoâ¿¿day weeks aren't really that good for me."
But that's what he's been relegated to for yet another week. McIlroy intended to practice over the weekend and continue to try and find his vaunted game that propelled him to a remarkable eight-stroke victory in last year's U.S. Open at Congressional CC. He wasn't sure if he would remain at Muirfield Village and it's sterling new practice facility or move on to the warmer air of Memphis and TPC Southwind.
"To be honest, I'm not sure. I haven't thought that far ahead," he said glumly. "Just getting over this, and the practice facilities here are pretty good, so I might stay around and hit some balls here.
"I don't feel like the scores are actually reflecting how I'm hitting the ball. I was able to string nine good holes together yesterday. I just need to keep working on it and try and string 18 good holes together and then try and string two days together and obviously three days and ultimately four. I'm definitely hitting the ball better than I did last week, so I can see an improvement there. But I've still got a long way to go."
Especially after another short week.