News
Strong Starts: How first-round leaders have fared after 72 holes at the U.S. Open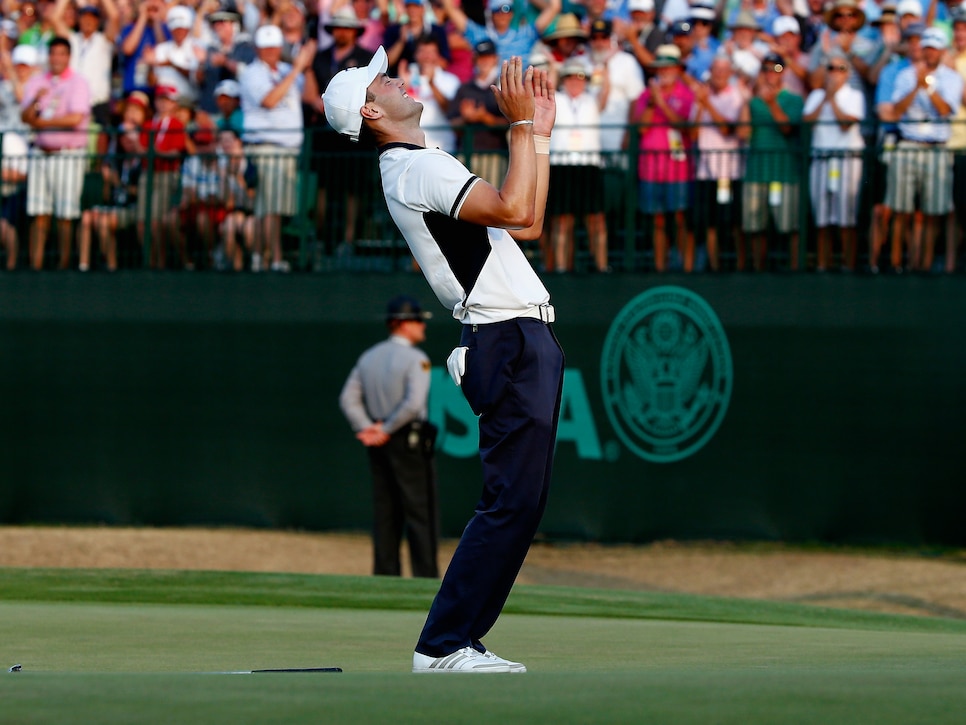 There's an adage in sports – "it's crucial to get off to a good start." This can prove to be very true. An NFL quarterback doesn't want to throw an interception on his opening drive, an MLB ace would rather not load the bases in the first inning, and a PGA Tour player can't afford to shoot 75 in the opening round.
In golf, this cliché is harped on more than ever during major championship weeks. Players want to get their week going early, go low, and set the tone for the final 54 holes. But does it matter? How many times does the first-round leader at a major end up winning, or even finishing in the top-10? If you recall last year at Oakmont, the leader at the end of the first round was a guy named Andrew Landry. Landry, who's now making a name for himself on the Web.com Tour, ended up finishing nine shots behind Dustin Johnson in a tie for 15th. And who could forget Rory at the 2011 Masters?
It often seems at majors that a name like Landry gets off to a blistering start on Thursday. Then, with all eyes focused on you, the pressure becomes too immense, the conditions become even more out of your control, and by Sunday, you're not even on the third page of the leader board. Right?
In fact, looking back at the leaders after the first-round in the last 19 U.S. Opens, that's rarely been the case. The majority of the 18-hole leaders have actually fared quite well since 1997, some even going on to win. Don't be surprised if the head of the pack on Thursday at Erin Hills is very much in the mix come Sunday. Here's some of the stats:
Total first-round leaders including ties since 1997
Five – Tiger Woods (2000, 2002), Retief Goosen (2001), Rory McIlroy (2011) and Martin Kaymer (2014)
Four - Woods (2000 and 2002), McIlroy (2011) and Kaymer (2014)
Seven - Colin Montgomerie (1997, 2006), Phil Mickelson (1999, 2013), Payne Stewart (1998), Michael Thompson (2013) and Dustin Johnson (2015)
Seven - David Duval, T7 (1999), Billy Mayfair, T10 (1999), Shigeki Maruyama, T4 (2004), Jay Haas, T9 (2004), Rocco Mediate, T6 (2005), Nick Dougherty, T7 (2007) and Mike Weir, T10 (2009)
Five - Paul Goydos, T12 (1999), Angel Cabrera, 16th (2004), Olin Browne, T23 (2005), Shaun Micheel, T22 (2010) and Andrew Landry, T15 (2016)
Five - Brett Quigley, T28 (2003), Tom Watson, T28 (2003), Branden de Jonge, T33 (2010), Paul Casey, T40 (2010) and Henrik Stenson, T27 (2015)
Two - Kevin Streelman, T53 (2008) and Justin Hicks, T74 (2008)
Average prize money (not accounting for Tiger's inflation)