The Loop
Stricker says he wants Woods back as a partner
U.S. Presidents Cup captain Fred Couples has repeatedly said he wants Tiger Woods on his team for the November matches in Australia. He has company.
Steve Stricker said he hopes Woods reworks his schedule to meet Couples' prerequisite that the 14-time major champion add a tournament before the Australian Open. Couples made that stipulation last week when he was asked if he still intended to use one of his two wild-card picks on Woods.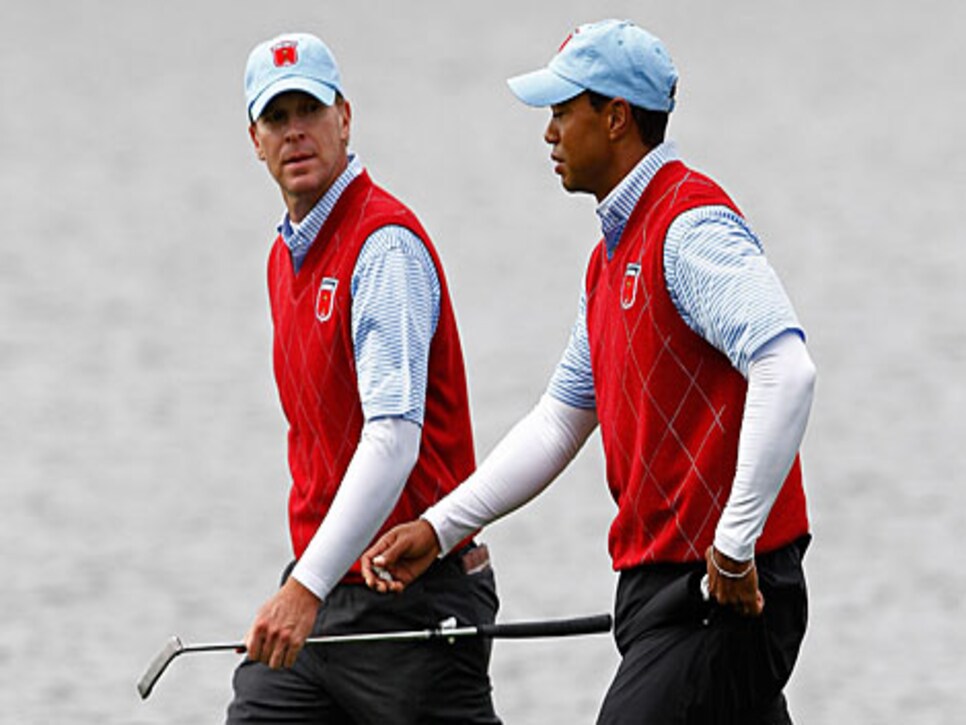 Photo by Sam Greenwood/Getty Images
"Yeah, I'd like to see him on the team, definitely," said Stricker, the highest-ranked American player at No. 3 in the world and the leader in the U.S. Presidents Cup points standings. "I heard Freddy's comments, and I understand it, and I hope Tiger does what he can, because I would like to see Tiger on the team, and I'd like to partner with him again."
Woods' partnership with Stricker is a compelling enough reason for Couples to keep Woods at the top of his list. The duo went unbeaten in four matches in the 2009 Presidents Cup at Harding Park in San Francisco, and in last year's Ryder Cup at Celtic Manor in Wales, they won twice more before finally losing in foursomes play.
After missing a large chunk of the season with knee and Achilles injuries and failing to qualify for the FedEx Cup Playoffs, Woods could be off again for another extended period. He is 28th on the U.S. Presidents Cup points list and could fall still farther before Couples announces his two selections on Sept. 26. His only tournament commitment is the Australian Open Nov. 10-13 in Sydney, the week before the Presidents Cup in Melbourne, but on Tuesday he said he was considering adding a tournament to his schedule.
"We talked a little bit in Atlanta [at the PGA Championship]. His spirits seemed good," Stricker said by telephone. "I think he feels like he's going in the right direction, but now it's a matter of putting in the time and the repetition and feeling good again out on the golf course.
"He'll get it going at some point; I think a lot of people would like to see that. I just don't know when that point is," Stricker added. "It's going to be tough on him because it looks like he won't be playing much before then. But like Freddy said, Tiger has been such a huge part of golf and a big part of these competitions [Ryder Cup and Presidents Cup] that he deserves to be on the team."
Follow on Twitter: [@DaveShedloski
](http://twitter.com/DaveShedloski)