The Loop
Stricker punts one away with the clock winding down
The John Deere Classic jilted Steve Stricker on Sunday (a Deere John at the John Deere?), ending their three-year romance on a bitter back nine on Sunday afternoon.
Its new love interest is Zach Johnson, Iowa's favorite son, who won this tournament in the Quad Cities area that straddles the Iowa-Illinois border. It was his second victory of the year, the ninth of his career, and likely was more popular in those parts than any of Stricker's three consecutive wins at the TPC Deere Run.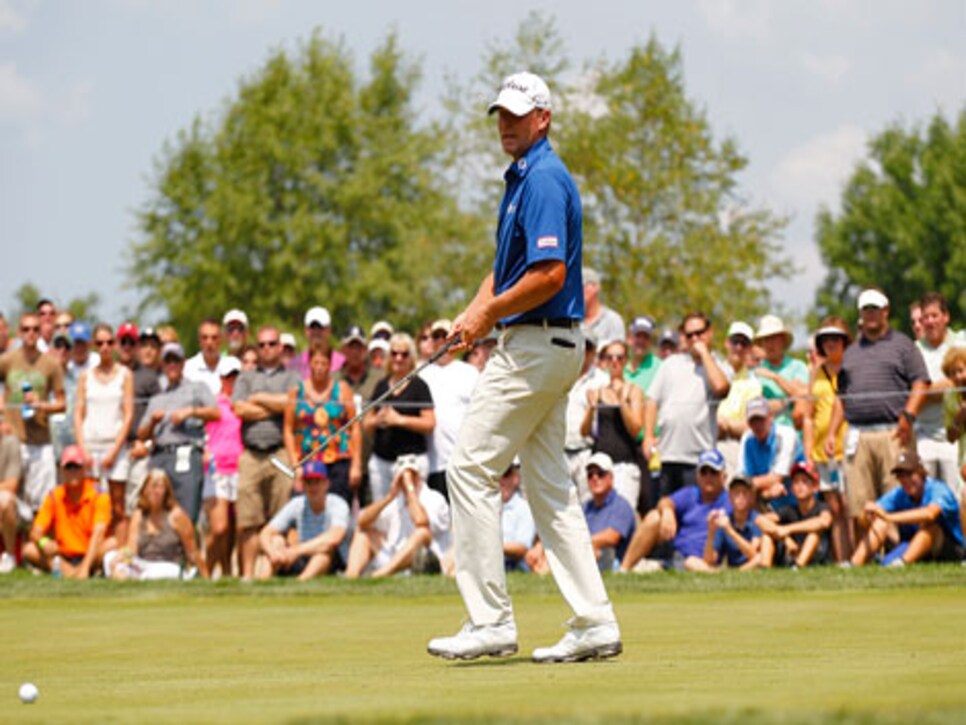 For Stricker, it was a loss, of course, but it was more than that: It also was a lost opportunity at a stage of his career when opportunities are likely to have begun their imminent decline.
This is more so relevant on the eve of another major championship, the British Open, which will be Stricker's 56th start in a major. He is 0 for 55.
A major is the single void of an otherwise impressive resume that includes 12 PGA Tour victories and a career resuscitated in his 40s, when he has played the finest golf of his life, elevating him to No. 2 in the World Ranking at one point.
It's not that he no longer has game, just a surfeit of time. He was still in the top 15 in the World Ranking prior to his back-nine stumble (three bogeys on his final five holes) on Sunday, and his victory in the Hyundai Tournament of Champions to start the season gave him wins in four straight years.
Obviously it isn't easy to win a major whatever your age, but the mid 40s have proven an obstacle virtually insurmountable in golf. Consider the British Open. The oldest ever to have won it was Old Tom Morris, who was 46. His record has stood for 145 years. Julius Boros, meanwhile, remains the oldest to have won a major, the PGA Championship, at age 48. Jack Nicklaus, at 46, is the oldest Masters champion, and Hale Irwin, at 45, is the oldest winner of the U.S. Open.
Stricker has arrived at this line of demarcation. He is 45, a difficult age in which to chase history without pulling a metaphorical hamstring.
On Sunday, in a tournament one week and several light years removed from a major, he limped to the finish line. He was within one of Troy Matteson's lead on the back nine before plummeting to a tie for fifth, four strokes behind Johnson and Matteson. Given his track record at Deere Run, that was as much a surprise as Matteson nearly winning wire to wire. In 21 previous starts in 2012, Matteson's best finish was a tie for 26th.
Ultimately Matteson was unable to fend off Johnson, whose three birdies over the final six holes gave him a final-round 65, a share of the 72-hole lead, and a chance to win what is tantamount to a home game for him, placing it just a notch beneath a major.
"This tournament means a lot to me," Johnson said, following a winning tap-in birdie on the second playoff hole after halving the first extra hole with a double-bogey.
It has meant a lot to Stricker, too, his winning streak there a cornerstone of his career resurrection. It isn't likely that it will assume a similar place in the decline that is unavoidable for professional golfers on the wrong side of 45, but with the British Open on deck and the clock running, it also is unavoidable to conclude that the sign is ominous.