Branded Content
Own the Green: The USGA-Legal Way To Read Putts Like a Tour Caddie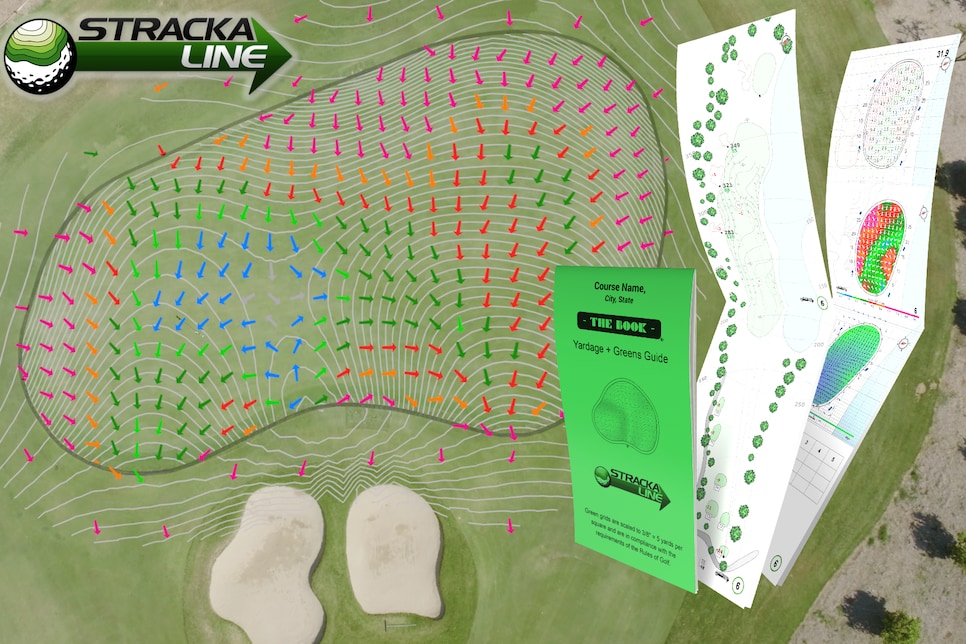 Reading greens can frustrate nearly every golfer, PGA Tour pros included, which is why green-reading guides have become so popular. The comprehensive guides from StrackaLine are, in fact, so accurate that the PGA Tour implemented a local rule last year restricting players to a watered-down version with only general slope information. Perhaps the old guard thought rookies emerging from the NCAA were learning the greens faster than past generations. StrackaLine's laser scans cut right through the decades of experience from even the most seasoned tour caddies. Replete with topographic illustrations of putt-break directional arrows and color-coded slope percentages of every green on more than 13,000 U.S. courses, StrackaLine continues to be mega-popular among amateurs as it complies with the USGA Rules of Golf. According to the company, more than 2 million golfers have relied on its maps since 2007.
Using StrackaLine is like having a tour caddie read every putt for you. Maps are simple to understand and clearly show all of a green's nuances. Now golfers show up at their favorite course – or even one they are just seeing for the first time – with the confidence to sink more putts because of this insight, even knowing exactly where to aim every approach shot to leave themselves the easiest line to the cup.
Jeff Jackson, head pro at Eagle Creek Golf & Country Club in Naples, Fla., says his course's StrackaLine book "is a hot ticket item every time we have an event. It's a must-have for any player looking to shave strokes, especially if they've never played here before."
Competitive golfers who aren't on tour continue to rely on StrackaLine as well. Highly ranked junior Tommy Morrison has used the system for more than five years and says that "nothing gives me more confidence in my putt reads."
Clay White, men's golf coach of 2022 Big East champion Seton Hall University, says, "My players read the maps, which speeds them up every round and lets them just focus on making good rolls. The books can immediately help you save strokes." This college season, Stanford University's women's golf team and the men's golf team at the University of Texas captured NCAA National Championships with StrackaLine books in their back pockets.

Everyone can use some help on-course. Golfers who try StrackaLine for their course in either its app or book form quickly see why it has become such a hot and powerful tool. Try it for yourself by searching for your home course at https://www.strackaline.com/?aff=digestmedia.