"It was like coming this close to your dreams and then watch them brush past you like a stranger in a crowd." - Moonlight Graham
Forgive me if the baseball reference seems out of sorts in a golf article. My mind is not in the sharpest of states.
But the above quote, evangelized by Doc "Moonlight" Graham in Field of Dreams when asked about his one-inning playing career, is what ran through my head as I stood on the Pinehurst clubhouse veranda, staring at a submerged 18th green at the No. 2 course, watching my round of a lifetime literally and figuratively float away.
In ambiance, the village of Pinehurst, North Carolina is the closest thing America has to St. Andrews. The entire town, from shops to restaurants to housing landscape, is bathed in the sport of golf. There's a TV station that plays a Pinehurst documentary on loop. The Pinehurst Resort is the main lifeline of the community, and the locals treat it as such.
And that's merely the setting. What makes Pinehurst Pinehurst is the actual golf. Or should we say, golf courses.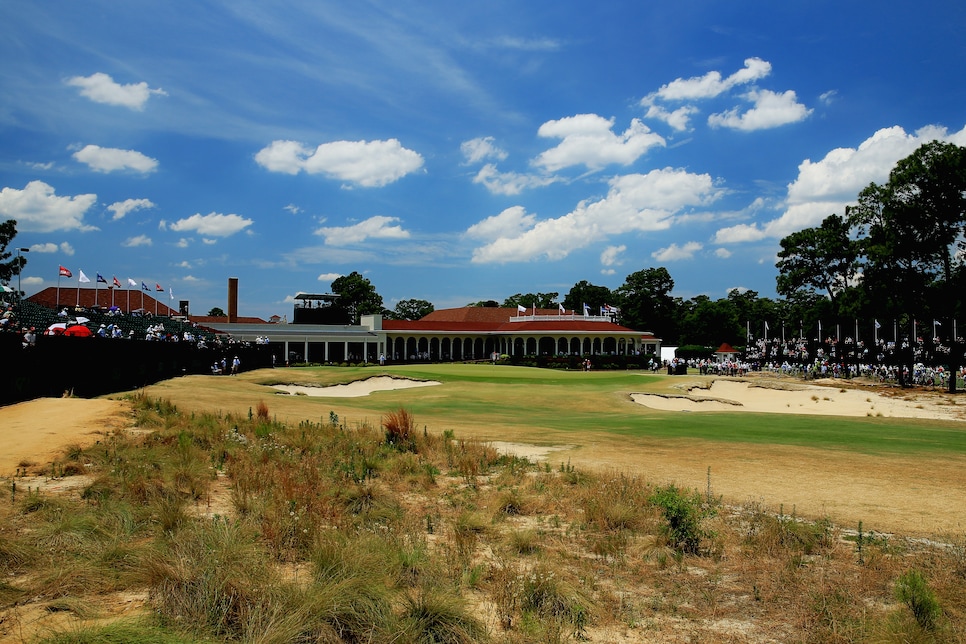 The Pinehurst Resort alone boasts nine layouts. The No. 2 course, a Donald Ross design, is the crown jewel of this allotment, and has hosted U.S. Opens, U.S. Amateurs, a Ryder Cup, the Tour Championship and the North and South Open, once considered a marquee event. Ross, who spent nearly half a century at Pinehurst in some capacity, called No. 2 "the fairest test of championship golf I have ever designed." Given Ross' stature as the Johnny Appleseed of American golf -- he had a hand in nearly 400 course designs in the country -- a bold statement.
But the resort is not the only golf promoter in town. According to the county register, there are 40 more public and private clubs in the area. It is a player's paradise; anyone that's a zealot of the game should consider Pinehurst sanctified ground.
Which is why, for the longest of times, my dad and I tried to make the pilgrimage. Because of school, work and family obligations, the stars never seemed to align. Luckily, within the past year, providence struck, and our journey was officially booked for late October.
We met in Charlotte -- he drove from Ohio, me via flight from New York -- on Thursday evening, and completed the two-hour drive to Pinehurst. My dad is one of my best friends, but because of my move to the East Coast, we don't see each other much. Getting a weekend with him was a treat in itself.
Although worn out by the journey, sleeping proved an obstacle that night. How could I? That weekend, I would be teeing it up on the same grounds that were home to the godfather of golf design. That jumpstarted Ben Hogan's career, giving The Hawk his first individual win after seven years on tour. Where Payne Stewart punctuated his 1999 U.S. Open triumph, and ultimately his legacy, with a punch in the sky. The pines at the No. 2 course sway with the spirits of the game.
Alas, there would be no greeting of ghosts that weekend.

Friday began in auspicious terms, as my dad and I practiced for a few hours -- Pinehurst has a wonderful short-game practice facility -- before playing the No. 5 course. Built by Ross protege Ellis Maples in 1961, a golfer would be blessed to have the No. 5 as their stomping grounds. It's spacious, somewhat difficult to lose a ball off the tee. Moreover, it owns one of the most radiant holes at Pinehurst, the par-3 15th. With a pond in front of the green and outlined by organ-like pines, its nicknamed "the Cathedral Hole."
Conversely, when taking into account its brethren, No. 5 leaves the player wanting more. Traveling to Pinehurst and only touring No. 5 would be like a Times Square endeavor for New Year's Eve, but checking into a hotel and crashing before midnight.
I came to watch the ball drop -- preferably in two strokes or less on No. 2's notoriously tough greens.
Unfortunately, another thing was dropping: rain. Starting on Friday night -- and for all I know, still ongoing -- Pinehurst was assaulted with tears from the sky. To say it was a scene from Noah's Ark would be untrue; no way that boat could have survived this downfall.
As I worked into the night covering the Presidents Cup, it became evident that Saturday's round at No. 2 was in serious jeopardy. I went to bed at 5 a.m,, hoping for a miracle when I awoke.
Apparently the Big Man upstairs has been keeping track of all the times His name has been taken in vain on the golf course, because those offerings were not answered.
Evidenced in the photo below, there was standing water throughout the course, including on the greens. This is especially jarring, because Pinehurst's sand-based real estate works as an amazingly effective irrigation system. The ground was saturated, leaving pools on the course. Golf was cancelled.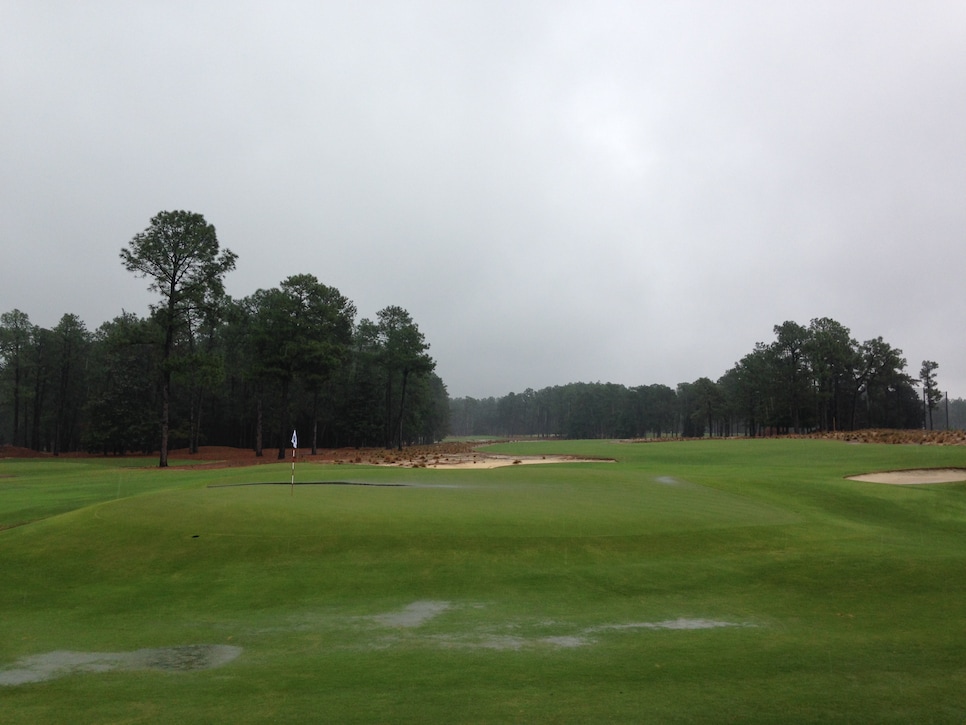 Disheartening would not be the right word; more like crestfallen. Aside from harmonizing schedules, we had picked October due to its allegedly stable weather conditions, which proves laying up and playing it safe is a BS strategy.
Worse, Pinehurst Resort operates on a "no raincheck refund" system. Considering our tab was four digits, we inquired if there was any sympathy to our plight, to which a man behind the counter responded:
Note: he didn't actually say this, but that's what I heard from his "I'm sorry sir, but there's nothing we can do" cadence. (In a follow-up call to Pinehurst, I was told this stems from that fact that many tee times are set through hotel packages. Okay, but what about some type of credit towards a future round? I won't bore you with the legalese rundown, but it was similar to when a presidential candidate is grilled on a tough subject and subverts with, "That's a great question. I'm glad we live in a country that allows us to raise questions...")
As I write, that stance does boil the blood. But in that moment, I was in a state of shock. I vaguely feel like I had a thousand-yard stare onto the course that I wouldn't play.
I did take solace in the thought of Phil Mickelson. He had his own heartbreak at Pinehurst at the '99 Open, yet ended up a winner with the birth of his first child immediately after the tournament. Bestowed that precious time with my father, it's hard for me to call the trip a failure.
I also tried to reassure myself that, hey, this course isn't going anywhere. There will be time to get back.
Of course, that's what Moonlight Graham believed, too:
"Back then I thought, 'Well, there'll be other days.' I didn't realize that that was the only day."